Would you like to achieve greater results in less amount of time? Optimizing how you perform your data analysis will make a big difference!
Becoming a data analysis expert is not something that happens overnight. It takes time and dedication to become better at it!
There are at least two areas you should focus on to improve:
Your general skillset in data analysis
Your skillset aimed at a particular tool
In this article I provide you with 10 useful tips to improve your next data analysis in Google Analytics. Some tips will also help you to become better at data analysis in general.
1. Define a Clear Business Question
It really doesn't matter what tool you use, always define a business question up front!
What are you trying to solve or improve? Is it something not only important to you, but also for the organization you are employed at?
Your data analysis can only be as good as the business question that lies underneath it.
So always start with questioning yourself and other people involved. This makes your data analysis much more effective. And you won't risk losing yourself in tons of reports that don't make sense in your case.
2. Set Up Google Analytics Annotations
The amount of data collected in Google Analytics is huge. You should definitely not only care about the "what", but even more about the "why" and "how" in data analysis.
This is where Google Analytics annotations come in handy.
You can make a note in Google Analytics to keep track of:
Extreme weather fluctuations
Competitor promotions that might impact your data
Online campaigns
Offline campaigns
Industry developments that are important for your brand
Tracking issues
I recommend you set up your annotations via the admin interface.
Step 1: go to "Annotations" section in admin interface and click on "new annotation":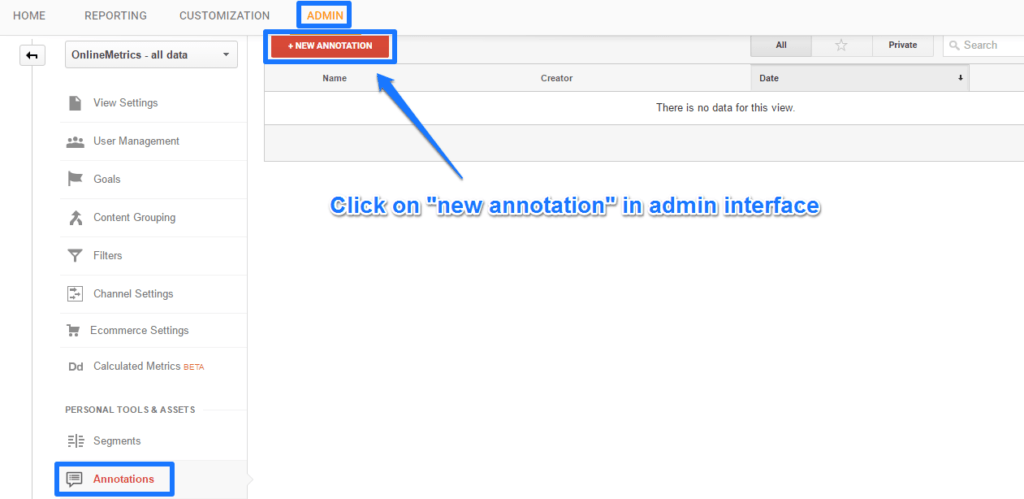 Step 2: fill in annotation details.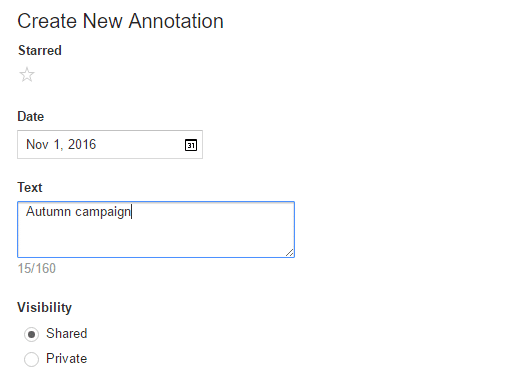 Things to note here:
Select the star if you want to save this annotation under your favorites.
Select the date (this can be both historical as well as future dates).
Choose "shared" if you want to share this annotation with team members.
Use up to 160 characters (including spaces) for your annotation.
By setting up annotations, you can better interpret certain changes in your data and this context provides a lot of value.
You should refrain from adding every event here. Make sure to concentrate on changes and events that might make the difference!
3. Segment, Segment, Segment
This is another very important tip: segment your data!
Averages lie!
It doesn't say much if your average conversion rate is 2%.
But we are getting somewhere if you tell me that your paid search CR is 4% and the affiliate CR is 0.2%!
There are many different ways to segment your data.
One easy way to start with segmentation in Google Analytics is by applying (advanced) segments to your data: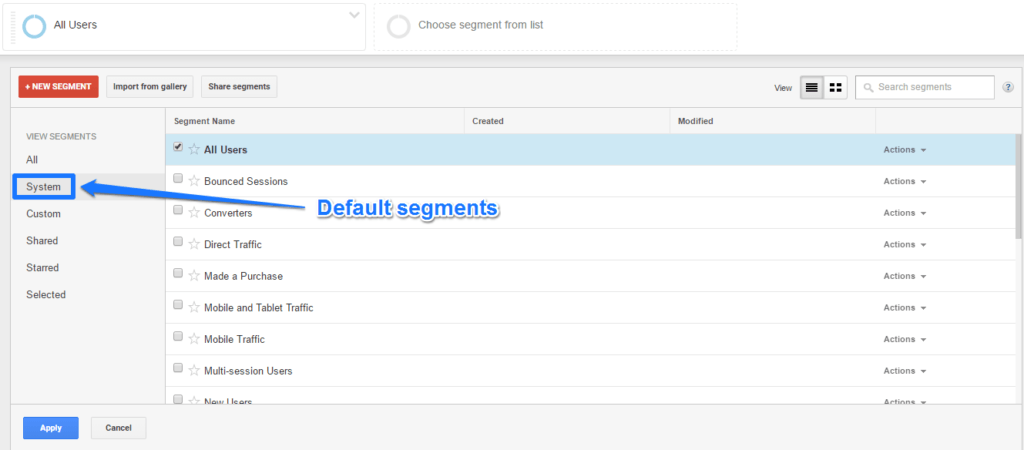 Starting with system segments is a great way to get to know segmentation better.
I recommend you start using custom segments if you are a more advanced user.
These custom segments allow you to perform:
Sequential analysis
Thorough analysis on a combination of metrics and dimensions
The beauty of this segmentation feature is that you can't lose any data. You just make temporary changes to your data view.
This in contrast to view filters which have a permanent effect on your data.
4. Use Keyboard Shortcuts
Keyboard shortcuts are very handy if you want to quickly select one data period or compare two time periods against each other.
Simply hit question mark (?) on your keyboard and this overview will show up: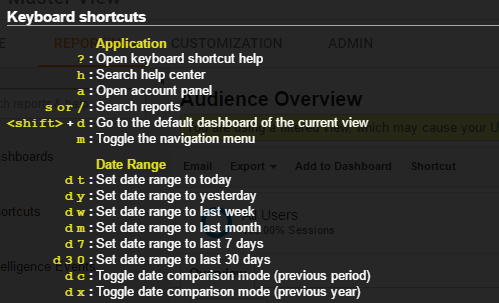 I have found the date range shortcuts especially useful.
In addition I use the "toggle the navigation menu (m)" feature often during Google Analytics workshops. It allows me to share a broader screen with my audience.
5. Use Naming Conventions
An easy to grasp naming structure in Google Analytics makes it much more easy to do your data analysis and prevents you from getting lost in your account. At a minimum you should incorporate naming conventions in your account structure, campaigns and events.
Account Structure
When you set up Google Analytics, you should think in advance about how to name your properties and reporting views.
Many accounts consist of multiple properties and dozens of reporting views.
Read this article about naming conventions to get a good idea on how to set this up most effectively.
Campaign Tracking
Google Analytics is able to flawlessly measure your online (and offline) marketing campaign activity. However, this is not something which happens automatically.
You need to add specific utm parameters to each of your campaign URLs to get this right.
Let's assume one of your channels is email. You don't want both email and e-mail showing up in your Google Analytics account. It will negatively impact your analysis, because you can easily go wrong in this case.
How to avoid this?
Create a clear list of naming conventions that everybody should follow.
Create a campaign tracking spreadsheet to keep track of all campaigns.
Educate the organization on campaign tracking and how to use the spreadsheet.
As an analyst you depend on others. Other people's mistakes will influence your analysis and the impact can be huge!
Event Tracking
Event tracking is usually implemented to track interactions on your website in addition to the default pageview. These measurements are great, but without a clear naming structure difficult to interpret.
Make sure to appropriately fill the eventCategory, eventAction and eventLabel parameter. Choose one structure and stick with it for all interactions that you measure via event tracking.
This article about event tracking naming conventions (by Krista Seiden) is a great additional read.
6. Create Custom Reports
You might have noticed yourself trying to combine data from multiple reports to get a better overview of what's going on.
Standard reports are great, but sometimes you want to create your own set of reports. This is where custom reports are your best friend!
One of the best ways to create a custom report – especially if you are new to them – is to edit a standard report.
Step 1: navigate to the standard report you wish to use as a template.
For this example I use the "source/medium" report.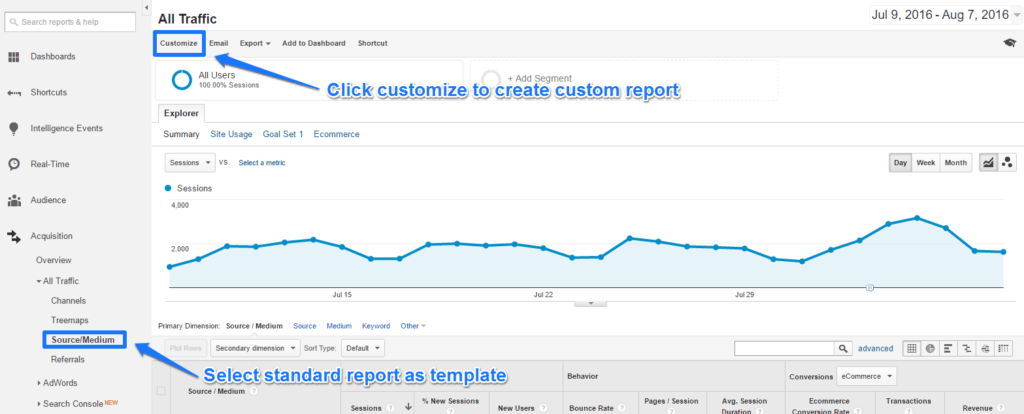 Step 2: Customize the standard report to your needs.
The following screen appears after you hit the customize button (shown above):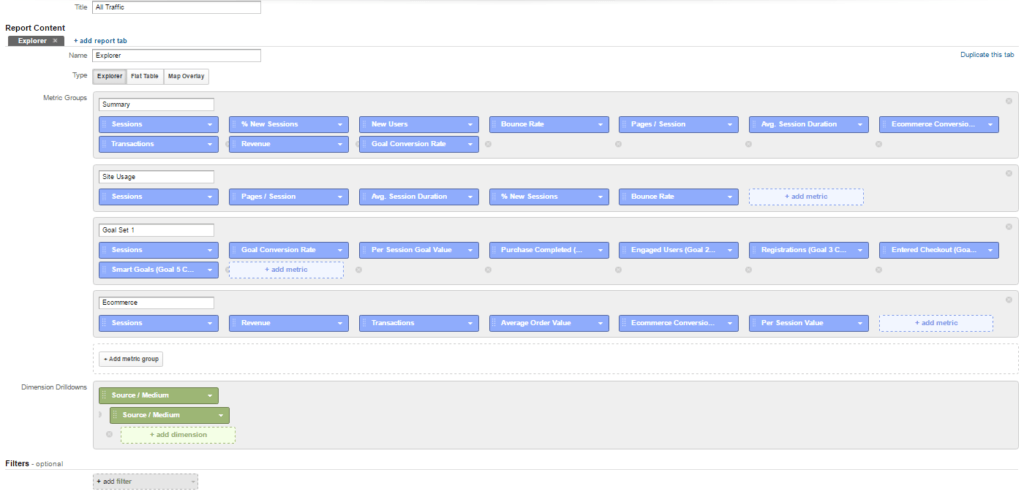 Step 3: Save your new report as a custom report.
You will learn a lot about how Google Analytics reports are structured and how you could best structure them yourself.
These custom reports allow you to integrate custom metrics and dimensions as well!
I have found this method extremely useful to enhance my data analysis. In my next tip I will explain how to go one step further.
7. Automate Your Reporting (API)
Setting up your first custom report is a great start. As long as you want to do your analysis in Google Analytics, this is a great method.
However, you don't want to manually export your custom report data and analyze it in Excel.
"Minimize your reporting time and maximize your analysis time."
If you recognize yourself manually exporting your data before you perform the analysis, I can assure you there is a better way.
The Google Analytics API allows you to automatically take care of your reporting needs and can help you connect your data to a third party analysis tool.
Here are my recommendations:
Familiarizing yourself with these tools and the Google Analytics API is really useful. It will be a great help in expanding your skills and saving time when you do your next data analysis.
8. Save Report Shortcuts
Report shortcuts is another great feature you don't want to miss.
It's very useful when you perform a data analysis in Google Analytics.
For example, you create a custom report, add a segment and filter and want to re-visit it tomorrow morning. This is when you want to save your report settings with a shortcut.
Step 1: set up your report and include all desired settings.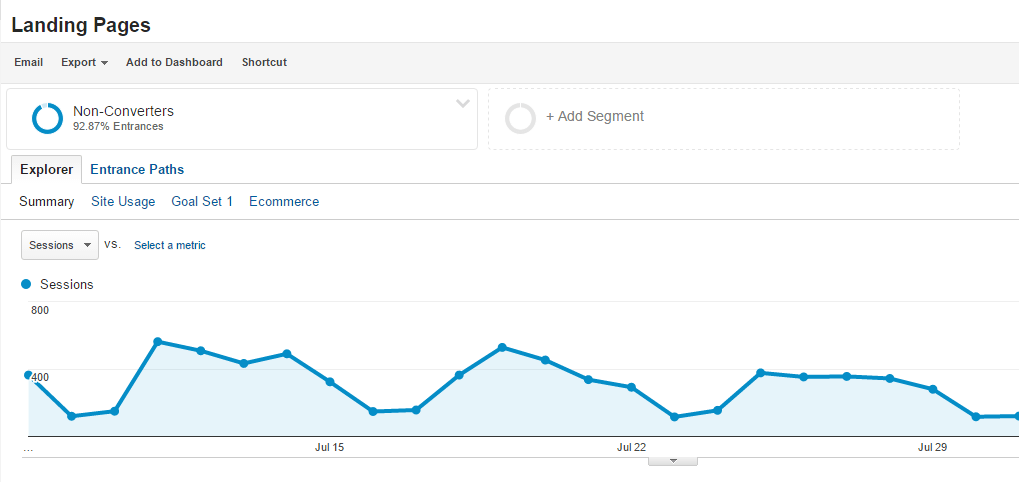 Step 2: click on "Shortcut" link, enter a suitable name and save it.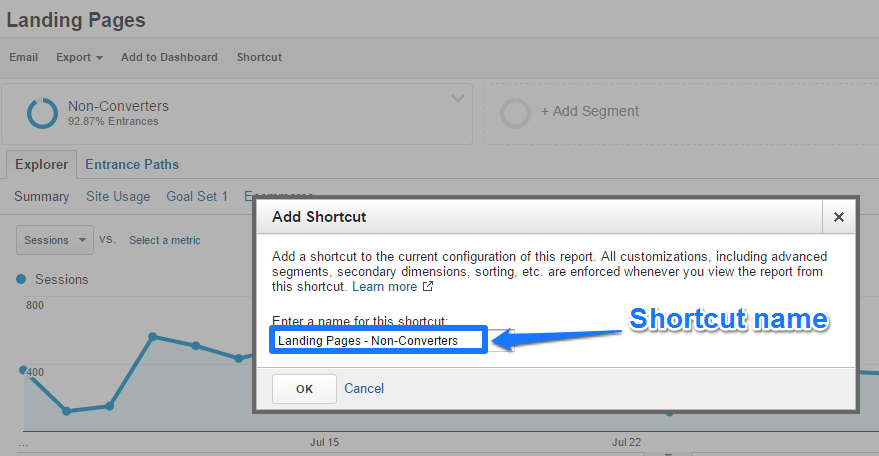 Step 3: retrieve your "Shortcut" link.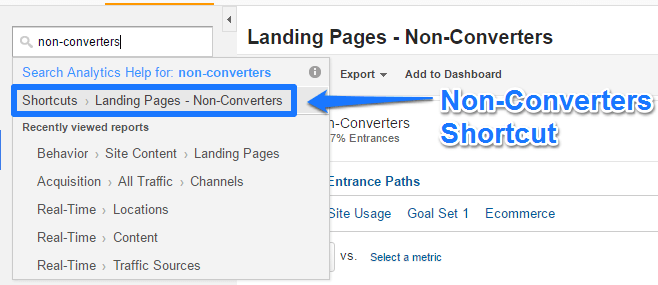 Please note that you can't directly share your shortcuts with team members.
You can "edit" or "delete" your shortcuts in the admin interface under the "Personal Tools & Assets" section.
9. Set Up Custom Alerts
Custom Alerts help you to keep track of important changes even when you don't check Google Analytics every day.
Based on your business, you can set up triggers that alert you when "something" happens.
For example:
An alert when website traffic drops to 0 (probably a technical issue)
An alert when your overall conversion rate (compared to same day last week) drops by more than 25%
An alert when your overall conversion rate (compared to same day last week) increases by more than 25%
These two resources will help you get started:
10. Visualize Data in Google Data Studio
Visualizing your data will bring it to life, it unfolds a story.
Google Analytics Data Studio (free version currently only available in the US) lets you create up to five custom reports with unlimited editing and sharing. You can expect this free version to become more widely available in the near future.
Bottom line is that plain data can tell a lot, but visualizing it will really help you to build a story around it. Interesting (visual) stories is what grabs people's attention!
Great data visualizations can tell more than 1,000 words or numbers.
This is it from my side. I hope you have picked up a few new ideas on how to make your data analysis more effective. Your thoughts are more than welcome!
About Paul Koks
Paul Koks is an Analytics Advocate at Online Metrics and the author of Google Analytics Health Check. He helps companies to capture valuable insights from simple and reliable data.