With the Black Friday and Cyber Monday shopping boom right around the corner, now is the time to start thinking about the email marketing that will fuel traffic to your website.
Why? Because data shows that for many businesses, the last two months of the year account for 40% of their total revenue for the whole year. And, on average, email produces 27% of that holiday revenue.
Online retailers can expect Black Friday and Cyber Monday 2016 to be no exception. 55% of consumers are already planning to shop between Black Friday and Cyber Monday, so we know that a large demographic of buyers are already looking forward to opening their wallets over the long weekend.
So how can you create email campaigns that drive sales during Black Friday and Cyber Monday? Let's look at a few email campaign ideas to get your mental wheels spinning.
1. A curated gift guide
Everyone has that special someone in their lives who is extremely difficult to shop for. However, curated gift guides can take some of the strain out of holiday shopping by breaking down gift ideas into themed categories. This makes the discovery process faster, simpler and less painful.
Presenting this in an email format makes it easy to drive click-throughs to your ecommerce site, too. Paired with Black Friday and Cyber Monday deals and discounts, this format is an excellent tool for driving traffic to your website.
Take a look at the example below from Target. The company created an email campaign with a gift guide for Black Friday that broke down shopping categories by price tiers and by gift recipient, making the browsing process ultra-simple.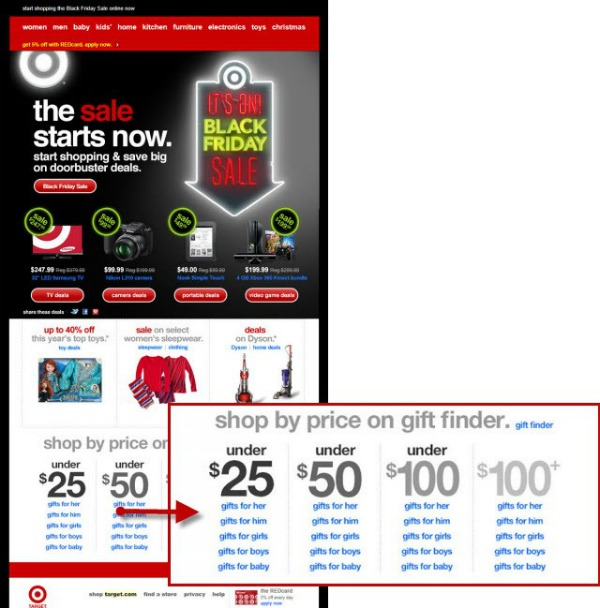 2. Have a flash sale
Online sales are expected to account for 9% of all US retail sales in 2016. According to Forrester, the increase in total spend per person is expected to jump from $1,207 in 2015, to $1,738 this year.
So what's another way email marketing can factor into that increased average spend per person? By promoting flash sales.
Limited time promotions, ranging in length from a few hours to 24 hours only, creates a compelling sense of urgency and scarcity that drive consumers to act now.
Some retailers are leveraging these types of email promotions to stand out from the deluge of sales and deals on Black Friday and Cyber Monday. Along with store-wide promotions on these days, they're using email to promote additional limited time offers that may only last for a portion of the day, a few hours, or until the deal is used up.
In the example below from CanvasGallery, you can see how they're promoting a Cyber Monday flash sale with an additional discount to re-engage their email subscribers.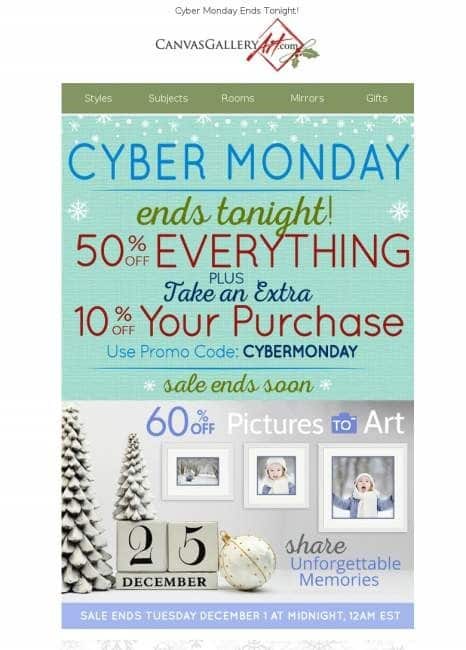 3. Mystery savings
Another idea for email marketing that drives traffic on Black Friday and Cyber Monday? Mystery savings.
Creating an animated email with a scratch card-like experience develops a curiosity gap that is extremely hard to resist. Could you say no to finding out what discount you won?
More than this, once the discount is discovered, it gives the reader one more reason to at least click through and explore your site to see if there's anything they'd like to redeem their winnings on.
Forever21 used this strategy well during a previous Black Friday sale, as you can see in the example below. In the animated version, different discounts are shown below each of the circles, enticing the reader to click and convert on the CTAs within the message body.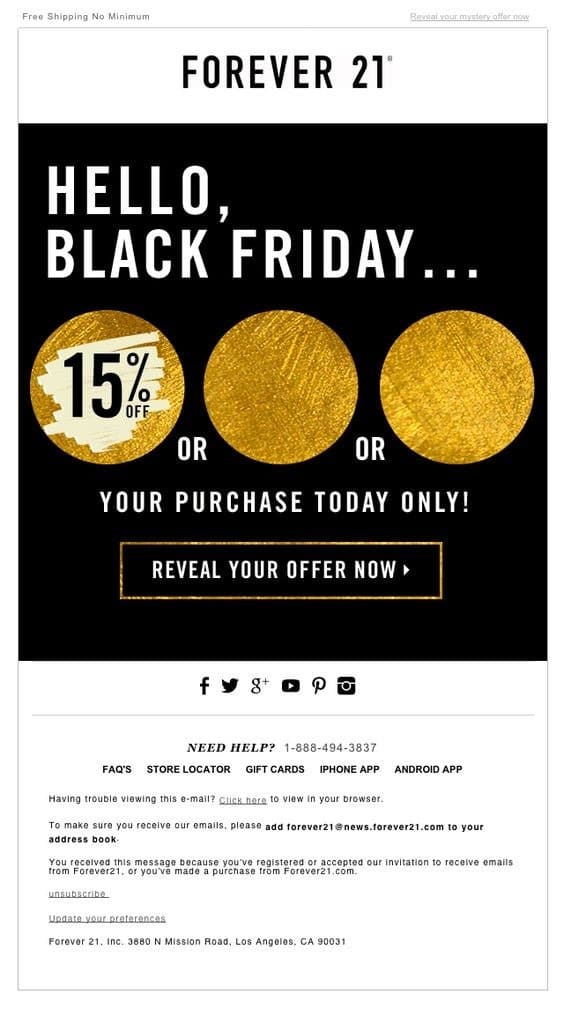 4. VIP-only deals
By creating a segment within your list of email subscribers that's dedicated to your most loyal customers (your VIPs), you can develop deals and promotions that you offer only to this group of customers to make them feel extra special.
We know that segmentation works, too. According to the DMA, segmented and targeted emails generate 58% of all revenue.
Ideas for VIP-only email deals might include:
Early access to Black Friday/Cyber Monday deals
Sneak-peeks at special holiday items you'll be releasing
First notification of flash deals and promotions
Free upgrades or extras for VIPs only
When you remind your best customers that they're being rewarded for their loyalty, you give them one more reason to love you and your brand.
5. Host a contest
Contests are another great promotional tactic you can send via email around Black Friday and Cyber Monday. Not only do these stir up your subscribers' competitive spirit, but it helps drive traffic to your site too.
In one instance, Coupons.com created a Cyber Monday scavenger hunt that encouraged recipients to visit their website to discover deals.
Contests can also be a great way to collect user-generated content. If you're asking entrants to submit a photo or video, you can gather stories from your audience and share those on other outlets like social media, your website, etc.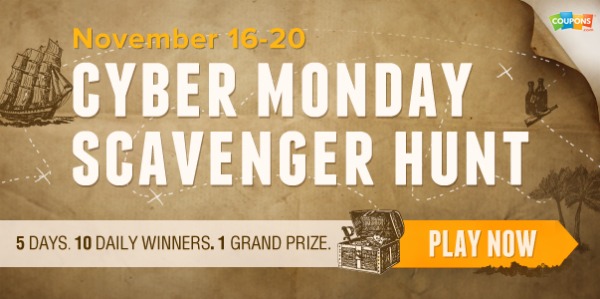 Use email to drive Black Friday site visits
Research shows that for every $1 spent, email marketing generates $38 in ROI. So why wouldn't you make the most of it during the busiest online shopping season of the year?
Use these email campaign ideas to start thinking about your strategy for Black Friday and Cyber Monday. Make sure your website is ready for increased traffic with site monitoring tools.