In 2012, Google released some of it's data showing that smartphones are actually the prevalent starting point for online activities, with 65% of visitors starting their search for information or online shopping on their mobile devices.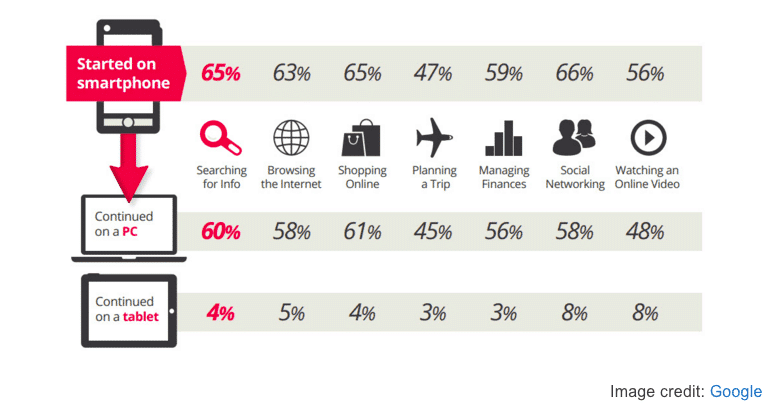 And according to a report by comScore, as of 2014, mobile has surpassed desktop in terms of global users – the numbers are continuously growing.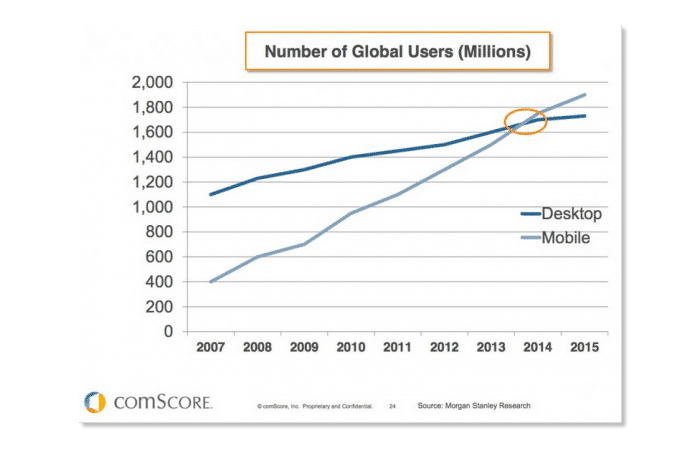 That is why in this post, we'll be discussing how to optimize your mobile landing pages for those mobile visitors.
Quite frankly, the mobile browsing experience is very different from the desktop one. From a smaller screen, to a completely different set of goals, we must create specific landing pages for our mobile visitors. If a person is on their phone, scrolling through their Facebook feed or search results, and comes across your link/ad and clicks it, they're going to end up on the landing page you've created for that link, and you must ensure you've created a good landing page for that mobile visitor.
So below, you will find 9 tips for creating your mobile landing pages and making them as effective as possible.
9 Tips for Optimizing your Mobile Landing Page:
Do Your Due Diligence
"The expectations of life depend upon diligence; the mechanic that would perfect his work must first sharpen his tools. " – Confucius
Before you start creating your mobile landing pages, go into your Google Analytics account and see what devices your visitors are using. You can find this under: Audience > Mobile > Overview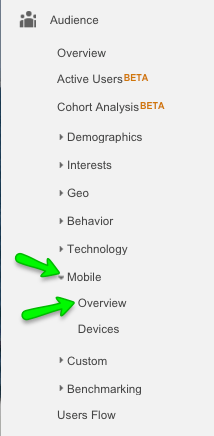 Here you can see what percentage of your users are visiting from mobile.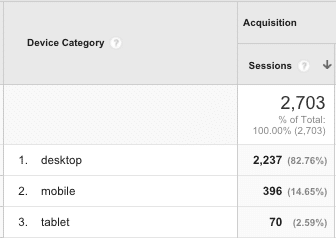 In this case it is 14%.
If you go into the Mobile> Devices section (below overview in the navigation bar), you can see exactly which devices are most popular: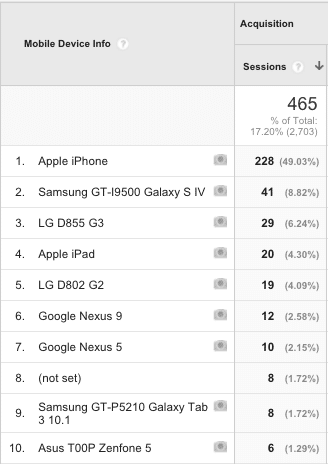 In this case it looks to be the Apple iPhone that is most popular with 49% of mobile traffic.
Another thing to look into while doing your due diligence is to check what pages your mobile visitors view most on your site. You can do this by adding a secondary dimension "Page".

You can also go to the Behavior section in your Google Analytics, and under "Site Content" select All Pages. Then, add the segment of "Mobile Traffic" and look at which pages most of your mobile traffic is looking at.
By viewing what pages your mobile visitors are spending time on, you can understand your visitors' goals and through that, know how to design your mobile landing page.
For example, if your mobile users are browsing to find your store's location, or if they come to browse your stock but don't make it to the checkout page, then build your landing page to provide information, a link to a map to your store, your phone number, or a lead box to leave their email so that you can email-market the purchases out of them!
Keep It Simple
"Simplicity is the ultimate sophistication" – Leonardo Da Vinci
After you've done your due diligence, you want to start planning what your page will look like. When we create a mobile landing page, we need to consider that it is on a tiny screen and that our users are mobile (pun intended!). That means keeping our mobile landing page simple.
What do I mean by simple? I mean minimal and easy to understand. I mean as little words as possible – keep your titles at around 3 to 4 words. Make your buttons big and clear. Your users should be able to easily understand where they've reached and what they should do next.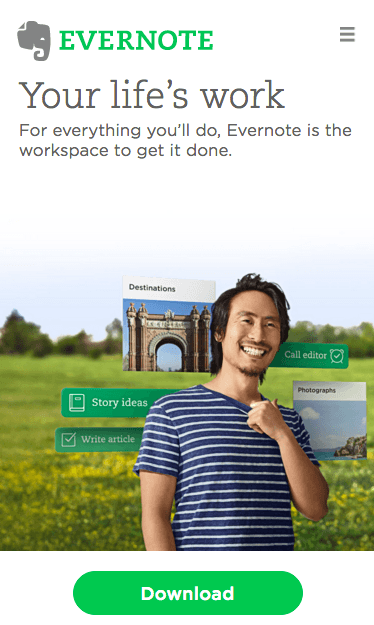 Evernote's headline is three words: Your Life's Work. There is one main image, and one main button → Download. This mobile landing page is simple and straightforward.
Avoid the Zoom-In
"When in doubt, zoom out" – Reggie Watts
If your users need to do that silly two-finger-splits move on their screen, bend their neck, and squint in order to read the tiny words on your responsive screen, you've lost them. A smaller screen does not mean smaller fonts and smaller buttons. It means optimizing your site to suit the screen size. So when you are designing your mobile landing page, constantly think of how to create a page that does not require zoom.
This may involve choosing one main call to action instead of the two or three you have on your desktop landing page. It may also include breaking your form down into 2, 3 or even 4 steps. It involves rethinking the page itself. But it is important to do in order to increase conversions because a page a user cannot read easily is a page a user will leave easily.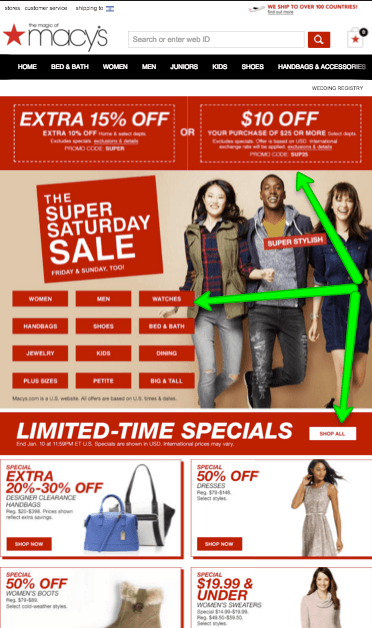 Here you can see Macy's mobile landing page. The words are so small that you have to zoom in to read them, and you can barely see that tiny "Shop All" button next to the Limited Time Specials. This would be a very frustrating landing page to land on because the buttons are close together and tiny and your big thumb could click several at once so you have to zoom in before interacting with anything here.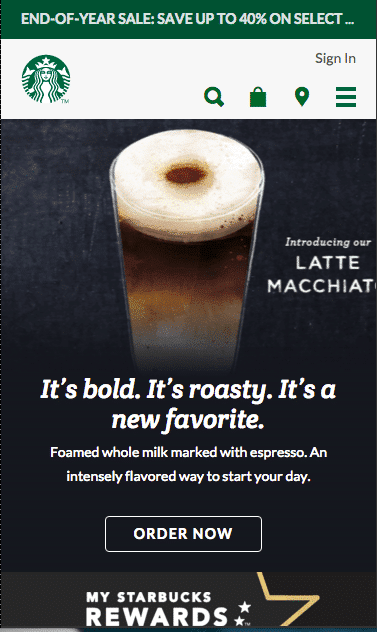 With the Starbucks landing page, on the other hand, things are simple. It's very easy to see that they want us to Order Now – and we can find that navigation button to find a store near us quickly at the top of the page. The text is big and easy to read, and the button has space around it and is clear – and there's only one button so we also know what we should do here.
Keep It Local.
"Think Global, Act Local" – unknown
According to a research discussed in Forbes, 74% of people use their mobile phones to help them while shopping. When people are on their mobile phones, they are normally using this time to search for a local purpose Whether this is to navigate to a location, find a phone number, make a reservation at your restaurant, or find your nearest store.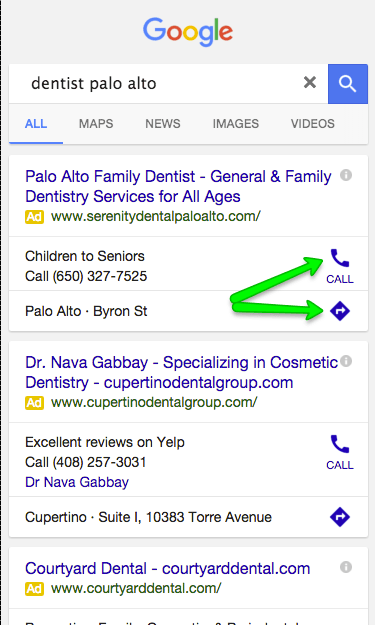 Google, as you can see, recognizes that I searched from mobile and already offers me the two most common solutions of what I may be looking for – Call and Get Directions.
Use this knowledge to optimize your mobile landing page and select that main call -to-action we talked about in the last point. Offer them a "navigate to this location" or "call us" or "get an in-store discount" to promote them really driving to your store right away. You want to make sure that your landing page is suited to the needs and purposes of your users.
Connect your devices
"Invisible threads are the strongest ties." -Friedrich Nietzche
As you can see from the image above, smartphone users start their search on their mobile devices but want to continue to another place to actually complete the purchase or order. In fact, a Google study found that 90% of users use sequential screening, meaning that they move from one device to another when completing tasks.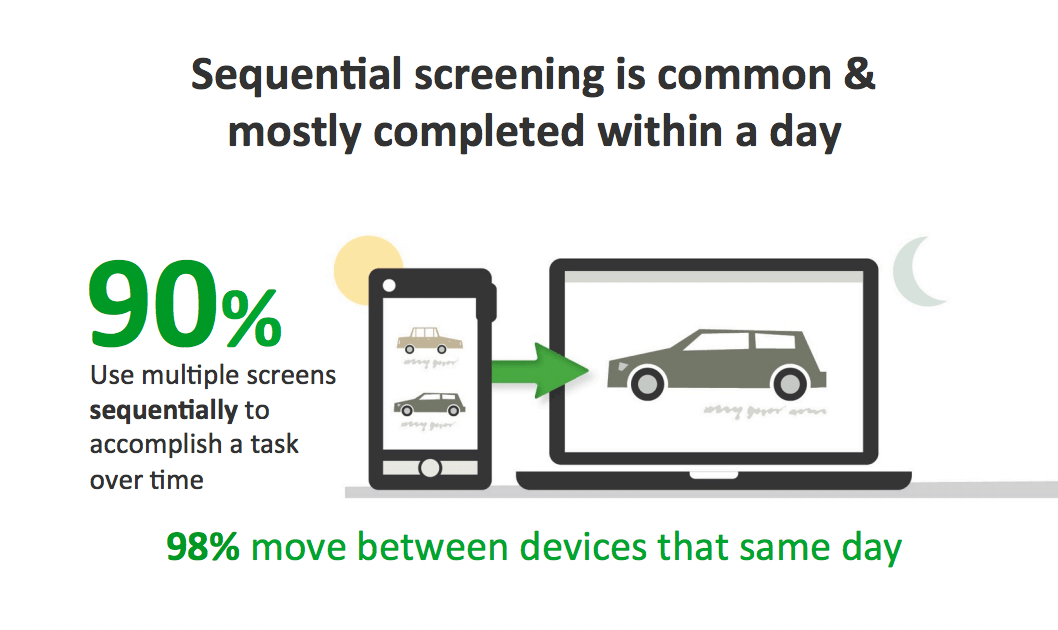 So when we are designing our landing pages, it is important to keep this in mind. Use call to actions that ease the goal on your users. Allow them to save to favorites, to add to cart, or to email it to themselves so they can reach the same point again from a different device.
Technical Aspects Are Just as Important
"Any sufficiently advanced technology is indistinguishable from magic." – Arthur C. Clarke
A lot of times we discuss design, color, size as the important aspects of conversion optimization but none of these will have any effect if your page isn't functioning in the optimal level – fast loading times, checkout functionality, etc. In fact, research shows that about 64% of smartphone users want a web page to load within 4 seconds, and 82% of them expect it to load within 5 seconds. What does that mean for you? It means you need to make sure your mobile landing page is optimized, your jpegs are minimized, and your javascript is loading properly. But that's not all. When we know that mobile users are using their mobile web to search, we want to make sure that we are showing up in that search. Sorry to get so technical here but you need to be on top of your SEO efforts to make sure you are showing up on those searches.
Find the Friction and Minimize It
"The world is wide, and I will not waste my life in friction when it could be turned into momentum." – Frances E. Willard.
What's the biggest pain on the mobile web? TYPING. While we text all the time, filling out a form on that tiny keyboard with our thumb? Not so fun. Make sure your mobile forms are as easy to fill out, and with as little typing as possible.
If you have returning users, we recommend you save their information to help them fill it in automatically. You can also have automatic completion in your search bars for countries and addresses. When it comes to filling in that credit card field with all of those numbers, make the field centered, easy and clear to see. Basically, try to make the whole process as easy as possible.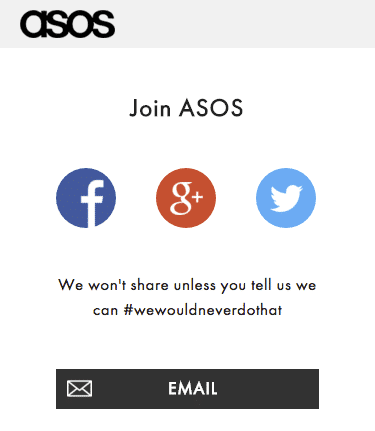 ASOS allows you to choose whether you want to login using one of your social logins or whether you want to use your email. Social logins can save time and require less registration fields than creating a new account on this site.
If you do decide you want to create an account with your email for this site, this is the window you'll get: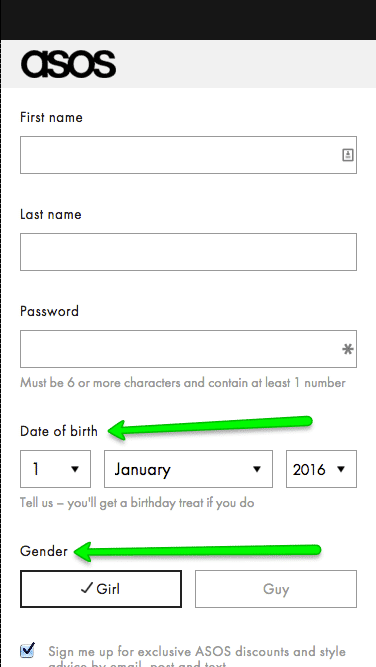 ASOS makes it easy by allowing you to select your birthday from roll down menus and not have to type it in, and by selecting your gender via large, clear buttons too. Meaning – they reduce keypad use as much as possible in their process, hereby making it easier for you to sign up!
"Less is more" – Ludwig Mies van der Rohe
What's more annoying than trying to click on a button, when your big thumb accidentally clicks on a different link – and then you're sent to a different page you didn't even want to go to? Nothing. Make sure your buttons are comfortable for thumbs – with no small links close by. Leave lots of white space around your buttons, which basically means leave room for error while people are running with their mobile phone in hand, using only their thumbs to reach their destinations (I think I've just come up with the basic world description for my next dystopian novel).
Personalization
"The key is to present the right content to the users at the time they need it in an engaging manner, across all channels they visit." – Jim Yu (CEO BrightEdge)
Understand your customers, and their goals. Once you know what it is your customers are looking for on your site (finding the nearest store that sells rainboots, looking for a dress for the next party, trying to book an appointment for the doctor, trying to reserve a table at your restaurant, or get directions) – use location items in your mobile phone to create a personalized experience for your user. You can target them specifically and offer them what they are looking for! If a user is a returning user, welcome them. When someone from Canada lands on your site and you just happen to have free shipping for the U.S and Canada, let them know!! If you are offering a 10% discount for all new users, but don't want returning visitors to know, you can do that.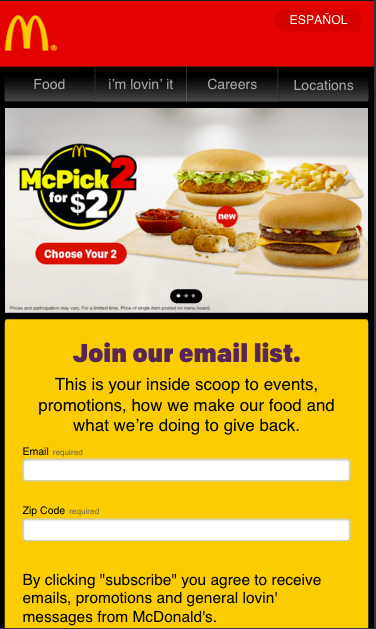 The fact that McDonald's collects information about your zipcode shows they are aware of the importance of personalizing your newsletter experience based on where you live.
One company I worked with used a product called Banana-Splash as a tool to create personalized, segmented messages to send to their users. They wanted to increase downloads of their app, so they created different messages for different countries they were targeting, using specific copy for each country, and they targeted only visitors from iPhone devices, because the app was only available to them. With this personalization, the company increased their downloaded app conversion rate by 59%! You can use the knowledge you have on your users to help them reach their goals, to help you reach yours!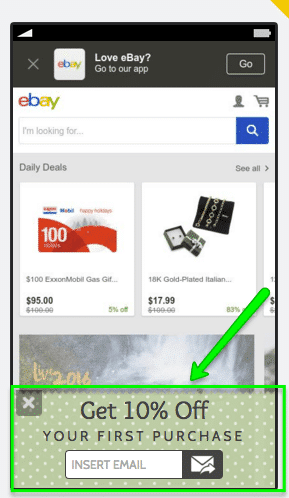 This is just an example of Banana-Splash at work. Not the company I worked with, and not active on ebay.com.
So there you have it. With research on your users, keeping it clean and simple, taking into account your limitations, focusing on your one call to action, personalizing, and technical optimization, you can take your landing pages to the next level.
Now that we have gone through these tips, it's time for you to go and look into your data, learn about your users, consider your strategy, and optimize your landing pages!. Update me on your test results and data discoveries!
Bio:
Netta Gal-Oz is a Web Strategic Planner and Marketing Analyst at Conversioner. With BA's in Psychology and Communication, and a passion for strategy and marketing, Netta helps businesses understand their competitors and market opportunities using research and data analysis. With this and emotional targeting, Netta builds strategies to increase conversions. She is an avid reader who loves cooking and travelling. You can follow her @ngaloz21