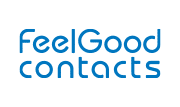 Eliminating customer struggle
The UK's #1 choice for contact lenses online
Feel Good Contacts was established in 2008 and has quickly become the UK's leading website for consumers wanting to purchase affordable contact lenses, eye care products and sunglasses.
The company's website offers an extensive range of products and fulfillment options including next day delivery, click and collect and international delivery to over 30 different countries.
Consumers love the Feel Good Contacts brand – this is best demonstrated by the excellent "4.9 out of 5" rating on TrustPilot from more than 36,000 individual customer reviews.
The company's Marketing team, based in London, takes full responsibility for all aspects of optimizing and improving the Feel Good Contacts website.
A methodical approach to website optimization
Feel Good Contacts have used SessionCam in a methodical way to improve and optimize their website.
To start, SessionCam's unique machine learning algorithms have been used to identify the web pages where customers struggle the most.
Each of these pages have then been individually reviewed to identify the points of friction and visitor frustration that impact customer experience and lower conversion.
This has been achieved by watching individual recordings and heat mapping aggregated behavior to better understand how users interact with the page.
Once real behavior has been understood, ideas for improvements are developed and A/B tested before being released to the website.
Numerous improvements delivered
Using SessionCam in this way has identified numerous optimizations.
A good example of the problems identified by SessionCam relates to the shopping cart where high customer struggle was detected and directly linked to frustration around the "promo code" input box as users frequently had problems entering valid codes.
Improved instruction and labelling in the design of this element of the page quickly reduced customer struggle to improve the overall customer experience as well as the website conversion.
Commenting on their use of SessionCam, Nimesh Shah, Marketing Director says "SessionCam has proven to be of great value to us and become an essential tool that we use on a daily basis to optimize our website".