Using Data to Drive Content.
Based on a recent Econsultancy and Adobe survey, company respondents indicated content optimization as one of the top digital priorities for 2016.
Businesses realize that data can transform content into personalized messaging for their customers. It's a practical way to be responsive to their consumer's needs.
Another report from Forbes Insights and Turn reveals that "leaders in data-driven marketing are more than six times more likely than laggards to report achieving competitive advantage in increasing profitability."
However, e-Commerce merchants still struggle with infusing data into their marketing efforts.
So, how is creating data-driven content vital to ensuring your brand's overall success?
Data as a Content Strategy
According to Altimeter Group, "70% of marketers lack a consistent or integrated content strategy." It's no wonder customers receive mixed messages from brands.
To be effective, it's up to teams to develop a consistent message across multiple mediums. And it all begins with using data to shape content to your audience's needs.
Brad Messinger, senior vice president of marketing for Rise Interactive, says:
"Too few marketers truly use a data-driven content marketing strategy. Setting clear goals and using data as your guide ensures that you are developing the right type of content, getting it in front of the right audiences, and understanding its impact in a way that lets you continually optimize your strategy."
Marketers must take action to grab their website visitor's attention. That means analyzing data to outline the best approach to create targeted and relevant content.
It centers on taking bits of data to generate a results-driven marketing campaign.
For instance, Huffington Post conducted an A/B testing between two headlines. They found that the word "silenced" outperformed "bullied."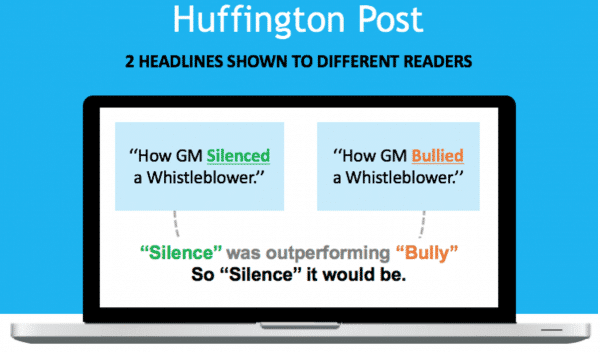 Data can also advance engagement opportunities with your customers.
Forbes contributor Daniel Newman, states, "When it comes to content marketing, a lot depends on when and where you place your messages. Many marketers realize the hard way that bad timing can lead to even the best content being ignored."
Use data to mold your content strategy.
Improve Customer Experience
Data can give you in-depth insight on your users' purchasing patterns and online behaviors. With that knowledge, your team can focus on improving the customer experience.
Research tells us that 78% of marketers strive to differentiate themselves through customer experience.
"The quality of customer experience will always be improved if a business can quickly respond via the correct channels to manage the expectations of its customers," says Michael Abramow, Director of Strategy and Insight, Japan and Asia Pacific, at Oracle.
"Utilizing software analytics to process the correct data sources and metrics, and then proactively providing relevant and contextual information, is paramount."
Eyewear designer Warby Parker employs data to give their customers unique shopping experiences. Their Consumer Insights and Customer Experience teams "mine data and use algorithms to continually innovate and A/B test, and personalize offers and messaging."
For example, the company applies an algorithm for their Home Try-On program, where five selected frames are shipped to customers for free and the customer returns the ones he or she doesn't prefer.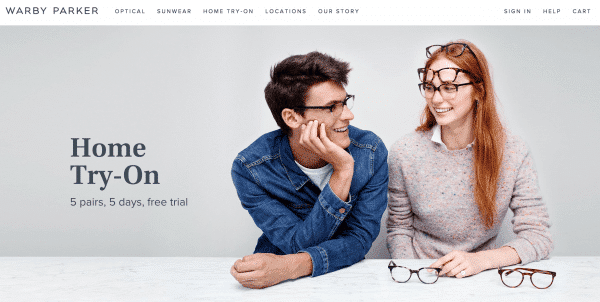 In addition, by aligning your customer buying cycle with data, content can be tailored to meet your customer's needs.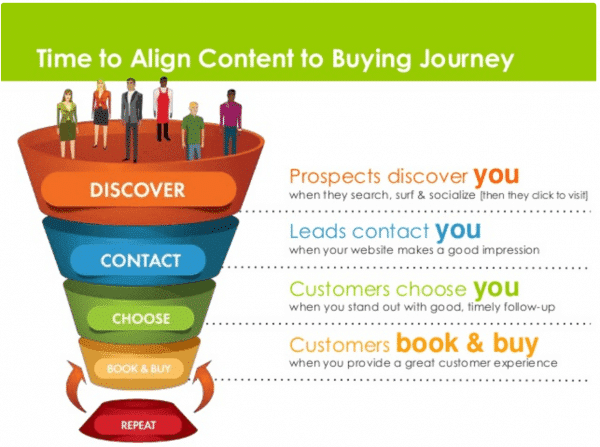 So, what does this look in real life?
Top of the funnel content will spark interest. This includes blog posts and email newsletters.
Bottom of the funnel content will drive conversions, meaning you need to host live demos or produce case studies.
A data-driven process leads to relevant content and happier customers.
Content + Data = Results
The Future of Content Marketing: The Age of Content Science noted that "[d]ata-driven content marketing strategies generate nearly five times more marketing-attributed revenue than standard content marketing tactics."
That's why it's vital that you have a plan, rather than a bunch of random techniques. A well-thought-out strategy will produce results.
Zillow used its database of 110 million homes to create unconventional content. For example, they produced an infographic titled "10 Best Cities For Love This Valentine's Day."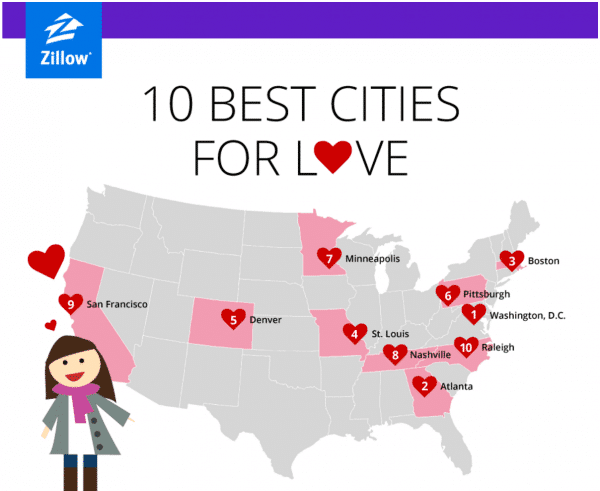 Firestone used public domain data (almost 40 sources) to create a visualization of America's Car Giants. They transformed mundane stats into an interesting story to connect with their audience. The tire manufacturer's interactive visual is engaging and digestible for any reader.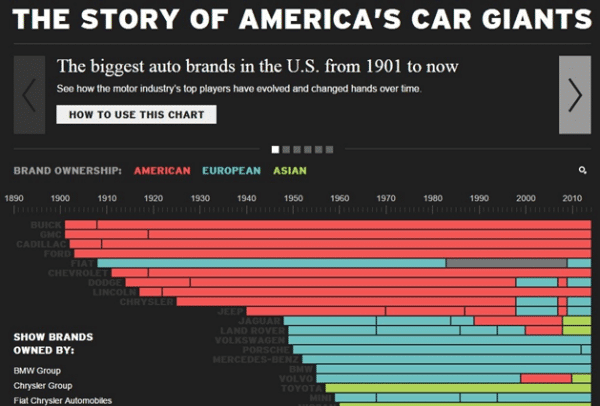 Social commerce agency Affinio conducted a segmentation analysis showing a crossover audience for HBO and Netflix. It included a segment of 'Nerds who read a lot.'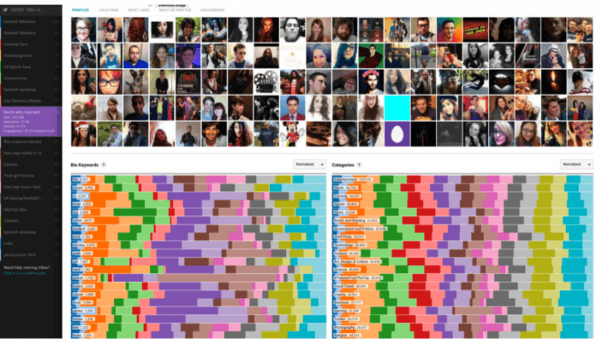 With this analysis, companies can discover which influencers appeal to the segment, what type of content customers would more likely read, and even hashtags that would intrigue buyers to participate in certain marketing campaigns.
Tools to Use
What tools will help your team produce data-driven content? Try one or more of the following:
Optimizely
Optimizely lets you quickly build and run A/B tests on your site. By testing your content, explore data on the copy, placement, and personalization.
This platform connects browsing behavior with contextual clues to give you the entire customer profile. Experimenting with multiple variations opens the doors to increasing conversions.
Buffer
Known for scheduling social media updates, Buffer is also an effective tool for gathering social data about your customers. Learn which posts receive the most shares, retweets, or likes.
Then, your team can adjust content to reach a larger audience. Drive more traffic and grow your following.
SessionCam
Our tool offers teams the chance to see real users interact with your site. With our conversion technology, you can analyze what content works and remove any usability issues.
Quickly visualize what customers want, and understand where they click and scroll. Let the data reveal the patterns that convert users.
BuzzSumo
Buzzsumo helps companies amplify their content through data-rich research. Find topics that resonate with your customers. See what content types ‐infographics or videos‐ attract more people.
You can evaluate a blog post, entire website, and competitors. Also, develop a target list of influencers who will spread your content's reach.
Engage Data
Improve your marketing strategy. Let data lead your content creation.
Use data to maximize customer engagement opportunities. Monitor trends to enhance the customer experience. Moreover, use analytics tools to streamline the process.
Think data. Create content. Convert more.