According to 27% of senior executives, digital transformation is "a matter of survival."
Customers are shopping on multiple digital devices. They learn, compare, and purchase products without leaving their homes.
An Altimeter report notes that "digital transformation represents the quest to understand how disruptive technology affects the customer experience."
With increased competition, businesses must differentiate themselves beyond product offerings. And that means mastering how to provide the best online shopping experience to their customers.
So, exactly how can your company adapt to this ongoing digital shift? Let's examine the future of ecommerce and how your team can become an industry leader.
Defining Digital Transformation
Digital transformation is a model of how companies use technology to connect with their customers. It encompasses everything from business activities and processes to competencies.
Think of digital transformation as a journey that involves aligned-goals, innovation, and new capacities. Your team is responsible for coordinating all the essential functions in order to optimize the business's operations.
"A digital business is an organization that incorporates digital technology to create revenue and results via innovative strategies, products, processes and experiences. They use digital resources to create new customer value, revenue and business results," says Mark McDonald, Managing Director within Accenture's Management Consulting.
The most common digital tools help companies with mobile, social, and geo-location. For example, social media tools, like Facebook and Twitter, give brands opportunities to talk directly to their customers.
Here's an example from Virgin Mobile USA assisting a customer on Twitter.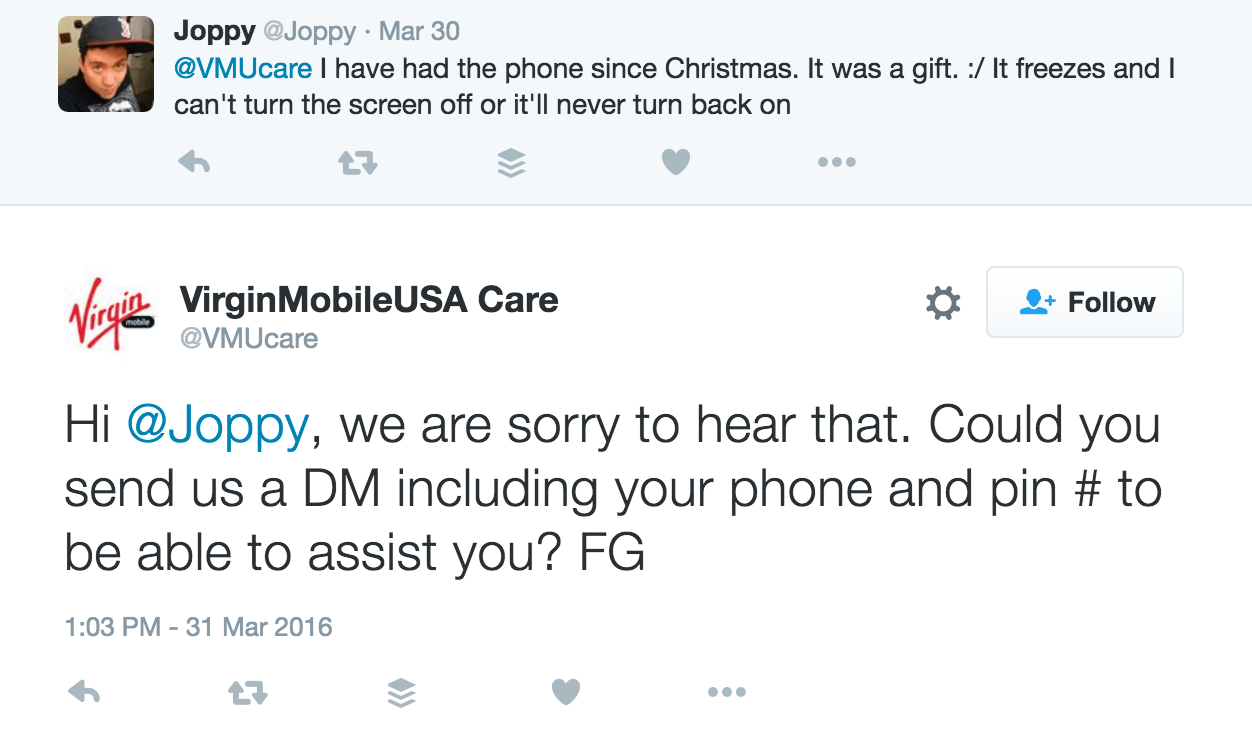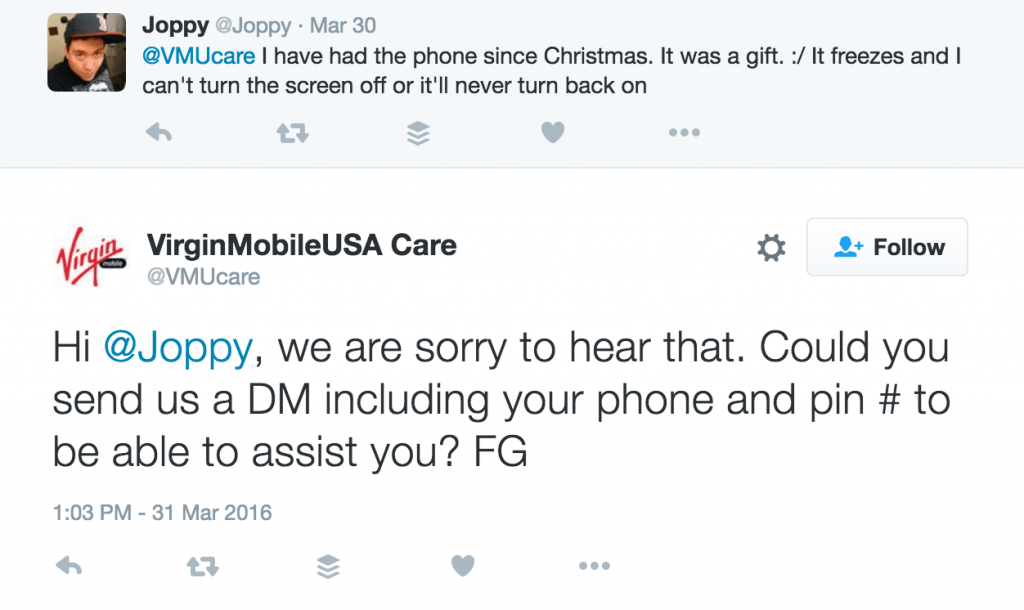 In the end, decide what digital transformation means to your company and culture. Maybe your team can focus on changing the sales process or streamlining customer retention.
It doesn't have to be a huge endeavor.
Real change starts with intent and prioritization. What will give your company the most ROI? How will these changes affect your current pain points? Are you meeting your actual needs?
Don't get bogged down in the details. Instead, do what's best for your customer.
The Future of Customer Experience
In the past, business professionals believed the customer experience only involved the actual sale. Now, with the shift toward digital transformation, we know that belief doesn't hold true anymore.
The customer experience extends past a single touch point. It includes Facebook ads, billboards, online product pages, and customer service reps. Prospects are learning about your services from friends and co-workers, too.
All those interactions have a profound effect on whether an individual will purchase your products. And for the most part, your team controls how a potential customer perceives your brand.
"In reality, experience is the sum of all touches throughout the customer relationship. The companies that understand this look at that philosophy and apply it across the board. They're re-examining everything from their brand messaging to their products to their packaging and product design," says Brian Solis, author of X:The Experience of Business Meets Design.
Engagement is the future of the customer experience.
Rosetta notes that "engaged customers buy 50% more frequently, spend 200% more each year, and are five times more likely to indicate a brand is the only one they would purchase in the future."
In 2004, Dove launched its Campaign for Real Beauty to provoke discussion and encourage customers to share their stories about existing beauty stereotypes. Over a 10 year span, the company's sales jumped from $2.5 billion to $4 billion.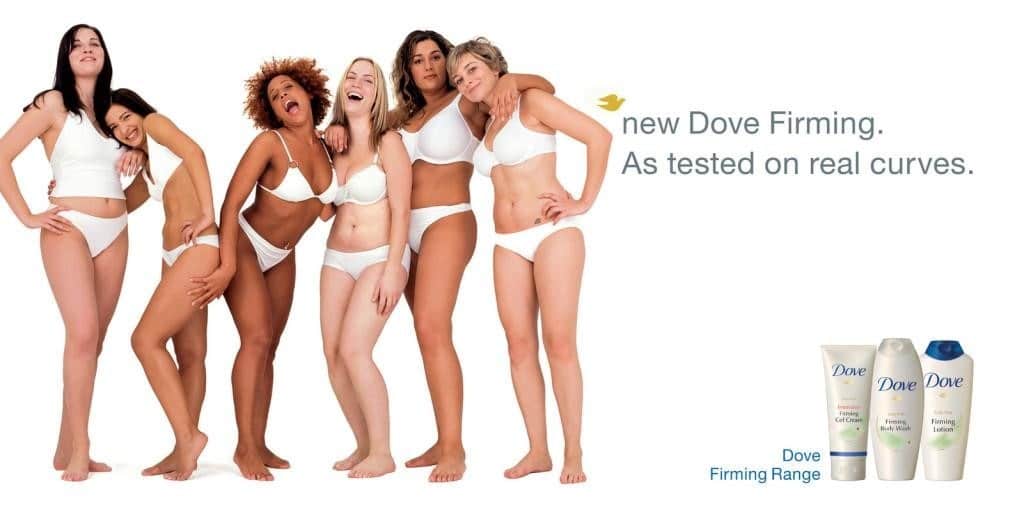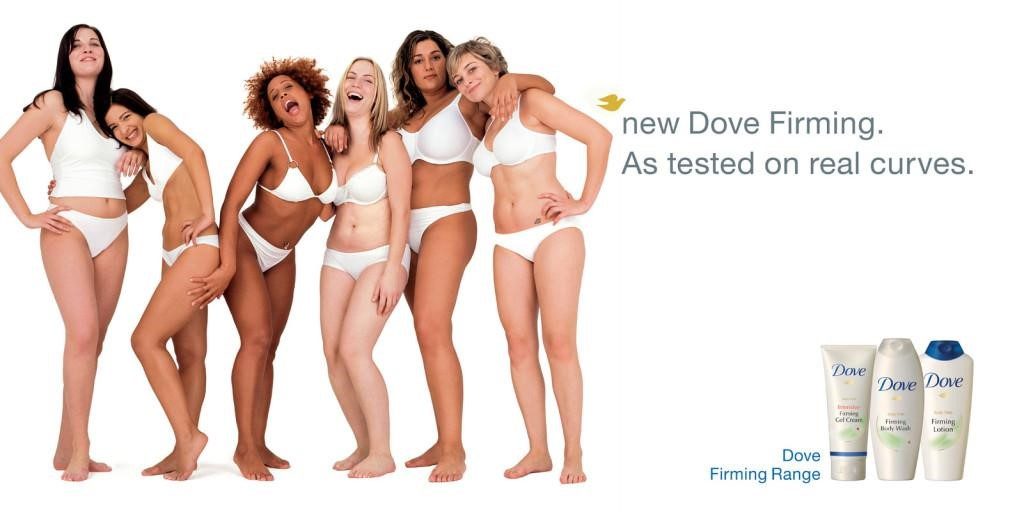 Prepare your brand to do more than just sell products. Go beyond the sales transaction and get ready to engage your consumers.
Challenges Ahead
Like most major business developments, digital transformation may present a barrier to your company. Rather than avoiding it, train your team to adapt to the changes.
Econsultancy reports that "only 11% [of organizations] failed to regard digital transformation as a challenge, with 33% describing it as a huge challenge. Respondents identified with a number of specific challenges from managing talent, to board room buy-in, to cross-function alignment."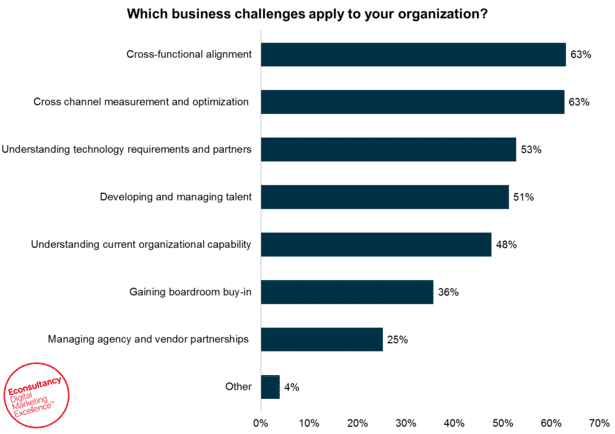 It may help to obtain agreement from your C-level leadership before implementing new changes. That way, when obstacles arise, executives will oppose any pushback.
To receive support from senior management, offer data that fortifies the transition into digital transformation. Give examples of how the company will benefit, what resources can be reallocated, and the role each division will play.
Emphasize the emergence of superbrands. Expansion is an incentive to transcend multiple industries and national boundaries and earn more revenue.
For instance, Nike started selling just shoes. Now, the brand has expanded into apparel, equipment, accessories, and services.
In addition, if your team is struggling to understand where digital transformation fits within their specific functions, educate them. Hire an outside consultant to train your staff members.
The challenges ahead aren't hard to fix. Pinpoint solutions along the way.
Best Practices to Follow
Improving customer experience doesn't have to be difficult. Create manageable goals that will serve your consumers' needs.
Employ behavior and cognitive research to discover insights into how customers use your products in their day-to-day lives. Learning how and why they make purchases will allow your team to take a proactive approach.
For example, your customers shouldn't have to guess about your shipping policy. Instead, post it in a conspicuous spot on your website.
Also, encourage your team to create a customer journey map. This will help spot any deficiencies throughout the customer experience.
"A journey map is an illustrated representation of a customer's expectations, experiences and reflections as it unfolds over time across multiple stages and touchpoints while using a product or consuming a service," states Siddharth Gaikwad, practice head of digital experience at Dell digital business services.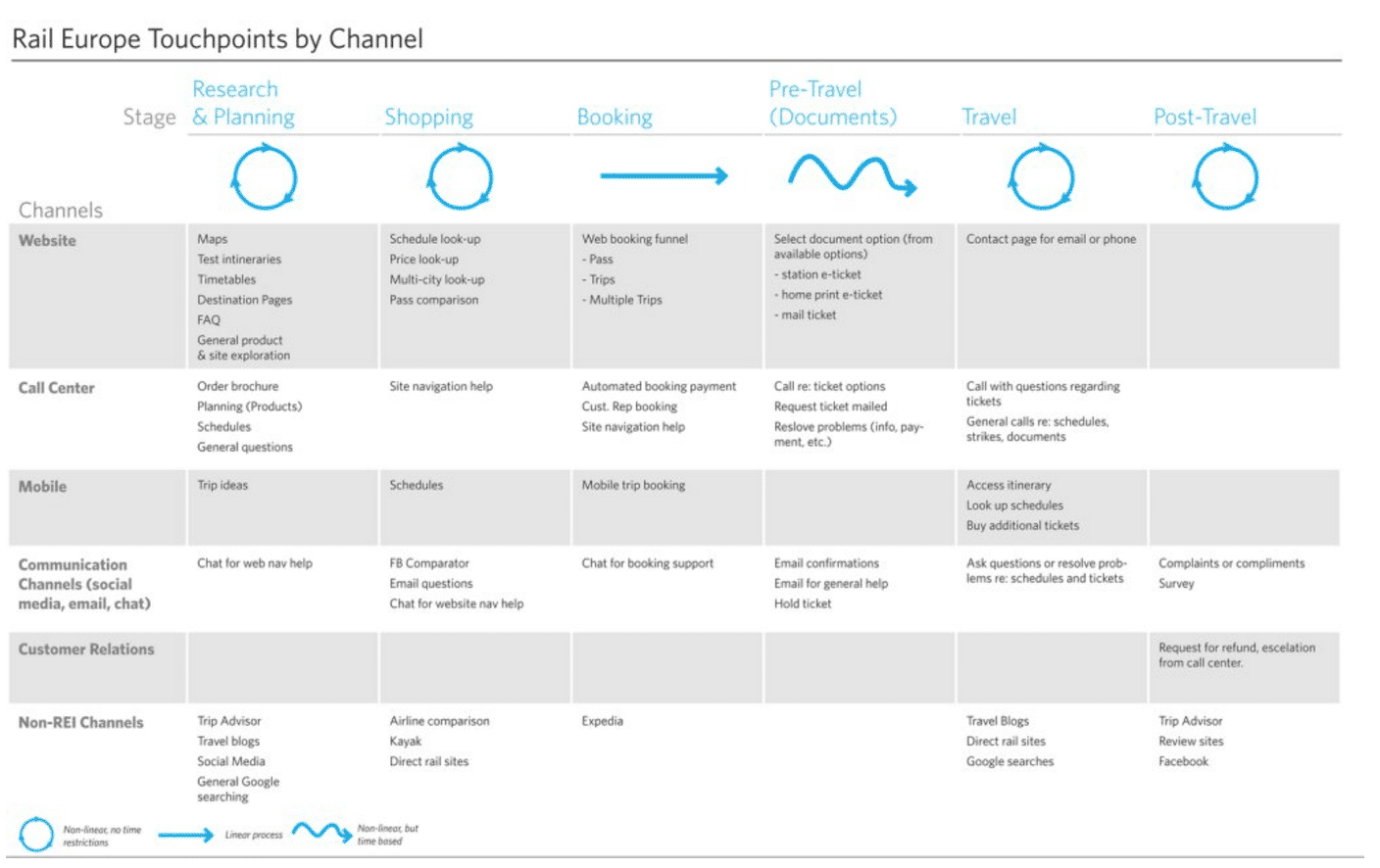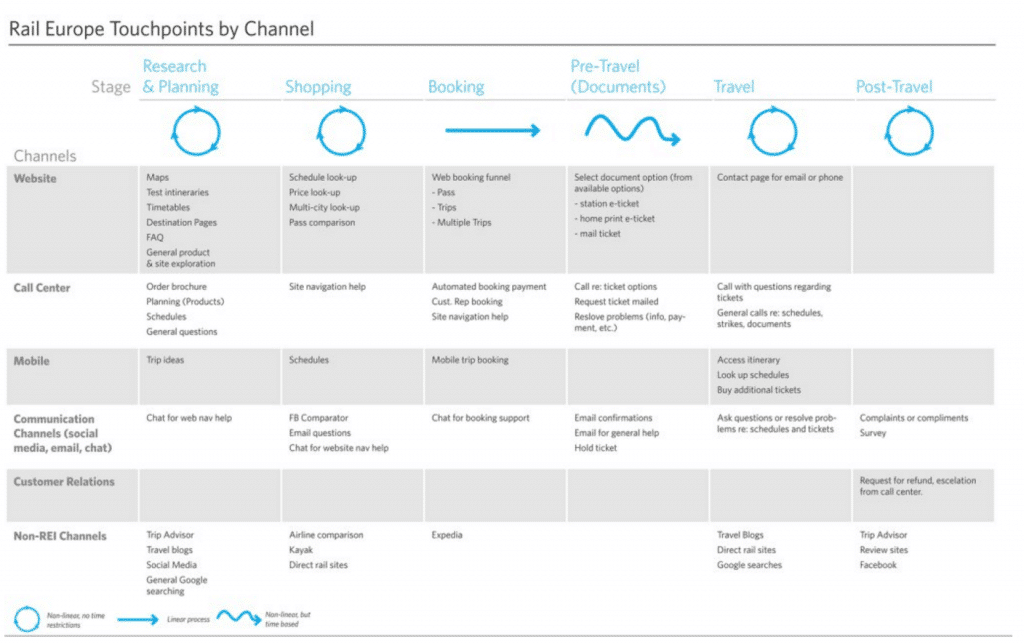 Lastly, invest in mobile. Smartphones give people the ability to access your brand, anytime and anywhere. It's one of the important omnichannel experiences that will offer value to your consumers.
Be ahead of the competition. Achieve more by doing things differently.
Shift Forward
The times are changing. Technology is influencing how consumers find and purchase products. To be successful, companies must be ready to adapt quickly.
Learn how the digital transformation affects your brand. Look at the customer experience as a process, not a one-time event. And configure best practices that will give your brand the insight to satisfy your customers.
Gain a digital advantage. Shift forward.
Shayla Price creates and promotes content. She lives at the intersection of digital marketing, technology, and social responsibility. Connect with her on Twitter: @shaylaprice