Emotional intelligence is the cornerstone of your customer engagement strategy.
Customers buy your products based on how they feel. And that feeling focuses on how your employees treat them, the quality of your product, and even your brand's culture.
The shopping experience matters to buyers. A recent study revealed that 55% of consumers would pay more for a better customer experience.
It all starts with recognizing your customers' emotions to drive engagement.
"More customer interactions across more touchpoints are shaping the degree of engagement a customer feels with your company. The critical barrier to harnessing the potential value in this shift is organizational," wrote Tom French, a Director at McKinsey.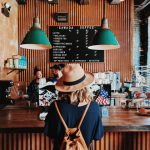 Let's learn how your company can improve customer engagement with emotional intelligence.
Exploring emotional intelligence
Research by Gallup found a link between customer satisfaction and future business success. It centers around a buyer's emotional connection with the salesperson. Customers who like their sales rep are 12 times more likely to purchase.
So, exactly what is emotional intelligence? It's the ability to recognize and understand your own emotions as well as others.
Emotional intelligence is comprised of five key elements: Self-awareness, motivation, empathy, social skills, and self-regulation. This combination of traits helps individuals control their own emotions while relating to people to establish a bond.
For example, a support representative with social skills is mindful of the language he/she uses with customers. He/she avoids offensive and condescending phrases. Instead, the representative uses positive wording and an understanding tone to solve the customer's problem.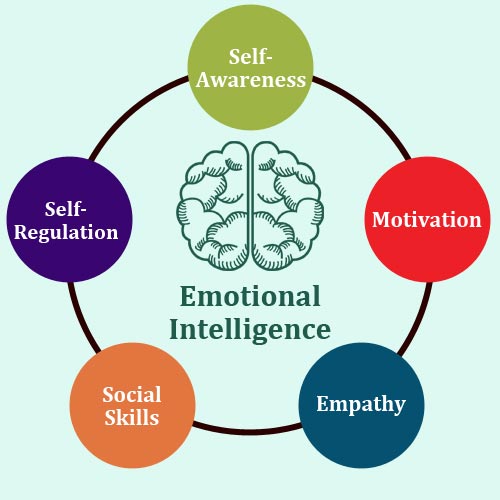 Image Source
Emotional awareness is necessary to understand how to serve your customers better. It refines how your communicate with shoppers, taking into account their habits and lifestyles.
PeopleMetrics reported that "instead of telling the customer how he/she should feel or what he/she should buy – which often leads to customer resentment – the emotionally intelligent customer service representative finds the best product or service for his/her needs".
Emotional intelligence means thinking differently about how your brand interacts with buyers. And that often translates into putting bias aside and focusing on the customer.
Training for emotional intelligence
While some skills may appear innate, it's imperative that you train your employees on every aspect of emotional intelligence. It will prepare them to go above and beyond for your customers.
"By involving your service staff in EQ [emotional intelligence] training, your employees will develop the skills and knowledge to better understand your customers, how to manage their expectations and ultimately meet their needs," stated Favor Larson, Senior Business Services Consultant for TTI Success Insights.
This type of training may involve giving classroom presentations reviewing different customer scenarios. How should an employee respond to an angry customer? Or how should you present helpful information to a busy consumer?
Also, consider training to help your support staff manage their own emotions. Lead by example by taking a five-minute break after dealing with a disgruntled shopper. Show them how to make better decisions by listening to colleagues and learning from prior customer experiences.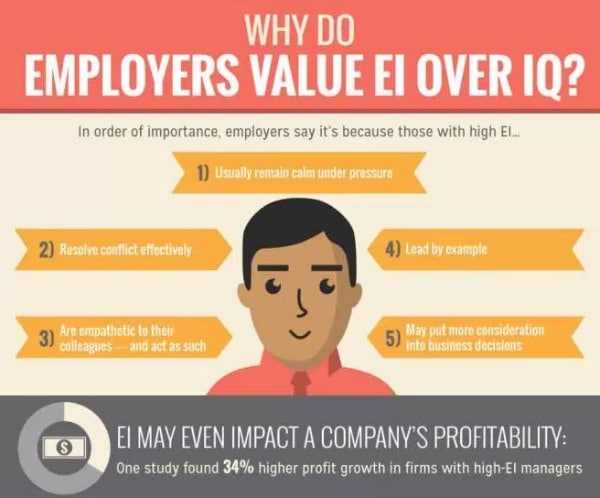 Practicing emotional intelligence can and will positively affect your bottom line when implemented correctly.
L'Oreal discovered that "sales agents who were hired for their high EQ, each sold $91,000 annually more than salespeople selected through the traditional hiring process". Moreover, the high EQ salespeople had a "63% lower turnover rate during the first year of employment".
Bring emotional intelligence into your workforce. Change the way you do business.
Engaging with the customer
Now it's time to put your knowledge of emotional intelligence into action. Your goal is to increase customer engagement.
Engagement takes various forms, such as email messages, live chat sessions, and in-store experiences. All these interactions determine how customers feel about your company.
Strive to build customer relationships that move past the purchasing transaction. Learn more about the shopper, like online activity, values, and challenges.
"To be effective, today's leaders have to connect with people on a personal level – understand what drives their people. This 'connecting' requires a high level of emotional intelligence, specifically empathy: the ability to sense how others feel and connect at an emotional level," wrote Joshua Freedman, CEO of Six Seconds.
Look at the live chat below. It's important to acknowledge your customer's feelings, especially when their negative. Then, confirm that you will do whatever it takes to give them the best possible service.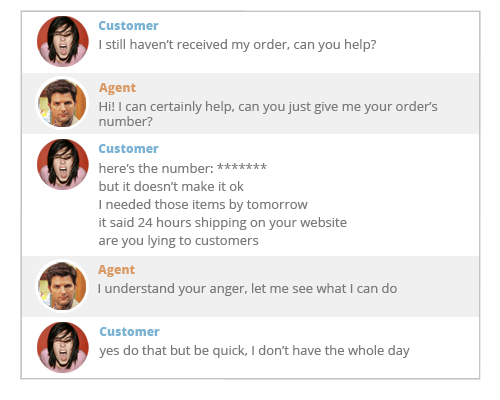 Be proactive about engaging with customers. Aim to offer them worthwhile experiences that they can share with their friends.
For example, compile their success stories into case studies. Or ask for user-generated content that displays why they love your products so much.
Engagement gives the consumer the space to embrace your brand. Your approach will determine whether it's a positive experience or not.
Achieving customer loyalty
Experts reveal that 83% of consumers believe brand loyalty is driven by trust. At the end of the day, you want emotional intelligence and engagement to lead to customer loyalty.
Loyalty is the pinnacle of customer engagement for businesses. It equates to higher retention rates to grow revenues.
"Ultimately, Customer Engagement boosts your organization's profit margin, share price, and ROI. To fully engage customers, you must offer an exceptional buying experience, not just another product, but one which the customer is able to emotionally identify with," said Mona Channet, contributing writer at Capgemini Consulting.
Examine your buyer personas to find out your consumers' motivations. What causes them to take action? What incentives excite them?
Switch, a kiteboarding gear company, encourages engagement through its loyalty program. The brand knows its customers like to read product reviews before making a purchase.
So, the business rewards current customers with points for leaving a review. These reward points are redeemable to buy more Switch products.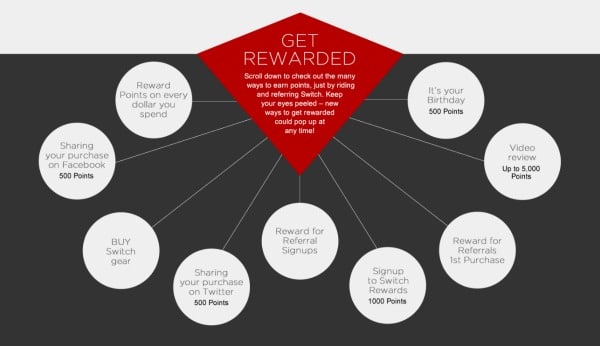 In addition, think about how you can integrate the consumer into your brand. That may include listening and implementing consumer feedback or calling individual customers to show your appreciation.
Seek to multiply your ROI. Move toward achieving customer loyalty.
Start with emotional intelligence
Your customers aren't robots. So their emotions affect their purchasing decisions.
Work with your team to explore emotional intelligence. Start by focusing on how your staff can improve communication with consumers.
Then, train employees to resolve conflict quickly, and teach them the importance of showing empathy towards customers. Continue to monitor buyer engagement to enhance your loyalty programs to achieve higher retention rates.
Engage your customers. Be emotionally intelligent.