Detailed Replays of Visitor Journeys on the Endsleigh Website Enable Endsleigh to Improve Its Customers' Online Experience, Optimise the Presentation of Information, and Deliver Innovative, Customer-Led Services Within Its Operation.
NORWICH, UNITED KINGDOM (August 6, 2014)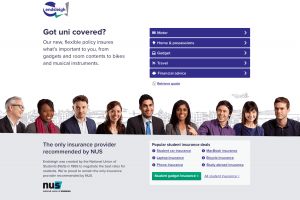 Endsleigh, the UK's number one student gadget insurance provider for students, graduates and young professionals, is using SessionCam advanced session replay technology to provide crucial insight into how customers are interacting with its website. By studying detailed replays of customer visits to www.endsleigh.co.uk, Endsleigh's web team can see which areas of the website are performing well, quickly identify and implement website enhancements to improve its customers' online experience.
SessionCam replays have also helped the Endsleigh digital team improve their understanding of the customer personas present within its target markets, helping them to tailor the user experience and information architecture to these unique requirements.
"SessionCam has enabled us to pinpoint specific, customer-focused website enhancements based on their actual website interactions with us. This accelerates innovation and means we can continually deliver meaningful improvements to the services we offer our customers," said Boyden Manns, head of customer insight at Endsleigh. "SessionCam is a great product backed up by excellent service. I've never seen a digital marketing technology deliver such a fast return on investment."
Like most insurers, Endsleigh interacts with its customers on multiple channels: web, mobile, social media, email, voice and webchat. These channels are supported by operational delivery teams that support customers as they move seamlessly across these online and offline channels. When shopping for insurance, online customers are asked to supply a variety of information and sometimes, for whatever reason, they abandon a quote before completing it. Before using SessionCam, if a potential customer dropped out of a quotation process, they would likely be lost without coming to the attention of Endsleigh's online marketing team. To address this opportunity, Endsleigh uses SessionCam to automatically identify customer quotations and shopping basket abandonment during website visits. The system flags these events in real time and sends them to Endsleigh's call centre for action by customer service agents, who can connect with the customer and help them complete their transaction.
"This is an excellent example of how our session replay technology can go beyond improving the online customer experience to actively assist customers on the spot at the time they need it most," said Kevin Goodings, CEO of SessionCam. "This focused initiative enables Endsleigh to derive huge incremental value from its web marketing efforts and existing infrastructure."