We've produced a short playlist of videos to show you how two of our newest features can help make it even easier to identify customer pain points on your website in the form of error messages, so you can focus on the UX improvements necessary to look after your bottom line.
Out-of-the-box and with no additional configurations required, SessionCam Error Reporting exposes all error messages throughout a user journey, automatically sorting by revenue at risk from unconverted journeys.
Check out the videos below to find out more.

Video Transcript
What is SessionCam Error Reporting?
SessionCam Error Reporting is a great way to visualize and quantify the impact of error messages on a customer journey, while exposing errors you may not have been aware of.
Powered by our machine learning algorithm, Error Reporting automatically identifies the error messages your customers are seeing, and calculates the frequency at which they happen, to help you analyze the impact of each error on your conversion rate.
For each error, we show you the revenue at risk from customers who did not make it through the purchase process and convert.
You can also sort each error by the level of customer struggle. This makes it easier to identify any pain points on your website.
From a simple form error such as one for an 'invalid postcode', through to a broken page link or server error, we expose all error messages and show you the basket value for all those visitors that did not convert – leaving you to focus on the UX improvements necessary to improve the customer journey through your site.
How can you use Error Reporting?
There are many ways to use SessionCam Error Reporting to analyze the effectiveness of error messages across your website.
For instance, you may have more than one error message relating to a single form field on your website. One might say "please enter a valid postcode", and the other might say "address not found", with both performing differently in terms of the number of conversions.
Other solutions would have you watch hundreds of session replays to help pinpoint the reasons for drop-off due to each error.
Even then, it would be extremely time-consuming to identify the sessions where the error message you're looking for appears in the first place.
Our solution eliminates this guesswork in finding the affected sessions and reviewing their frequency, not only speeding up your data analysis but also making this data more accessible for you and your team – helping you reach your digital goals faster.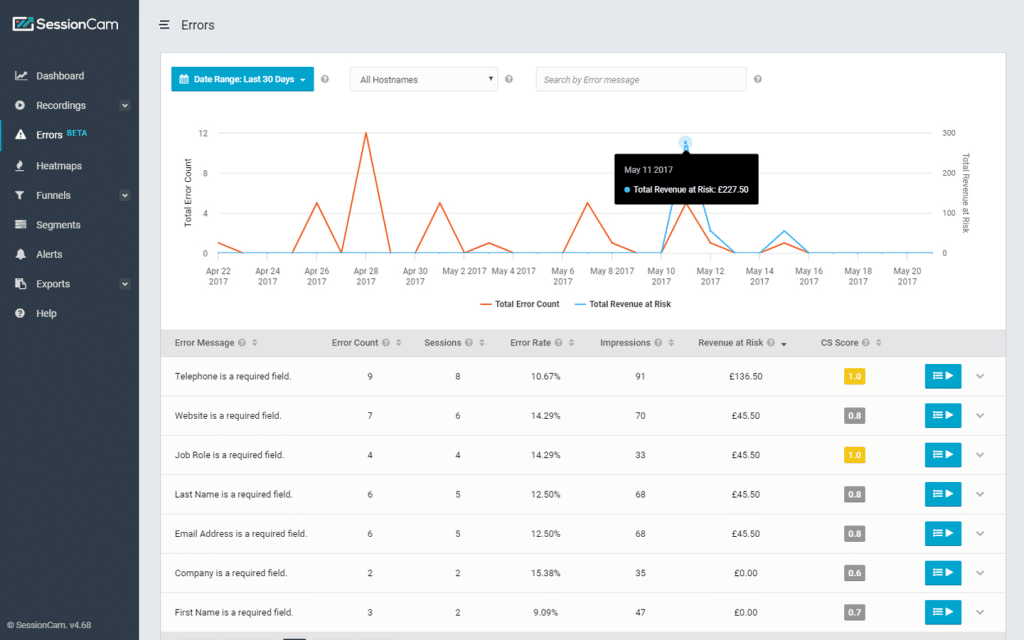 Introducing SessionCam Revenue at Risk
SessionCam's new Revenue at Risk feature prioritizes the issues occurring across your site in order of those costing you the most revenue, so you can focus on fixing those that matter most to your bottom line.
You can use the data from Revenue at Risk to feed into your decision-making – prioritizing where you should be focusing your time, effort and money for the greatest return on investment.
For example, you can use it alongside Error Reporting to understand the revenue at risk from visitors who did not make it through the purchase process and convert, then review any correlations with the error messages occurring across your site.
Remember, the error message that is encountered the most may not be the one costing you the most money, which is an important distinction to know when making the best decision for your business.
As always, if you have any questions about this or any of the features of SessionCam, please do get in touch and we'll get back to you.
About James Harber
James is an Insight Consultant at SessionCam, a team which transforms customer data from some of the world's leading brands into insights, providing detailed reports and recommendations on how to vastly increase their conversion rates by using the CRO solution, SessionCam, to its full potential.