Content is an imperative asset for businesses.
Marketers understand that the right content can spark brand awareness and increase consumer engagement. Moreover, it can boost sales for your company.
"Creating new, frequent and insightful content is a healthy and necessary practice of business in any industry," writes Forbes contributor AJ Agrawal.
"Many companies choose not to allocate the time and resources towards content creation, and in doing so, they often fall short of their marketing goals."
Conversion-driven content speaks to your customers' needs and reinforces their trust in your brand. It offers remarkable value through personalization and adds context to the purchasing conversation.
Let's explore how to create content to move leads through your sales cycle.
Data Rules Everything
Many people think of data as static. It's collected and then offered to managers as reports.
We discuss the reports in meetings. And eventually, it gets lost in a folder on our computers.
But if you think differently, data is fluid. You can derive insights from the figures to improve your business.
It's possible to determine if your customers enjoy funny videos or solution-oriented white papers. The data helps us make better choices to move our business forward.
Below is an example of a Google Analytics custom report. It displays the top landing pages and how they are performing based upon goal completions and goal values. Your team can use this report to adjust the content on underperforming pages—changing copy, colors, and images.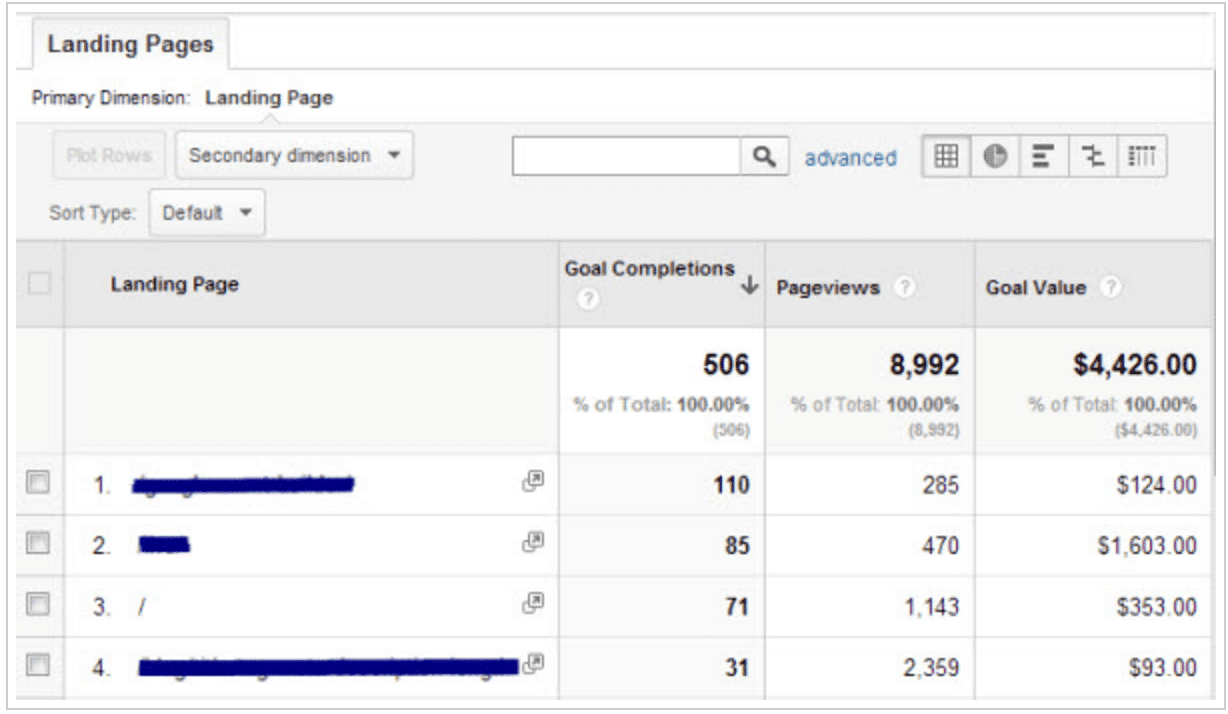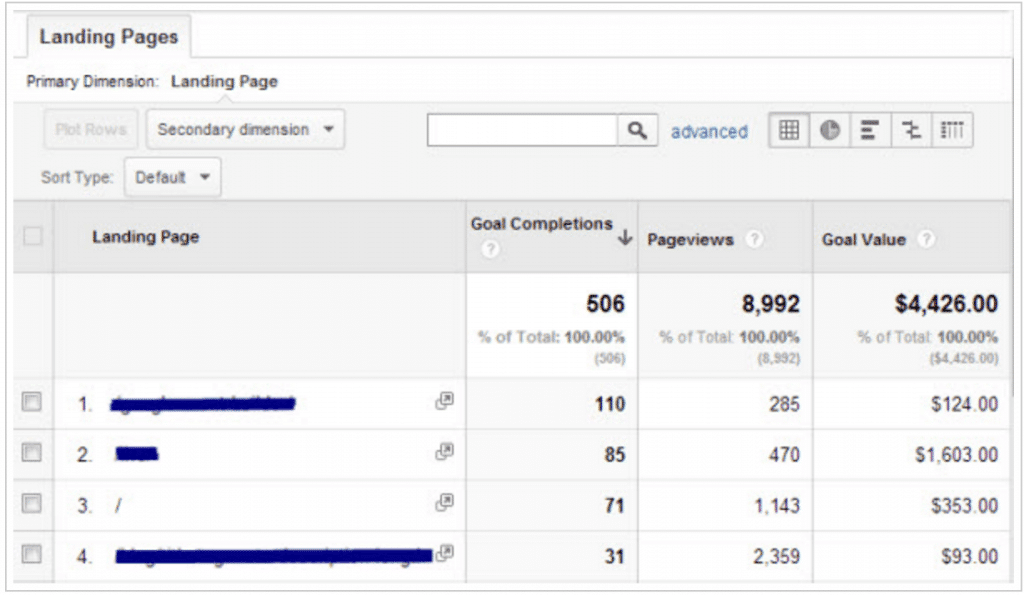 In MailChimp, you can review the interactions with your subscribers. The profile page shows all the messages you've exchanged with customers, including click rate and open rate. Use this information to create targeted content, like drip campaigns.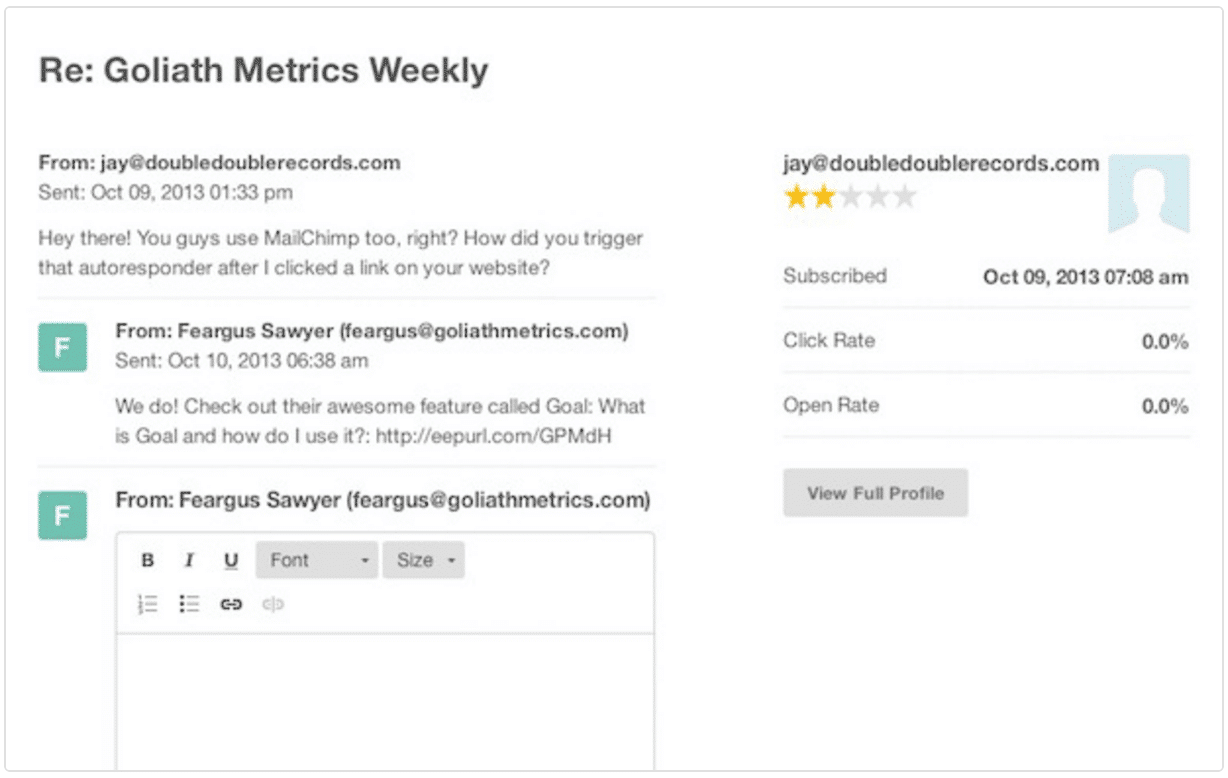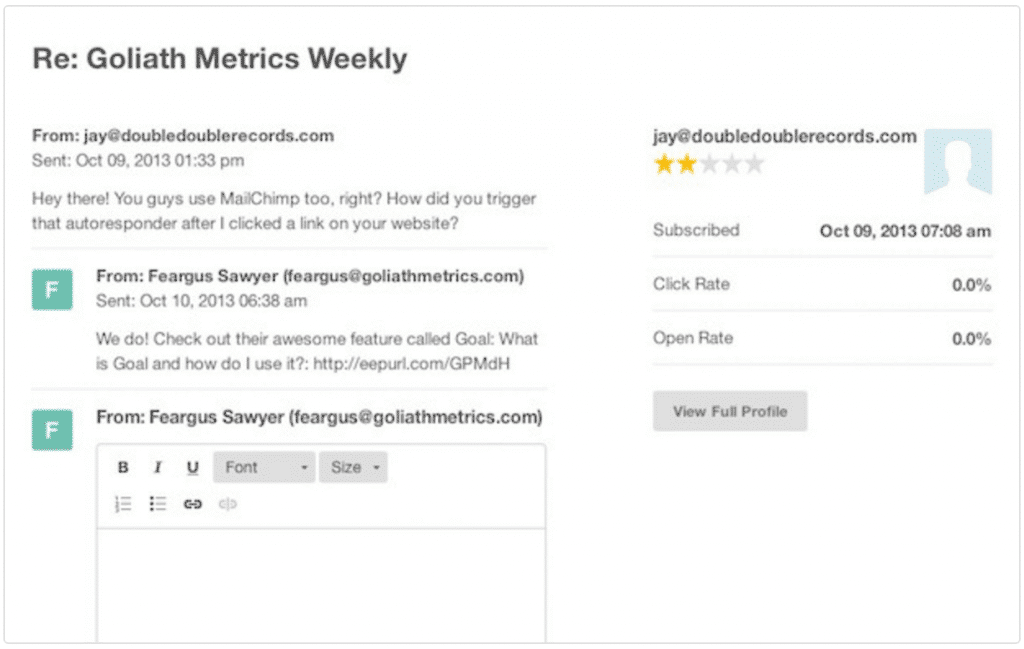 Be mindful of your customer's privacy. You don't want to appear invasive. That will only annoy and confuse your target audience.
"By aggregating the data in a way that preserves the privacy of individual users, and provides insight based on the patterns revealed through that aggregation, brands can help customers understand how their data is being used," states Alexandra Samuel, speaker, researcher, and writer.
Use data to tailor content to your prospects' desires and concerns. Study those patterns to make better business decisions.
Building the Strategy
Define the purpose of your content. What do you want leads to learn?
According to a survey,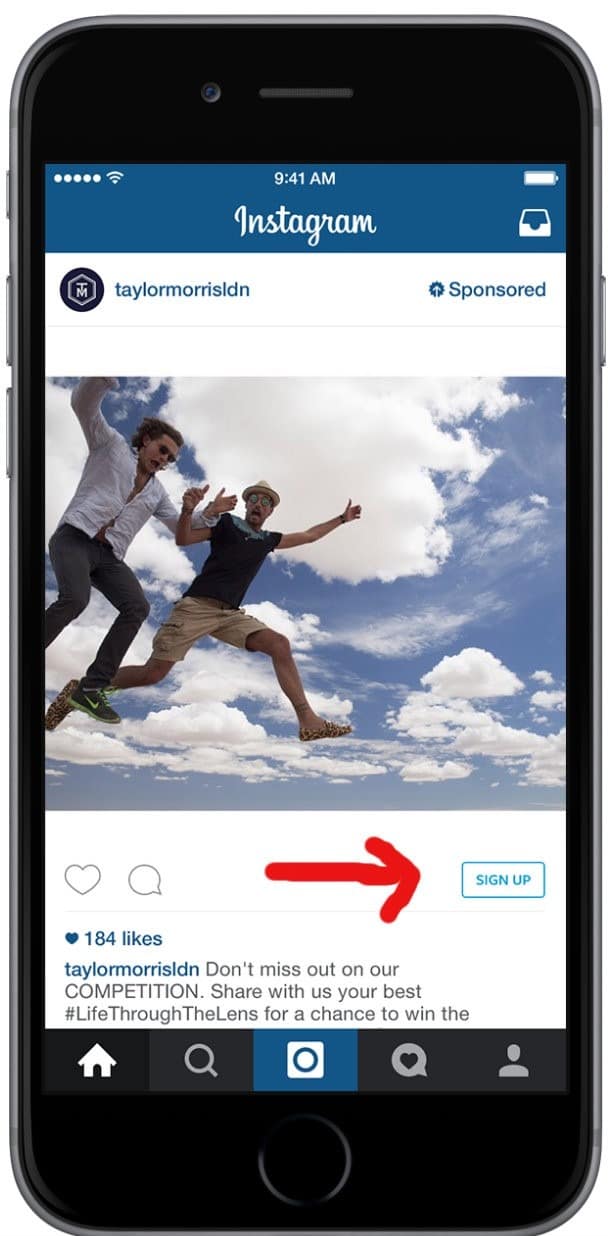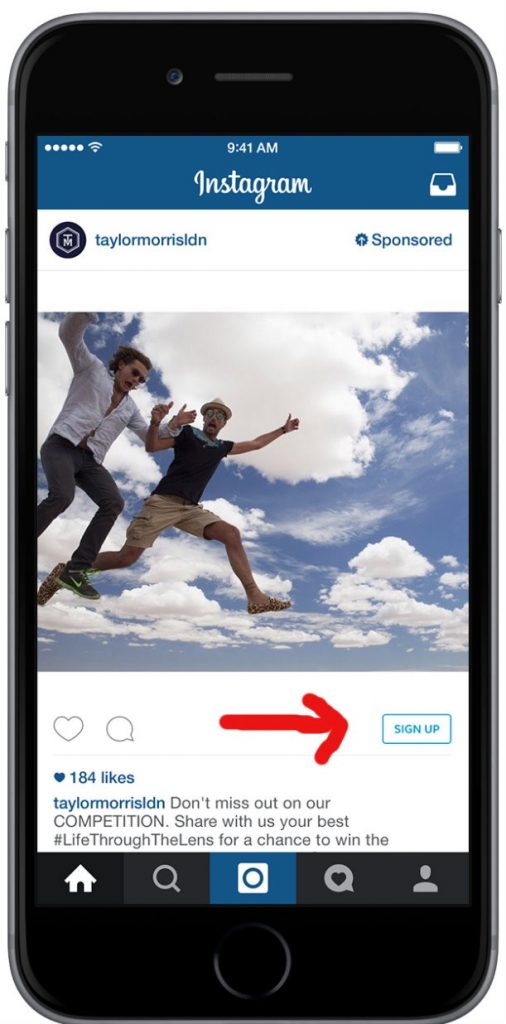 56% of consumers like choosing content that is relevant to them. Personalization speaks directly to the customer—offering something worthy of their attention.
Apply the data you've obtained to shape your message. It should guide you to creating customized content. This helps your team align your brand's values with the consumer.
"By developing a data-driven content strategy, you are ensuring the content you're producing is relevant to your current readers as well as your prospects (who may not know who the heck you are)," says Amy Wood, content coordinator at Unbounce.
Work with your team to decide what content formats work best for your consumers. Long-form blog posts are effective for outlining detailed concepts.
Infographics make mundane research and statistics more visually appealing. And podcasts are practical for mobile consumers who don't have time to read.
For example, if you're using Instagram ads to convert consumers, add a call-to-action to the content. This will compel them to convert.
In addition, build your content strategy on thought leadership. Your company should strive to be an expert in a specific niche.
Serial entrepreneur Neil Patel writes, "By creating content that people can relate to, learn from and share with others, you increase the odds of becoming seen as a credible source in your industry. This will make it easier to acquire leads, increase sales, and get future content read and shared by increasingly larger audiences."
Let your data shape the strategy. And use the strategy to earn your desired results.
Offering Unmatched Value
Research shows that "71 percent of marketing professionals say they need to create 10 times as many assets to support customer-facing channels."
More important than quantity is quality. Developing 12 mediocre how-to guides can't compare to one high-quality case study.
"With enticing descriptions, digestible and persuasive white papers as well as intriguing case studies, content can be an excellent way to draw customers towards the bottom of the funnel and prepare them for a conversation with a sales rep and then a purchase," says Jim Yu, founder and CEO of BrightEdge.
To provide content that offers unprecedented value, first evaluate your current content. Find out what's resonating with your consumers.
Are they gravitating towards content about customer acquisition or brand loyalty? Are your white papers about Net Promoter Score being downloaded at high rates?
Internally, you need to assess your most prized topics. Then, learn what your competitors are offering. Compile that knowledge to educate, entertain, and persuade your consumer base.
Wistia achieves this with its library of resources. The catalog provides fresh content about video marketing.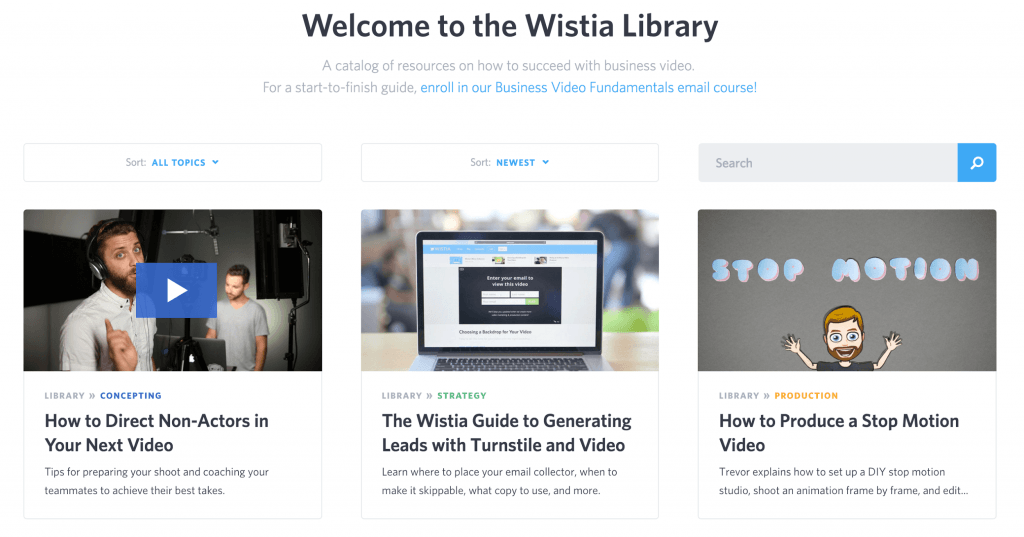 Go beyond your customers' expectations. Focus on content quality to drive conversions.
Nurturing for More Conversions
Studies show that "for 43% of B2Bs the time it takes to go from attraction to conversion has increased." It's taking longer for teams to make the sale.
Content isn't just meant to be read or viewed. You want your content to move customers to do something.
As humans, we don't like change. We feel comfortable doing our normal routine.
It's your team's job to nurture potential customers to change. You want them to take a different action, like download your ebook.
"The purpose of creating conversion content is to move your prospects further down the sales funnel by motivating them to take a specific action. Your ask might be small such as liking your post, sharing it on social media or signing up for newsletter," writes Ross Simmonds, founder of Crate.
Plus, consider the type of content that best suits your prospect. Top of funnel blog posts will differ from bottom of the funnel demos. Check out the image below.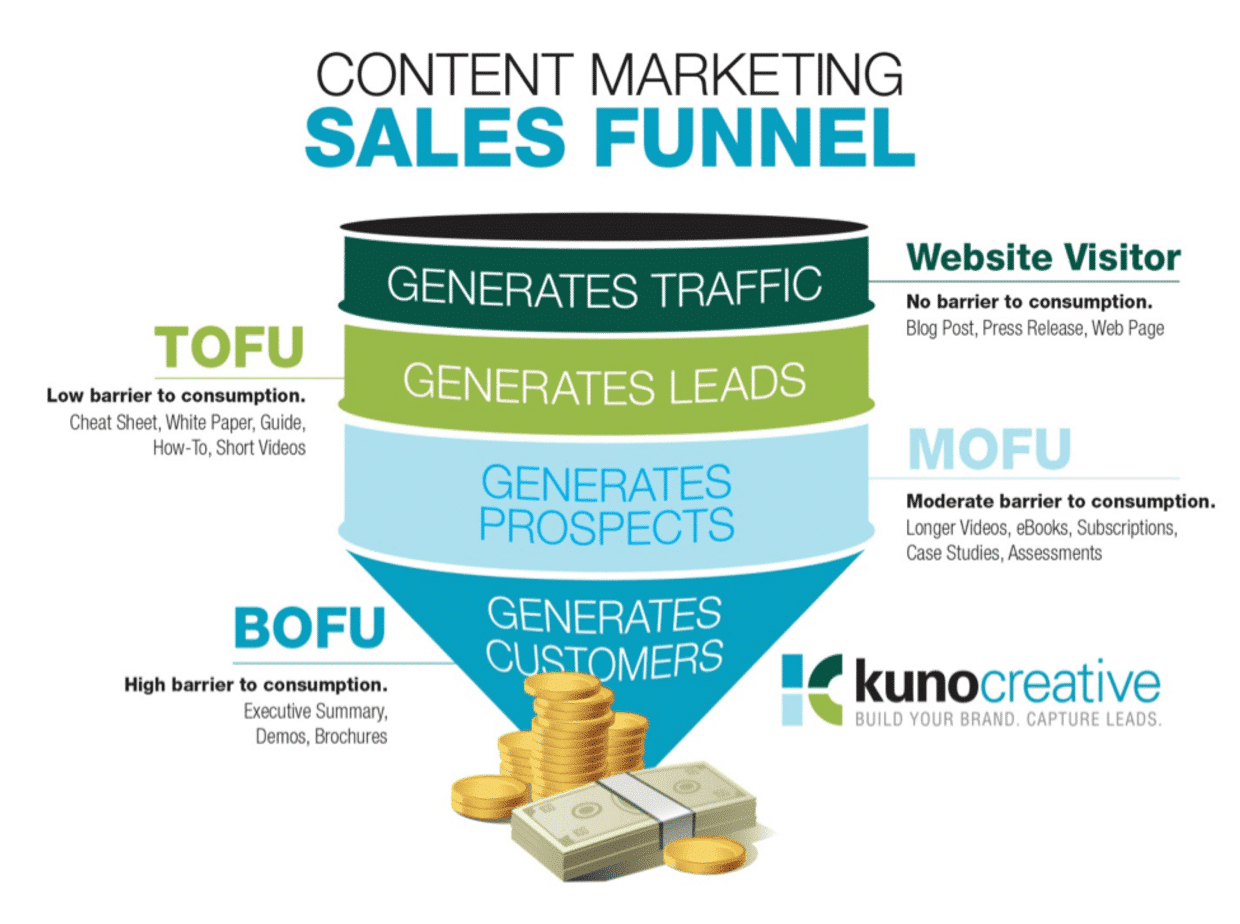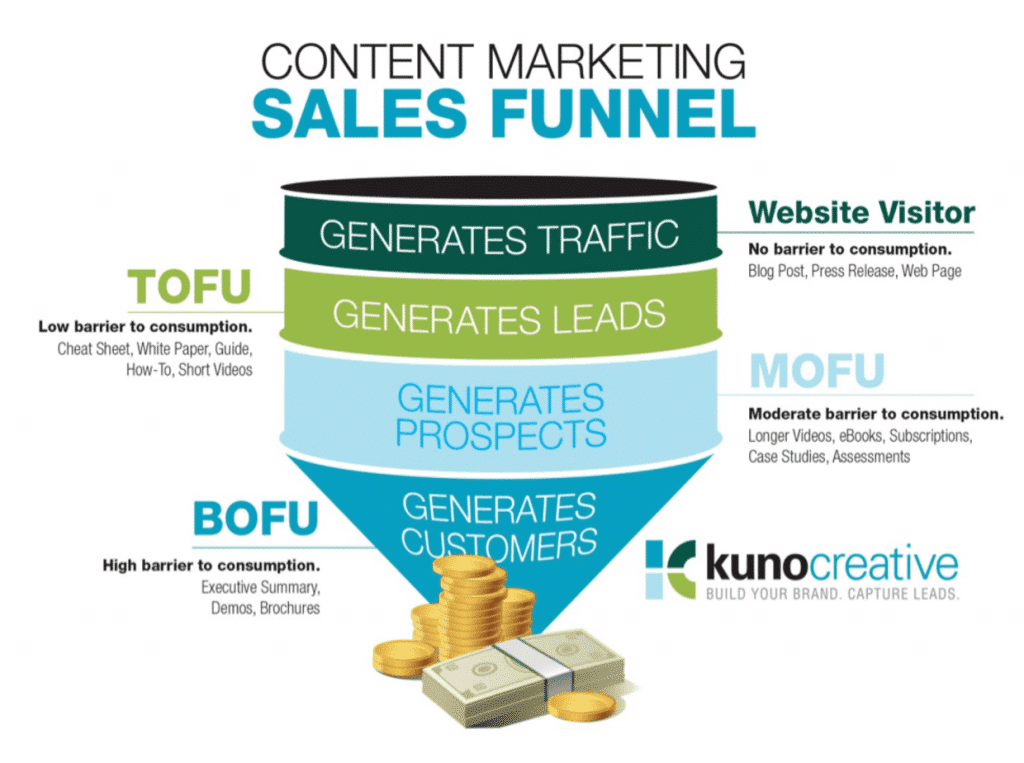 Give your prospects a reason to take action. It starts with building better relationships.
Content That Converts
Content is how we interact and sell to consumers. To persuade people along the sales cycle, start creating conversion-driven content.
Analyze data to learn your customers' behaviors. Construct a plan that focuses on the consumer. And remember that nurturing, not forcing, is the best way to clinch the sale.
Create content. Then, convert.