Consumers are quickly embracing digital channels.
They are interacting with your brand via websites, email, and social media platforms. With so many emerging channels, buyers aren't tolerating fragmented engagement.
Studies show that the "strongest omni-channel customer engagement strategies retain an average of 89% of their customers, as compared to 33% for companies with weak omni-channel strategies." That results in a large decrease in revenue.
Therefore, it's imperative for your team to create a plan. Focus on prioritizing the customer relationship and solving the buyer's problem at every touchpoint.
Customers desire a similar shopping experience across all channels. Let's explore how to meet (or even exceed) their expectations.
Making a Case for More Channels
There are several ways to engage with customers online. From email to webinars, businesses communicate with consumers in various forms.
To satisfy the consumer, it may be time for your team to activate more digital channels.
With every new channel, companies must experiment with its usefulness. It's not an exact science. But teams need to find the value.
Zendesk reports that "64% of customers expect to receive real-time assistance regardless of the customer service channel they use." Buyers prefer receiving responses to their questions sooner than later. That's why live chat is a powerful tool.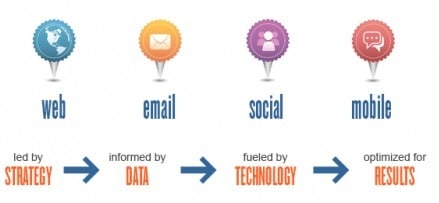 Some companies find it difficult to execute multiple digital channels. The key is to develop a strategy based on data. Then, select the right technology for effective implementation. Optimize the results that work and learn from failed attempts.
No matter the number of channels, bombarding your customers with numerous messages isn't helpful. It will only drive them away.
"It's about quality communications, not quantity. Even one extra message can be viewed as spam, turning the most loyal customer away. Businesses must deliver the right message via the right channel at the right time," writes Mark Friedman, chief marketing officer at SoundBite Communications.
Choose your channels wisely. Aim to satisfy the customer first.
Offering Consistency to Your Customers
A survey found that "60 percent of Millennials surveyed expect a consistent experience from brands." It reassures buyers of your brand's validity.
However, most businesses aren't prepared. The 2015 Economist Intelligence Unit study reported that "only 5 percent of executives surveyed globally were able to claim they had a seamless customer experience across channels throughout the purchase cycle."
Humans crave consistency. If you don't use the same branding, your team runs the risk of confusing potential customers.
"[B]usinesses need to create specific standards or guidelines that will help define the elements of every customer interaction. Standards will not only provide you with the opportunity to be consistent, but they also serve as the perfect starting point for further training," states Sofie De Beule, community manager at Engagor.com.
Build tools that will allow consumers to interact with your brand on their terms. If they are always on the go, develop a mobile app. If they prefer texting, start sending texts. That's exactly what Bank of America did.
The financial institution offers their customers multiple ways to check account activity and balances. Consumers can either login on their desktops, use the mobile banking app, or receive a text message.

Set a benchmark for your brand. Learn your customer's behaviors to provide a consistent experience.
Achieving Best-in-Class Performance
Customer experience involves giving first-class customer service. People want to feel like their needs are being met. They're looking for a caring person to respond.
How can your team provide unmatched customer service?
Zappos goes above the normal customer service duties. For example, a customer's mother had medical treatment that caused her feet to be sensitive to pressure. So, the customer bought multiple shoes for her mom to try on.
After receiving the shoes, the mother contacted Zappos to get instructions on how to return the shoes. She also explained her reason for the returns to the customer service rep.
Two days later, the mom received a large bouquet of flowers from Zappos and a get-well card. Moreover, Zappos upgraded the customer's membership to VIP to receive free expedited shipping on all orders.
But customer service doesn't mean giving flowers and free upgrades all the time. It can be a simple message on social media.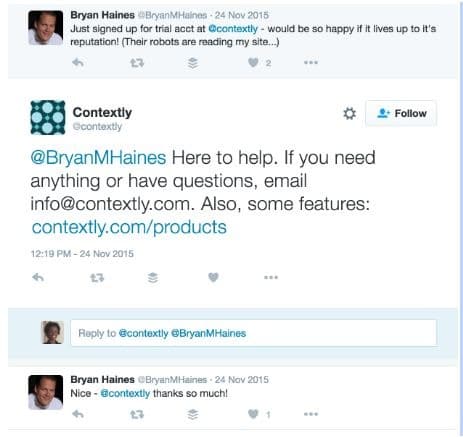 Engagement platform Contextly actively listens to their customers. The team responds to tweets from customers in a positive and helpful manner.
No matter what channel your team chooses, give the best service possible. Customer service expert Shep Hyken offers the following customer service techniques to improve your customer's experience:
Be polite and say please and thank you.
Use the customer's name. It helps with building rapport.
Always do what you say you are going to do.
Return calls, emails, and any other types of requests quickly.
Monitor social channels for comments from your customers.
Continuing the Customer Relationship
Exceptional brands have increased their customer engagement levels. As a result, customers expect more from all businesses.
More one-on-one services. More value-added benefits. And more personalized experiences.
Quality customer relationships are beneficial. And it doesn't take a big budget or a viral marketing campaign.
"In a world where customers have more choices than ever, competitive advantage doesn't come from having the biggest budget or the coolest marketing campaign. Today, loyalty comes from treating your customers as true partners, and integrating their insight in everything you do," writes Nick Stein, Senior Vice President of Marketing at Vision Critical.
Customers just want to be treated with respect. Buyers want their insights merged into your strategies to build better products.
How are you engaging with your customers? Are you listening to their needs? How does their feedback shape your decisions?
A Gartner report states that "by 2020 a customer will manage 85% of the relationship with an enterprise without interacting with a human."
Equip your customers with the tools to make informed purchasing decisions. That means developing knowledgement management systems or Q&A forums.
Maintain quality relationships with customers. Highlight their pain points and identify opportunities to improve.
A Seamless Experience
The customer journey is expanding. Consumers are engaging with your brand on multiple digital channels.
Identify the channels that work best for your business. Provide a consistent brand experience that buyers can recognize easily. And execute strategies to build better customer relationships.
Meet customer expectations. Deliver a seamless experience.