Setting up goals is a very important step when configuring Google Analytics. However, a lot of people forget to add a goal value to their goals. You will greatly enhance your insights and optimization possibilities if you do both!
In general there are two types of websites:
Websites that directly sell products and/or services.
Websites that don't directly sell products and/or services.
Many websites that belong to the first group are the so-called eCommerce sites. For those websites, measuring and optimizing on value metrics sounds very logical. And most website owners have implemented eCommerce tracking to exactly do this.
However, I highly recommend setting up goal values even if you run a non-ecommerce website.
In this article I will provide you with a framework on how to set up goal values in Google Analytics. In addition to that, I will reveal a few powerful reports and metrics that are enabled by setting up goal values.
Macro and Micro Goals
It's important to understand the concept of macro and micro goals before moving on to goal values.
The most important goal on your website is called the macro goal.
Secondary goals on your website are called micro goals.
Most websites have multiple goals or conversions on their website.
The advantage of setting up a macro goal accompanied by multiple micro goals is that you can analyze your macro goal in context.
Lead generation example:
You run a lead generation website and the main conversion is a submitted lead gen form. In addition a website visitor can watch a video on your website which explains why they should use your product. Measuring the visitors who have watched your video and analyzing it in context of your main conversion reveals the value of the video in relation to a lead gen form submission.
Setting Up a Goal
The next step you need to take is to set up a goal in Google Analytics for your macro and micro conversion.
In this blog post I focus on setting up one goal for your macro conversion.
Example scenario:
Lead generation website www.getmoreleads.com
Goal conversion page www.getmoreleads.com/thank-you
You can set up your goal in the admin section of your Google Analytics account. It is required that you have edit permission rights to the involved reporting view.
Head over to the reporting view where you want to set up your goal:

Two things to keep in mind:
Set up a goal name that is easy to remember and recognize. Make sure to use naming conventions as well.
Set up a destination goal with the goal URL. You need to use the "page path" instead of full URL.
This is the first part and it is really valuable to do. It will help you to analyze your conversions on multiple levels. However, the true value comes when setting up a goal value.
Note: keep in mind that a goal is only measured one time in a session. A visitor downloading two different brochures – that belong to the same goal – will result in Google Analytics measuring one goal.
Setting Up a Goal Value
The next, very important step is to set up a goal value. It's OK if you can estimate the goal value instead of coming up with an absolute number that is 100% accurate.
I will use a different case study of an UK lead gen agency to demonstrate how to set up a goal value.
Here is the input that I have received to calculate the goal value:
Our average lead closure rate is 1 in 10
The average revenue of a new client is £5000
I simply divide £5000 by 10 which equals £500. So the goal value is £500 in this case.
Now I need to head back to Google Analytics to fill in the goal value in the right field: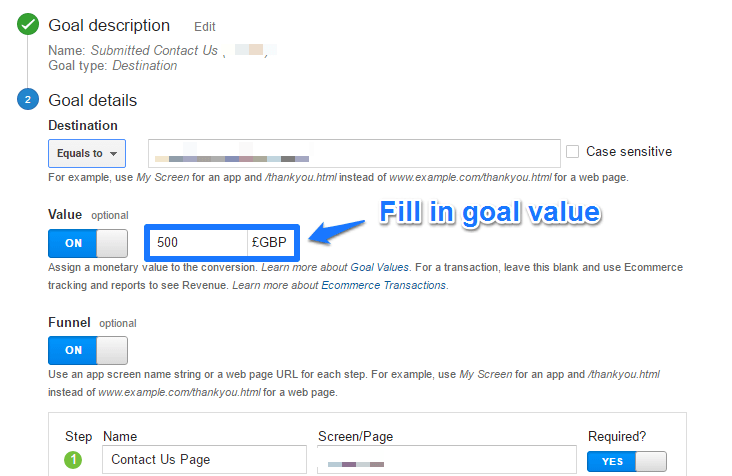 Keep in mind that both your goals and goal values don't work retroactively.
Here is another example:
Content website: 2000 subscribers are worth $100,000 revenue in a year. The revenue per subscriber (on a yearly basis) equals $50. So the goal value of a new subscriber is $50 (calculated with LTV of one year).
These two examples will help you to set up the goal values in your specific case.
Note: Don't assign a monetary value to the "thank you" page of an ecommerce transaction, but use the ecommerce value instead. The values that show up in your report will become inflated if you use both.
Three Goal Value Reports
The goal value unlocks a few very important metrics and reports. These reports are a great help in your optimization efforts.
I will share three reports and start with the most easy one.
Aggregated Goal Value
Step 1: navigate to Conversions >> Goals >> Overview.
Step 2: select your macro goal.
Step 3: show "goal value" in your graph.

This report reveals the goal value on a daily basis. Other metrics that are shown are total number of conversions, conversion rate and abandonment rate (only applicable if you have a goal funnel in place).
Reviewing this report helps you to get a better monetary feeling on how your website performs. It is possible to apply segments to this report to provide more context to your conversion metrics.
Goal Value per Page
The second report I like to share reveals the value of all your pages relative to your macro goal.
Report location: Behavior >> Site Content >> All Pages

You can already see that the value of your top 10 pages varies a lot.
The page value indicates how important a certain page is in relation to your conversion goal(s).
This helps you to better understand the user journey on your website. The pages that are visited leading up to the conversion receive a part of the goal value you have set up earlier.
A best practice if you deal with hundreds or maybe even thousands of pages is to set up content groupings. These content groupings can be accessed via the all pages and landing pages reports.
Read this article about content groupings if you want to learn more.
Per Session Goal Value
One of my favourite reports includes the "per session goal value".
I have only seen advanced users accessing this metric. The reason is that you need to create a custom report to include this metric.
The easiest way to create a report that includes this metric is by modifying a standard report.
Step 1: select the channel grouping report (located at Acquisiton >> All Traffic >> Channels).
Step 2: click on customize on top of your screen and below the report name.
Step 3: remove one of the metrics that is shown in the metric group "Summary".
Step 4: add the new "per session goal value" metric.
Step 5: save your new report as a custom report.
This is a custom report example that includes the "per session goal value":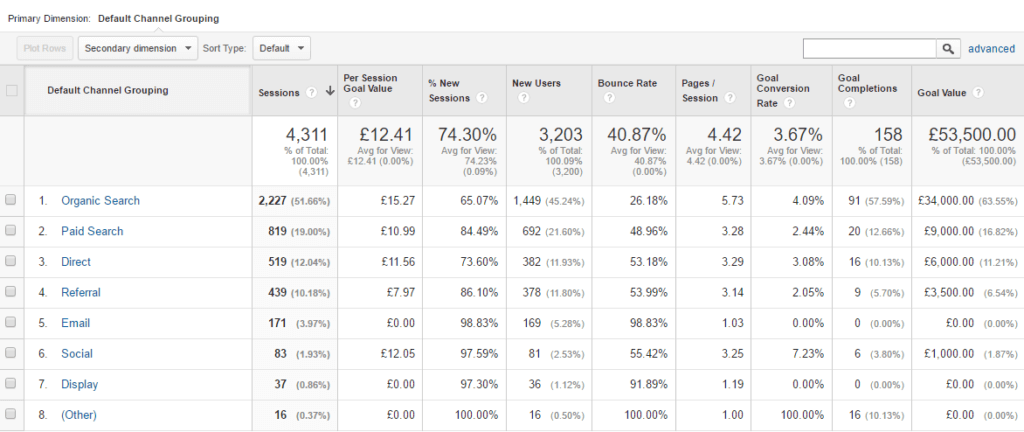 I have placed the "per session goal value" metric next to the number of sessions so that you can easily evaluate the value of each channel.
Advantages of this setup:
You can compare the monetary value per session of each of your channels in a direct way.
You can compare this value in relation to your visitor acquisition cost.
You can get a good indication of how valuable your visitors actually are.
Note: you should select the "per session value" metric instead of the "per session goal value" metric if you run an ecommerce site.
The per session goal value on the channel level provides you with great input for your next marketing campaign. How much money should you spend and in which channel? These questions and many more questions can be answered by analyzing the "value per session" metric. Google Analytics allows you to cross-segment this metric against a different set of dimensions.
Concluding Thoughts
Defining goal values is very important, not only for you (as an analyst or digital marketer), but also for your boss. It's much easier to convince your boss to spend more money on online marketing if you can show a positive ROI instead of plain conversion numbers.
In addition to the reports that I have shown, you can build other custom reports focused on specific segments. You need to think about your business and what matters and build reports that are in line with your business objectives. That's the beauty and challenge of digital analytics, things are never the same!
I recommend to use the Google Analytics API to extract goals and goal value metrics and build automated dashboards. Especially useful if you want to review your results on a daily or weekly basis.
Two ways to get started:
At the end you want to spend as much time as possible in analyzing and optimizing your business. This is where report automation is very important!
What are your thoughts on goal values in Google Analytics? Do you already apply them in your analysis and in what way? A comment or share is much appreciated!
About Paul Koks
Paul Koks is an Analytics Advocate at Online Metrics and the author of Google Analytics Health Check. He helps companies to capture valuable insights from simple and reliable data.