Research revealed that "53% of marketers say continued communication and nurturing of their existing customers results in moderate to significant revenue impact."
To serve your customers better, your business must be ready and willing to engage. Communication offers your team the opportunity to identify customer needs and build value-added services.
Marketing automation is one solution to maintaining a positive consumer relationship. It helps build personal connections without the time-consuming tasks. As a result, your team can focus on your company's core strengths.
Leverage marketing automation to increase customer engagement and conversion rates. Here are four ways to build quality customer relationships:
Lead Nurturing
Lead nurturing is a necessary complexity of business. And when done correctly, it can maximize the effectiveness of your customer interactions.
According to Forrester, "a B2B buyer's journey could be anywhere from 65-90% complete by the time he or she contacts the vendor to move forward with a sale." It's so important for your team to educate prospects about your products at various touchpoints.
Multi-channel lead nurturing helps your team deliver targeted messages to the right person at the right place. The goal is to align your specific content with the buyer's journey.
Progressive profiling is one way to capture the right data in order to learn more about your leads.
For example, landing pages are used to collect data from your prospects. And experts suggest limiting the length of the form. This reduces friction that would normally stop people from giving companies their information.
However, most of the time, these forms don't gather enough data for sales reps to inquire. That's why marketers are adding more questions to forms.
Marketing automation helps the process by auto-loading a new form with the old information and adding one or two new questions to the form. Here's an example from Hubspot: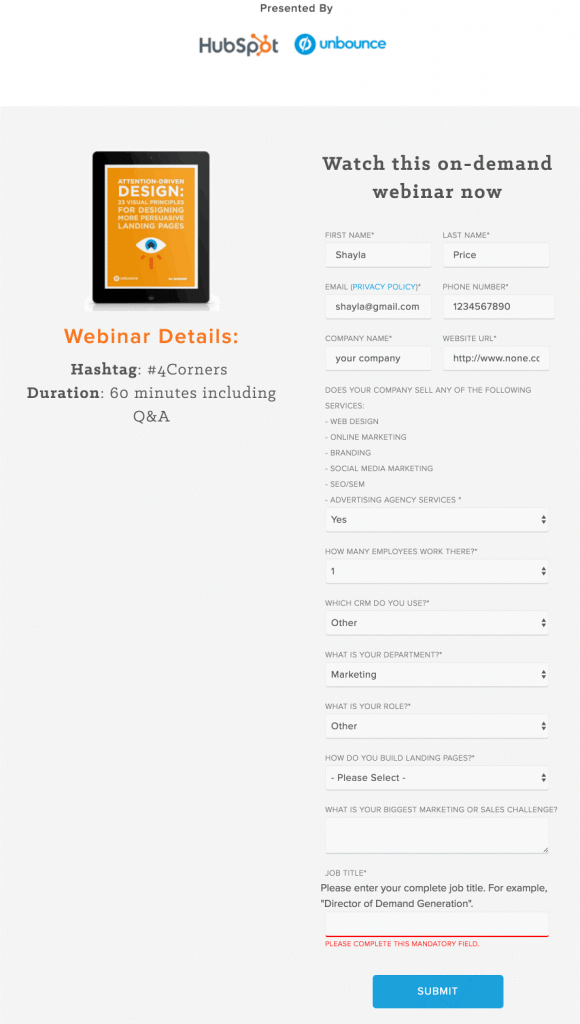 Your team will learn more as the prospect progresses through the customer journey. Accordingly, you'll receive accurate data to help track the behavior of your leads.
When the lead nurturing process is combined with automation, it allows your business to make informed decisions about how to approach prospective customers.
Email Marketing
"Over 75% of email revenue is generated by triggered campaigns, rather than one-size-fits-all campaigns." Moreover, 21% of email marketing revenue can be attributed to automated email campaigns.
Customers are unique. They enjoy receiving personalized treatment. In order to cater to your consumers' needs, send targeted emails that match their particular interests.
And that's where marketing automation saves the day.
In the past, teams wasted so much time manually entering data to send customized emails to every single person on their list. Now, email campaigns can be sent to thousands of customers with one click of a button.
What's more important is that "an automated email campaign is set up once and then automatically sent to a particular individual when that person meets a certain trigger." Those behavioral triggers give you deeper insight on how to serve the customer.
For example, your SaaS wants to send an email to everyone who signs up for an account. This email will welcome the customer and show them how to get started with your product.
Shopify follows this same model. New signups receive an email with their account details along with recommended reading material.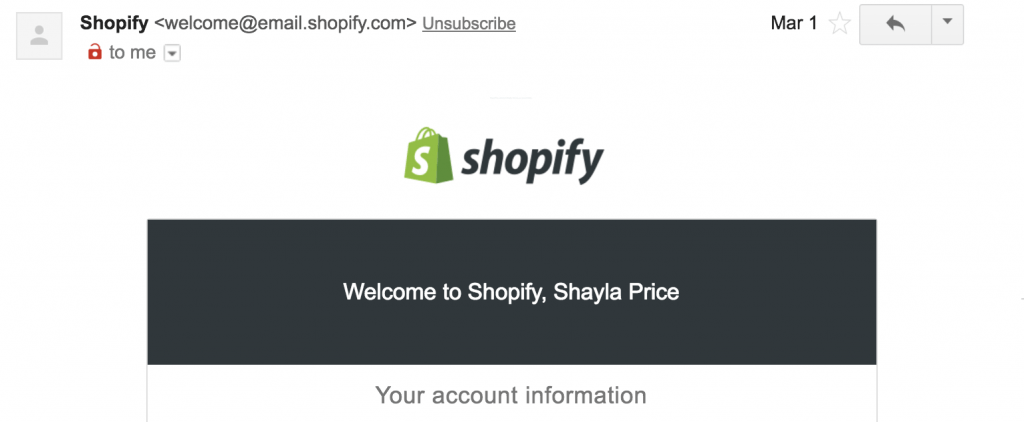 With automation, email marketing keeps customers engaged in an ongoing conversation. That gives your team the foundation to build better relationships.
Social Media Marketing
Authenticity is important in relationship building. In social media, marketers struggle with finding a balance between automated messaging and real engagement.
Social media marketer Matt Aunger, writes, "I've found thinking outside the box and automating the background processes has immense value. What's more, this kind of automation can allow you to spend more time on being authentic."
Rather than automating the customer interaction, focus on automating the behind-the-scenes duties. For instance, Post Planner helps companies schedule the most engaging posts for their Facebook and Twitter accounts.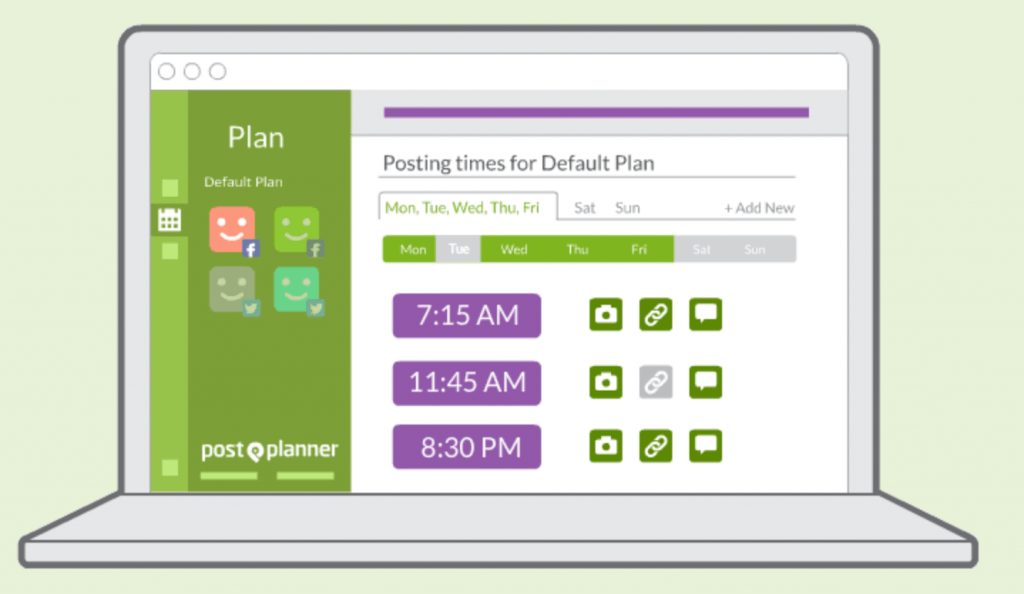 With this software, your team can interact with customers on your own terms. And you can focus on other social media demands, like answering consumer inquiries.
Social media is a practical way to slowly build trust. It drives brand awareness and keeps your company in front of your target audience.
For example, monitoring your tweets for likes, retweets, and replies gives your team a sense of what topics excite your followers.
In addition, the most recent trend moves away from auto-direct messages (DMs) on Twitter. People are even classifying them as evil. So, avoid spamming your followers with messages to buy your product or to click an unknown link.
Consumers don't want to be scammed into purchasing your services. Instead, use the time saved with automating posting to actually talk with customers.
Management Activities
Marketing automation contributes to a constant flow of important information between your sales and marketing departments. With open lines of communication, your team can focus on adding value to the customer.
Like most businesses, staff resources may be limited. An automated solution empowers one team member to effectively execute a complex campaign. It alleviates the pressure for a single person to carry a heavy workload.
Also, marketing automation software offers detailed reports with your customer profiles. You gain a better understanding of what customers purchase, which emails they open, and when they buy the most products. That data comes in handy when your team needs to follow up on a sale.
Lawrence DiCapua, global leader of revenue marketing for General Electric, says:
"We're focused on closing the deal. Shortening the sales cycle comes up, but the primary objective is 'let's close the deal' and identify those prospects and customers who are a good fit for this product."
Management accountability improves because of marketing automation. With reporting, teams know where to take action to clear up bottlenecks in the sales pipeline.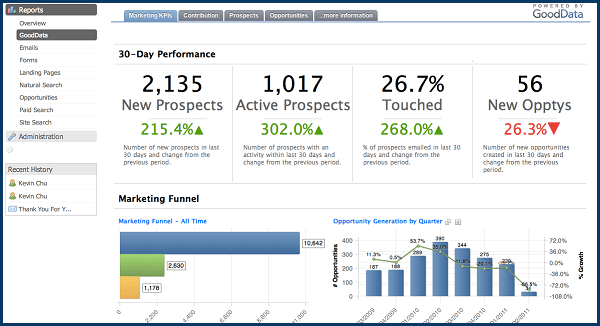 For instance, if the marketing team's leads aren't becoming sales-qualified, that may spark the group to make adjustments to their nurturing campaigns.
For management, marketing automation keeps customers and employees on track. It ensures that your system works to generate relationships and revenue.
Better Customer Relationships
Relationships matter in business. Customers desire companies that make an effort to learn more about their needs.
Take advantage of marketing automation to nurture your leads. Send customized messages that will resonate with the buyer. And learn how to create authentic engagement in your social media messages.
Build better relationships with marketing automation.
Shayla Price creates and promotes content. She lives at the intersection of digital marketing, technology, and social responsibility. Connect with her on Twitter: @shaylaprice