SessionCam intelligently detects and measures customer struggle on your website using a scale of 0 (no struggle) to 5 (high struggle).
Based on the data we collect, we see an average customer struggle score of 3.4 for shopping cart pages on e-commerce websites.
Such a high score tells us that most websites should invest time and effort to optimize their cart pages. This will improve customer experience and increase conversion.
To help achieve this, we wanted to share our own research and recommendations for improving a website shopping cart.
Cart item selection
Most sites allow customers to click on products that have been added to their cart.
In fact, from our research, 91% of the e-commerce sites we reviewed provided this functionality.
This approach provides the customer with the convenience of revisiting the product page of the items they have added to their cart.
However, it does result in a higher rate of abandonment as some customers leave the website without purchasing.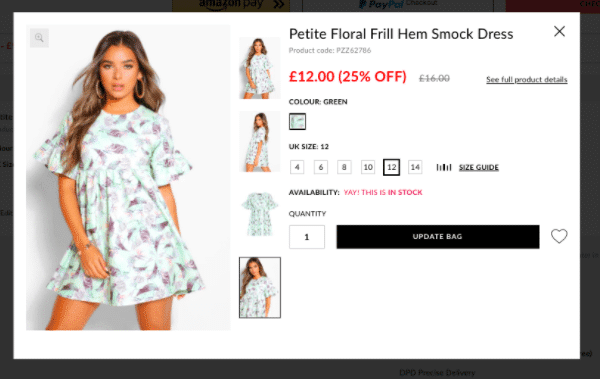 One technique to consider is to show the product detail page contents in a lightbox when the customer clicks from within the cart.
Boohoo.com (shown above) provide a great demonstration of how to execute this successfully. They also allow customers to change key variables such as the item size.
Promotion codes in the cart
Many retailers include a promotion code input box as part of their cart and these are a common source of high struggle.
For many consumers, a promo code box is a signal that discounts are available and prompts them to search online for working codes.
Some retailers only use discount codes at certain times to support specific promotions.
Make sure you only include a promo box in your cart when there are active promotions running to avoid frustrating your customers.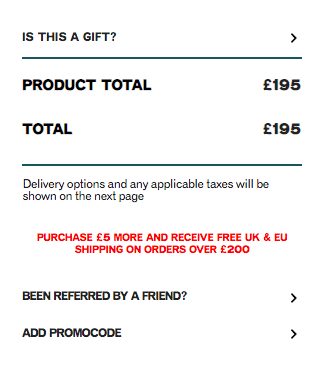 In terms of design, we notice that the sites that hide the promo code box within a collapsed accordion show less struggle than those that don't. 6% less on desktop and 8% less on mobile.
Alternative payment methods in the cart
Sites that offer alternative payment methods such as Paypal and Amazon Pay reduce the customer struggle on their cart pages by a massive 10%.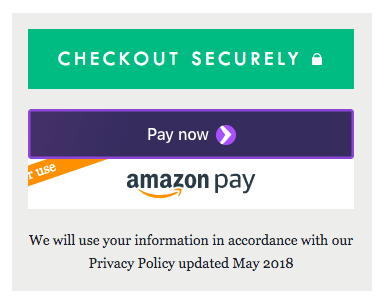 Paypal is widely recognized and regarded as a trusted brand by consumers.
Many will have set-up their own paypal accounts already. This means they can checkout quickly and easily to complete their purchase.
Cart delivery details
Based on our research, retailers that include delivery options, details and any costs as part of the shopping cart do better than those that don't.
On desktop, users are 24% more likely to proceed to the checkout process. On mobile, it's over 50% more likely that they will.

You should make sure you remind customers they can change the delivery choices later in the checkout process if needed.
Our shopping cart recommendations
Based on the data we collect, we recommend the following improvements to your website shopping cart:
Reduce abandonment by not linking items in the cart back to their individual product pages. Instead, test showing the product detail page contents in a lightbox on the Cart page.
Only show promo code input boxes if you have active promotions running and use a collapsed accordion design.
Offer alternative payment options like paypal and amazon pay.
Include delivery options, details and any costs within the cart to increase the likelihood of customers progressing to checkout. Remind customers they can change any delivery preferences they select later if needed and provide this functionality.