We've added an exciting new feature to the SessionCam console that directly responds to client requests for a more efficient and effective way of analyzing conversion rates of multiple funnel segments side-by-side.
Designed to save you time during your data analysis, SessionCam Funnel Insights allows you to compare the conversion rates of segments within a funnel alongside each other, enabling the quick identification of the elements on your website that are underperforming.

You can then use the data to pinpoint the cause of the issue and watch session replays directly from the Funnel Insights feature in the SessionCam console.
Simplifying funnel analysis
"As the number of different device types, operating systems and browsers increase, so has the appetite for this kind of analysis."

– Phil Reay, Head of Insight, SessionCam
Previously, comparing the conversion rate of mobile users with desktop users, for instance, was a time-consuming exercise – as many user experience (UX) teams well know.
Phil Reay, Head of Insight at SessionCam, explains: "We would have to create three versions of a single funnel to be able to segment by device type (desktop, mobile and tablet devices), for example. Only then could you drill down into the worst performing device type to look at operating system, browser or specific devices to identify the areas to prioritize for deeper analysis."
Instead of manually filtering by a different segment each time to review the conversion rate of different groups of users, you can now view all this data in a table to compare conversions side by side.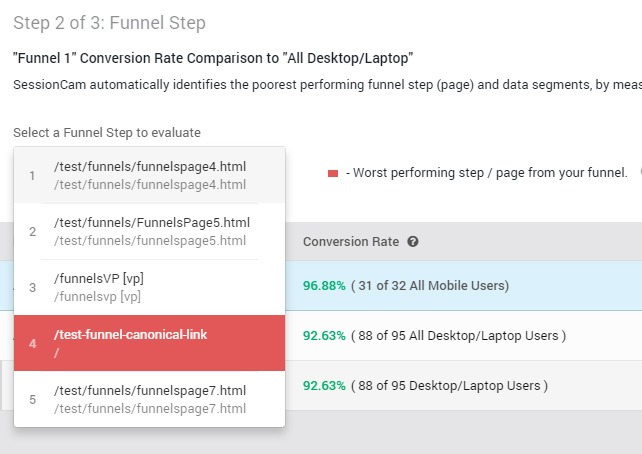 Phil continues: "The new Funnel Insights feature will enable us to identify the worst offending culprits from this single table and then drill down into these specific elements. The ability to do this reduces the time spent to identify poor performing elements by more than 60%."
What can Funnel Insights tell you?
By selecting from a choice of four filters – device type, browser, operating system and user location – you can now review your conversion funnels to further break down the data and get almost immediate insights into why a particular group of users are converting well or not.
"Using funnel insights while working for a large global retailer, we were quickly able to identify that their conversion rate on mobile devices was significantly lower on Android than on iOS. As mobile traffic accounts for more than half of their visitors, this insight was in itself valuable. However, by comparing the data shown within the funnel insights table we were able to quickly compare different Android operating systems to identify the worst offenders and by watching the sessions related to these quickly highlight some OS and browser specific UX issues that were affecting conversion."

– Phil Reay, Head of Insight, SessionCam
From the list of data generated by Funnel Insights, it is also possible to look at individual session recordings, prioritized by the level of customer struggle. This drastically reduces the number of recordings you will need to watch to get the insight you need.
You can watch sessions sorted by our CS Score (Customer Struggle Score) to identify where people are dropping off due to a particular field on a form, for example.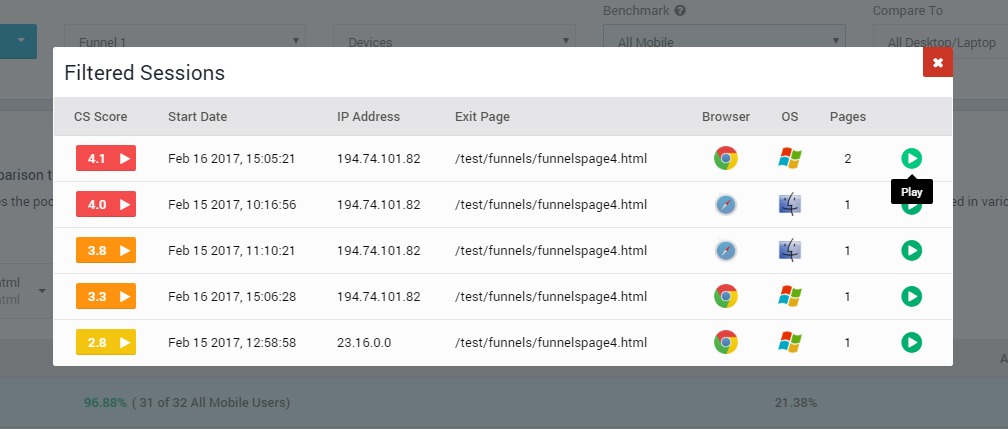 Once you have the data set you want, you also have the option to visualize and export this data as a graph to visually highlight the underperforming device types to quickly identify underlying barriers to conversion.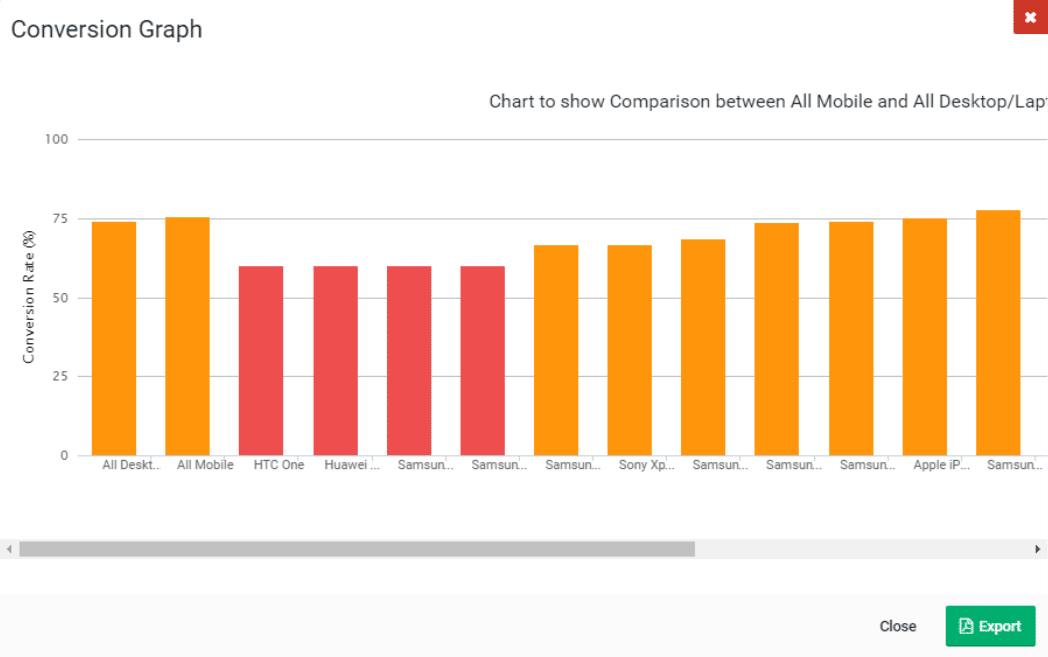 We look forward to helping you unlock further revenue opportunities and increase your conversions using this new feature!
Have any feedback on this new feature of SessionCam? Tell us about your experience in the comments below.