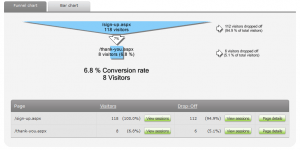 For many businesses increasing conversion rates of online forms, including quote, sign-up and checkout forms, even by a few per cent, can significantly increase sales revenue.
To improve conversion rates however you first need to understand how users are interacting with your online forms, where they are dropping out and why, and what you need to fix to improve usability and form completion.
Be realistic
Firstly it's important to be realistic, in general users don't like filling out forms online. The 'reward' at the end of completing a form usually has to outweigh the 'effort' put into completing the form. In short you need to make forms as easy as possible for users to complete otherwise they'll give up and go elsewhere.
A good form analytics tool
Implementing form analytics can be a great way of monitoring and improving the effectiveness and usability of your online forms. A good form analytics tool will usually provide you with a conversion funnel report which will show you visitors to your online form and page by page conversion rates through your conversion funnel, of which your form may make up part or its entirety. This will provide an initial indication of where users are abandoning and which pages may be causing the biggest difficulties.
Field drop-off 
It will also provide you with a field drop-off report, showing which fields suffer the highest drop-out rates, which take the longest to complete and which need to be re-entered the most. Fields with the highest drop-out rates may indicate an issue with the field itself or with something that occurs before or after that field on the form. Drop-off on the last field on a form for example can often indicate an error with submitting the form, usually with the visitor receiving some form of validation or technical error.
Session replay
Implementing session record and replay alongside form analytics allows you to playback sessions based on field drop-off so you can see how real customers are interacting with your form, where they struggle and what causes them to abandon at that point.
Combine form analytics and session replay
It can uncover a range of form design, usability and technical issues including poor layout and flow of fields, unclear form instruction, confusion or misunderstanding of question wording, poor functionality of dropdown, auto complete and look-up fields, fields that are regularly missed or left blank, common validation errors and ineffectiveness of error messaging and help text in completing fields and correcting errors. The list goes on, but combining form analytics and session replay will provide powerful insight to evidence and fix these issues and as a result increase conversion rates.