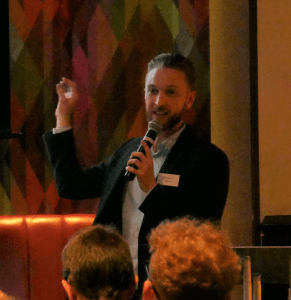 Tom Lees is a Senior Insight Consultant at SessionCam working predominantly with retail brands in the US and UK.
His work has involved extensive reviews of website checkout processes to identify the problems that drive abandonment and reduce customer experience.
His recommendations have recovered millions of dollars of e-commerce revenue that would otherwise have been lost forever.
Using his experience, Tom shares the most common issues he sees with website checkout processes and shares his favorite website checkout process.
#1 – Login
I always recommend you support a guest checkout process but I find that many retail websites still require customers to login before they can complete a purchase.
Over the last 3 years, I've watched thousands of session replays where users have abandoned because of problems with login during checkout.
Most often, I see them drop-off when they can't remember their password and the "forgotten password" links fail to stand out on the page.
The error messaging around login is often pretty poor and just not customer focused. It's easy to improve this. For example, just adding copy with a link to the forgotten password process within the error message itself can keep more customers on your site and in your checkout process.
It's worth saying that, for some time, I did think the increasing popularity of browser password managers and mobile phone facial recognition would really help solve these issues but I still don't see any great reduction in the frequency of this type of checkout problem occurring. So my advice is that you don't rely on those innovations to address this for you.
#2 – Promo Codes in the Cart
I've talked at great length at SessionCam's user groups in the past about the problems caused by highlighting promo code input boxes in the checkout process.
From our own research, 33% of retail websites show a promo code box on the payment step despite the fact that it increases drop-off rates by a massive 14.7 points.
Adding a visible promo code input box creates a massive distraction right at the point of purchase for many customers.
I've repeatedly seen users stop at this point as they go off, never to return again, on a web search for discount codes so that they can grab an unexpected saving.
If you really are still keen to include a visible promo code box in your checkout process, we've previously shared our thoughts on the best ways to do this. You can read more here.
#3 – Incomplete delivery information
If you sell products that need to be shipped then providing clear, concise delivery information is essential to providing a smooth checkout experience for your customers.
It's so important to do this well as I continually see customer drop-off at this point.
In some instances, it is because expectations on delivery costs have not been managed in advance and customers leave because of high shipping costs or a lack of more expeditious delivery options.
I see incomplete information causing problems. For example, not specifying cut off times for next-day delivery.
There's one little tip here I can share that does work really well for upselling – tell customers how much more they need to spend to earn free delivery. You would be amazed at the number of times I see customers go add more items to their basket, often way over the value needed, to qualify for free delivery.
#4 –  Automatic Address Finders
Aren't they brilliant when they work first time? I love the functionality they provide. Just a great time saver.
However, every time I'm reviewing a website checkout process that has implemented an automatic address finder I can find problems.
Without doubt, the most common is that the option to enter an address manually is difficult to find and often missed by those that need to use it. Some website owners just assume that every customer will be able to successfully use the automatic address finders. Don't be that website!
#5 – Error Messaging in the Payment Processing
The business end of any checkout process is the final step when you need to collect the payment. Having worked hard to get your customer to this point, you really don't want to watch them leave.
Unfortunately, that's what I often have to do. And, the most common problems I see around payment processing are related to error messaging where this is handled poorly and just not customer focused.
It's quite easy for customers to generate errors when they enter their debit or credit card details into payment fields. When they do, I often see sites responding with very generic error messages that give no clue as to what the problem is or what a customer needs to do to fix it.
Simply changing the error message copy to provide more direction of what needs to be done to fix the error will reduce checkout abandonment for you. Guaranteed. I also recommend you make the copy within the error message positive and encourage the customer to try again. It's a really simple thing to do but it will make a noticeable reduction in abandonment.
My Best checkout experience?
If you still need inspiration and want to look at a really good implementation of a website checkout process, my personal favorite is SuperDry.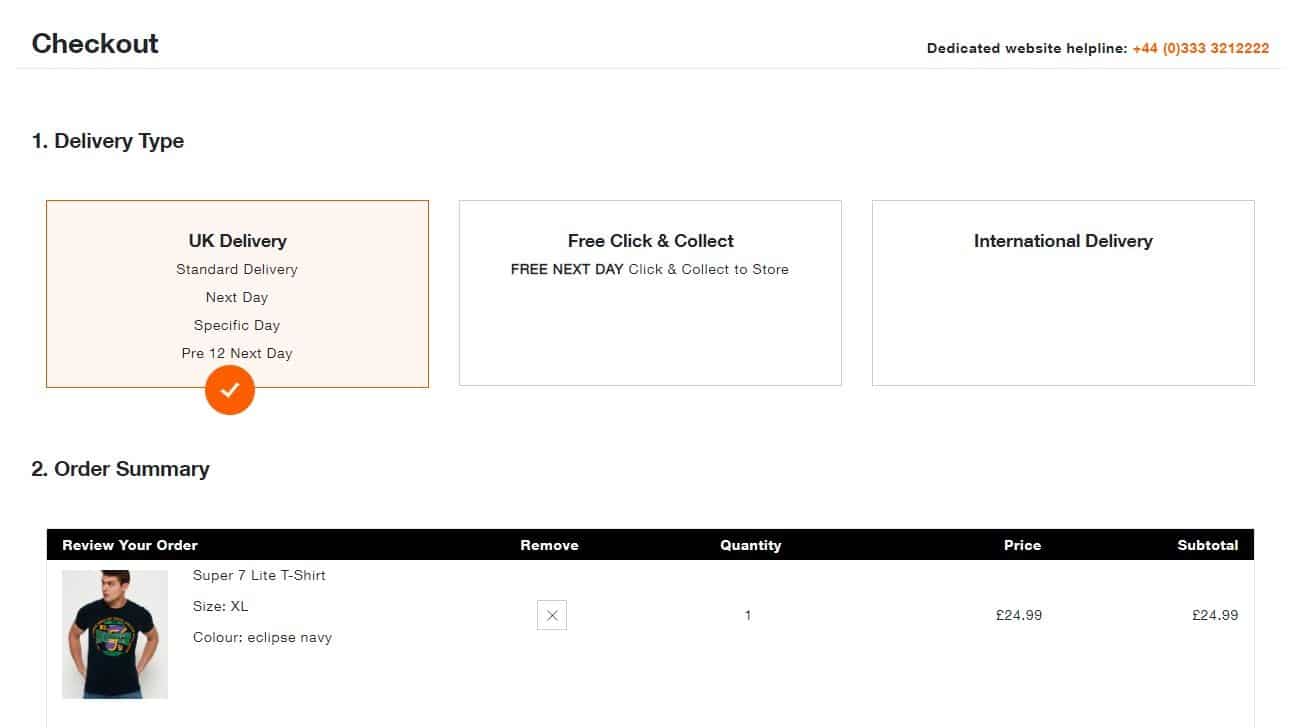 Why?
They offer a guest checkout, it's a single page app, the design is clean with minimal copy and lots of white space. There's no visible promo code entry and excellent delivery information. They use good copy and great error messaging. Overall, it has a familiar look and feel that makes it intuitive to use.