Postcode/ZIP fields can be a key point of customer struggle in your checkout process, with many customers dropping out of the conversion funnel entirely when it all gets a little bit difficult.
However, follow these 5 best practice tips and you'll have your users flying through your checkout form so quickly they'll have that widget/pair of shoes/cat collar on its way before they even knew they needed them.
1. Postcode Look-up

It may seem obvious, but you really do need one. Let's face it, we're all pretty lazy. A simple postcode field and look-up button indicates to the user that they don't have to do much here, simply enter a maximum of 7 characters and the computer will do the rest.
Compare that to the rather lengthy form that Ralph Lauren presents the user with – that's a potential 7 fields I have to fill in all by myself!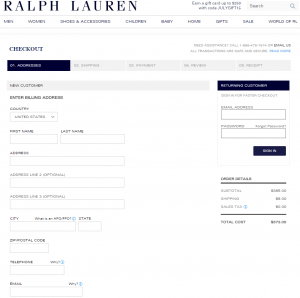 2. Find Address Button
Once you've got your postcode look-up working, ensure you make the "Find address" button prominent enough. One of our clients noticed that they were experiencing significant drop-off on one of their funnel pages. When they watched the sessions back of those users that had dropped off, they found that most people simply weren't seeing the Find Address button, and then trying to proceed too early.
By separating the button out, or changing the colour, this could significantly improve conversion.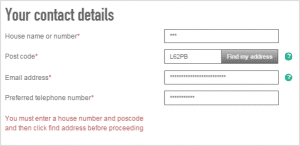 The alternative is to get rid of the Find Address button completely. Sports Direct make it really easy – with a predictive drop down to allow you to pick your address as soon as you start typing.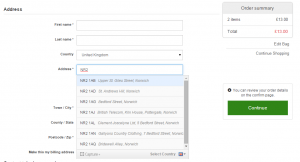 The only issue with this example is that to do this, you're expected to type your postcode in the "Address" field, and the actual Postcode/ZIP field is still at the bottom of the form. So it's also worth re-ordering your form so that you ask for Postcode/ZIP first, then auto-filling the address.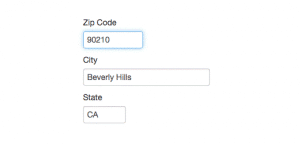 3. Validation
Minimise the restrictions that you put on your postcode validation, like capitalisation, or spaces. If you do have to go down this route, then make sure you clearly state the restrictions on the form. When I used an extra space in this field on the Debenhams website, I get a particularly unhelpful error message.

However, they do at least give me the option of entering my address manually, which brings me onto my next point…
4. Allow people to enter their address manually.
With all the goodwill in the world, sometimes the look-up function won't be able to find a particular postcode. At this point it's only polite to let the user enter their own address. Otherwise they'll get stuck in a never-ending postcode/ZIP look-up loop. Or just leave your site, which is probably more likely.
5. Provide contact details
There's always the possibility that the technology fails, or that a user simply can't get out of that loop. In these instances it's always best to make sure you have a clear telephone option on the checkout pages in the hope that you can still save that sale.
Although you may want everyone to transact online, it's better to have a telephone sale than no sale at all!
Summary
Although the postcode/ZIP field is just one element of the checkout form, it's the one that we've found causes users the most difficulty, and that a lot of retailers still haven't got quite right. By spending a bit of time on optimising this particular field you could make quite a dent in the optimisation of your checkout form, and see an overall improvement in your conversion rate.
It's certainly worth researching how users interact with the form – by identifying sessions where the user has dropped out of your purchase funnel, and then viewing those particular visits you can see exactly what they see, and immediately highlight any particular struggles they're having.