Today's economy is all about customer retention.
Businesses want their customers to stick around and continue to purchase their products. For this to happen, marketers must strive for more customer engagement.
Research shows that "87% of consumers who interacted with a company daily feel loyal to that company." People want to know how your business works.
"Customers are essentially not going to just be demanding conversations with brands, but in effect setting the agenda for these conversations. We're already seeing this, but it's going to become deafening," says Jeffrey Rayport, a renowned ecommerce and marketing specialist.
Quality customer engagement strengthens brand loyalty for your business. Here are five strategies to get you started.
Focus on acquiring data
Data is vital in understanding your target market. Data-driven strategies help your team move your business in the right direction.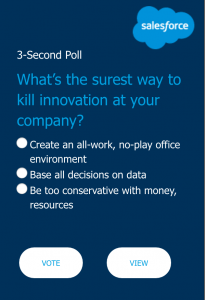 Start by learning your customers' habits to build real loyalty, not just repeat visits. Collect data from website activity, social media interactions, and purchasing history.
For example, session replays make it possible for you to monitor actual customers on your site. By recording every user action, you'll spot usability issues and friction points.
With that knowledge, your team can customize content, improve service, and redo online shopping carts. This all transforms into better customer engagement.
Below is an example from Salesforce. The company posts a simple poll on its website. And interested customers can even review the results.
More importantly, don't rely on outdated information. Continue to update your data to remain current in the field.
"Most new brands conduct extensive consumer research before launch, but those findings won't remain valid forever–three months is the data half-life for many industries," says Matthew Kinsman, CEO of branding agency Base Creative.
Data helps you dive deeper into your customers' minds. So, begin the process today.
Invest in onboarding brand advocates
Brand advocates don't happen overnight. Use your team to transition customers to the next level.
Marketers have a bad habit of convincing people to buy products and then moving on to another customer. The customer lifecycle doesn't end with the purchase.
To solidify the relationship, onboa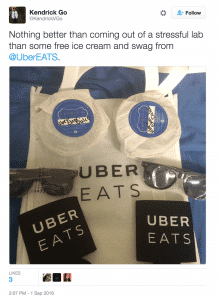 rd buyers the right way. That means going beyond showing them how to use your product.
For example, initiate a loyalty program. Invite customers to participate in company events. Raffle unique prizes, like concert tickets or access to beta tests.
UberEATS, an on-demand meal delivery service, does this well by offering customers swag bags and food. Plus, free merchandise reminds people of your brand.
Your goal is to give brand ambassadors special treatment. You want them to feel a part of your brand.
"Thank you notes are a fantastic, and very personal, way to surprise your customers. They show you care about their business – that they aren't simply a number and, likewise, that you aren't simply a faceless, money-hungry corporation," writes Sujan Patel, a leading expert in digital marketing.
Go the extra mile for your loyal customers. Engage them post-purchase.
Show relevancy through social media
Strengthen customer relationships by displaying how your brand relates to people's lives. Social media has made it easier for businesses to make a connection.
With social media listening tools, like HootSuite, your team can discover first-hand what excites your customers. Find out where they hang out, what movies they like, and what global events spark their interests.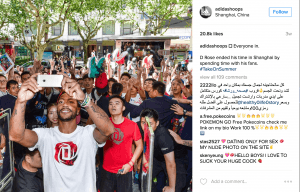 "To ensure this process runs smoothly, you need to invest in an integrated system so no voice, concern or brand praise goes unheard. Being aware of your surroundings is a great way to stay on top of social media marketing and improving brand loyalty in your customers," states Alex York, a writer and SEO specialist.
Use that intel to create relevant messaging targeted to your audience. It's also critical to build consistency across channels. So, your Snapchat, Twitter, and Facebook accounts should uphold a common brand theme.
Adidas shares photos on Instagram showing athletes and fans together. The campaign follows the footwear company's theme of striving for excellence.
Create content to educate and entertain consumers
Creative content can gain and maintain the buyer's attention. Moreover, it can link customers to your brand.
The best content gives consumers another perspective. It elicits emotion—excitement and happiness—to entice people.
From white papers to YouTube videos, spice up your content to build loyalty. This may include interviewing experts or offering original research on a controversial topic.
The Cisco team develops Vines to communicate with customers. These six-second video clips show how the brand is impacting communities around the world.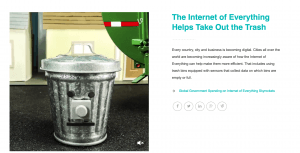 In addition, invite customers to share their stories. It displays your brand's willingness to listen to consumers.
"Engaged customers are more likely to spread positive word of mouth about your brand through blogs and social media, videos, case studies, speaking engagements and other activities. This social proof will help you attract more prospects, close more deals and shorten the sales cycle," says Jim Williams, vice president of marketing at Influitive.
Take the time to create worthwhile content. Showcase your brand in a positive manner.
Personalize to enhance the shopping experience
Over the years, customization has become an integral part of the market. People enjoy products and services catered to their needs.
"It's more about personalization of content than the number of people we reach. It is also about communicating to an individual in order to earn that peer recommendation, and the creation of the brand advocate," states Kyle Lacy, a principal at MindFrame.
Personal styling service Stitch Fix uses customer profiles to build unique clothing selections. Then, these hand-selected wardrobes are sent to the buyer's home.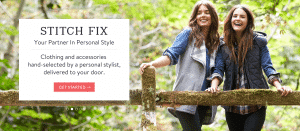 Studies reveal that "97% of consumers said they are somewhat likely to become more loyal to a company that implements their feedback."
Personalization thrives on the voices of the customer. So, don't forget to take their ideas and suggestions into consideration.
Send brand advocates customized messages and promotions. Tailor the shopping experience to fit their lifestyles.
Ignite Brand Loyalty
If you're seeking more brand loyalty, try engaging with your customers. Your interactions may lead to higher customer retention.
Acquire data to learn about consumers. Share relevant posts on social media networks. Skip boring content, and aim to educate and entertain your audience.
Engage with customers. Fuel brand loyalty.
Will BHS work as an e-commerce brand?
Once a high street staple, BHS has now adopted a new online strategy with the hopes of retaining the store's original, brand loyal customers who shopped until the very end.
"With a customer base of well over one million people and the fact we have secured contracts with so many leading suppliers who are providing products that were among the most popular with our shoppers, we are in the best possible position for relaunch," says Managing Director, David Anderson.
By streamlining the product categories in line with a revitalized limited range of its biggest selling products, the company is hoping to improve the customer experience for new and old customers alike.
Article first published on 19 September, 2016.