Customer analytics can play a crucial role in increasing lead conversion rates.
However, Harvard Business Review reported that only 36.6% of companies use analytics to drive customer acquisition.
By examining customer data, your team can deliver the relevant messages and create personalized experiences that transform prospects into lifelong customers.
Higher retention rates = greater sales for your company.
"Companies that make extensive use of customer analytics are more likely to report outperforming their competitors on key performance metrics, whether profit, sales, sales growth, or return on investment," wrote Lars Fiedler, Vice President of Marketing Navigator at McKinsey.
Convert prospects into leads with customer analytics. Check out these five winning strategies.
1. Observe email campaign data
Email marketing drives more conversions than any other marketing channel. It's an effective method to talk directly to your prospect.
But are your messages resonating with your target audience? To find out, use data to track your email campaign efforts.
Successful marketers stick to a few key metrics: click-through rate, email visits, email conversions, and unsubscribe rate. These data points gauge the level engagement among your subscribers.
For example, click-through rate measures how many leads clicked on one of the links in your email. Use this knowledge to decipher which content your subscribers enjoy the most or what calls-to-action entice people to click.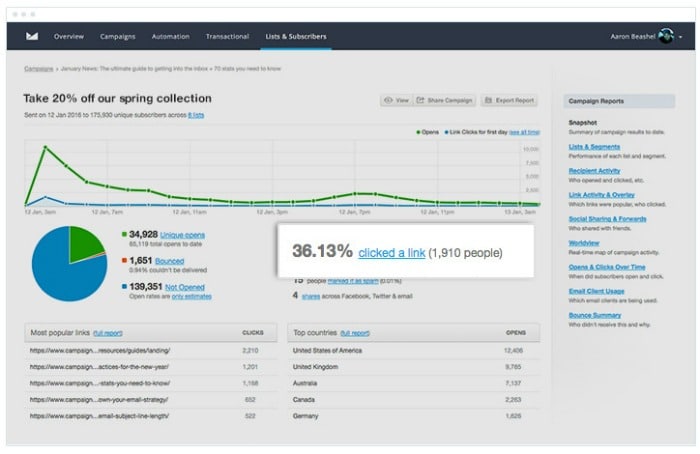 Create email campaigns that fit your consumers' needs. By studying their email behavior, you'll learn how to provide more value.
"Focus [your] analytics efforts on problems that directly impact customers. Use analytics primarily to increase value to the customer rather than to decrease costs/allocate resources," said Bob E. Hayes, PhD, Chief Research Officer at Appuri.
Be mindful of how your email campaigns affect your prospects. Adjust your emails to their behavior.
2. Watch session replays
Knowing how your potential customers interact with your website matters. Discover their actual behavior with session replay.
It's not enough to guess which sections of your site attract people. Are they focusing on your ebook download? Or maybe a trending blog post?
This data helps your team position valuable content in strategic locations. Moreover, you'll spot usability issues and garner new ways to improve customer support.
"Modern marketing is about having a conversation with highly targeted audiences," offered Peter Linas, International Managing Director at Bullhorn. "It's about creating engaging customer experiences by deploying relevant content and memorable contact."
SessionCam developed an advanced algorithm that detects signs of customer struggle. Now, you can create customer segments and quickly identify their specific issues.
Watch recordings of actual customers using your website. And replay real user experiences to make significant improvements to usability.
3. Monitor social media activity
Social media is continuing to prove itself as a viable marketplace to gain leads. According to Hubspot, social salespeople reported a 22% increase in sales revenue versus non-social sellers.
Platforms like Facebook, Twitter and Pinterest offer sales reps the opportunity to gain knowledge about customers' interests and habits. This qualitative data leads to personalized sales material.
"However, the challenge is that social insights are often fractured, confusing and incomplete," stated Cooper Harris, Founder of Klicky. "In order to hone-in on user data in social, subscribe to a tool or platform that aggregates user data across all streams."
For example the social media tool, Buffer gives your team all the major engagement stats for every update you post. You can also find out which top tweet or post performed the best.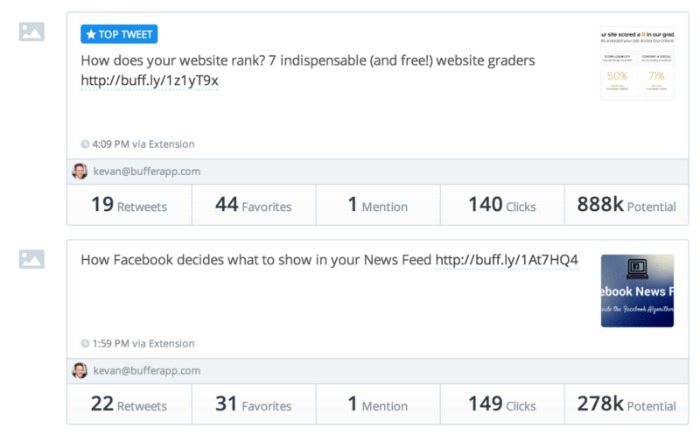 Social selling is still a fairly new concept for most businesses. It's different from old sales tactics because it requires the sales rep to build quality relationships.
"To gain traction with social media, the members of your sales team may need to 'unlearn' some of the sales tactics they've come to rely on. That is, they need to ditch the pitch and focus on forging relationships," wrote Barry Feldman, Founder of Feldman Creative.
Change your sales approach. Try social media as an avenue to grow your leads.
4. Revamp your forms
Forms are one of the ways to capture a lead's information. Then, your team members can send customized emails and make tailored sales calls.
For that to happen, you first must gather data to optimize your forms. Form analytics help you understand how and why real users convert, or not.
Start by experimenting with form fields, length, and placement. Use this data to identify the pain points of your prospects.
"The key is remembering that these metrics are most useful when they're measuring change of behavior–which means that the foundation of a behavior analytics program is understanding what normal behavior looks like before seeking out anomalies," stated Ericka Chickowski, Contributing Writer at Dark Reading.
Encourage prospects to give their contact details. Use analytics to make the process easier for the lead.
5. Ask for customer feedback
Customer feedback is usually overlooked in analytics. Nevertheless, it's one of the best forms of data to be able to identify real-life customer struggles.
Your customers know your products better than anyone else. And their firsthand insights provide guidance on how to gain more leads.
For instance, if you're gearing your sales pitch toward a particular product feature, ask current customers for their opinions. You may learn that the feature isn't really beneficial.
"Use customer data to identify the most relevant users to ask for feedback on new features as they're the ones you really want using those features," said Aaron Forman, Manager of Communications at Intercom.
Examine how you collect customer feedback. Ask short and straightforward questions. Data also suggests that if a person begins answering a survey, there is a sharp increase in drop-off rate after each additional question asked.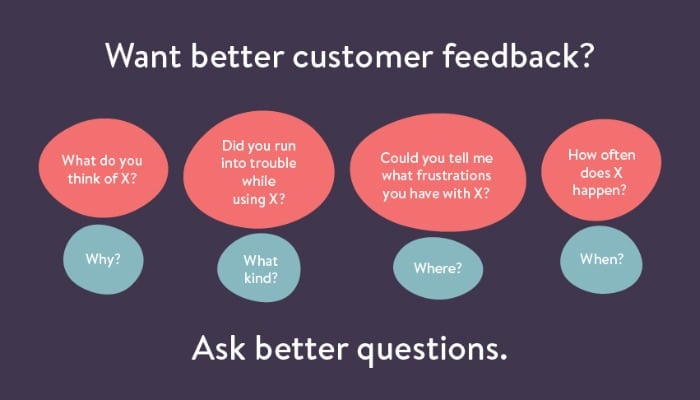 To improve your sales funnel, be open to asking your customers for feedback about your product(s) and service(s).
Study your customer analytics
Take advantage of customer analytics to boost your lead conversions. Using data offers your team the opportunity to create a personalized customer experience.
Develop email campaigns that focus on the prospect's behavior, and learn how people interact with your website via session replays.
Transform social media activity into a tool to build relationships; craft forms that increase completions. And take advantage of customer feedback to modify sales demos.
Convert more leads. Focus on customer analytics.