Are you getting a lot of visitors to your site? If so – congratulations. However, if you're running a business, you need those visitors to become clients. Or else your website is leaking hundreds if not thousands of dollars.
Why do I say that?
You're already spending time and money to get them to your site. So why not ensure you're converting as many of those browsers into subscribers as possible.
Here are nine tried and tested ways to do that:
1. Steal your competitor's customers by making a comparison
The chances are that if you're in a competitive industry, your customers are already comparing your product with that of your competitors before they make a purchase decision.
This offers an opportunity to help your visitors make that decision by creating a landing page specifically for this purpose. It should be designed to aid visitors who are searching for "you vs. them" related searches. On the page itself you can show off the features and benefits of your product over that of your competitors.
You can also optimize the page for competitor brand names to capture additional traffic including those who may not have been looking for your product.
Groove realized that their prospects were weighing their product up against that of their competitors. So to make things easier for prospects they developed a couple of comparison pages. The pages increased conversion by 15% and provided great SEO benefits as well.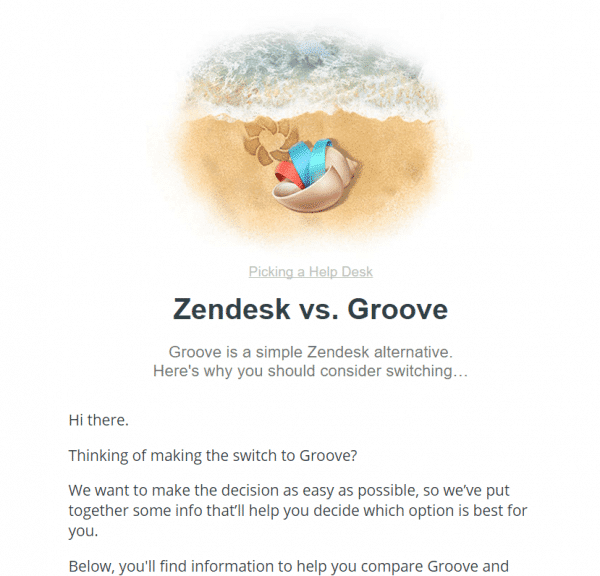 How can you capture their interest?
Use a comparison post like this one by wpmudev.
Use a comparison chart like Formstack
Use a price comparison calculator like Zoho
Bear in mind, while price is a factor in most people's buying decisions, it's not the only factor and so should be used as part of a larger comparison scope.
2. Make an offer they can't say no to
According to research 70%, or more of your website visitors will leave with little chance of them ever coming back. So how can you stem the tide of people leaving your website with little chance of ever coming back?
Consider adding an exit intent pop up with a final offer that makes it hard to say no to. These pop-ups only appear when it detects that the user is about to leave your page.
Copyhackers uses an exit intent pop-up like the one below which also features a bit of animation around the call to action. The offer is compelling. But the call to action also helps persuade visitors to become subscribers.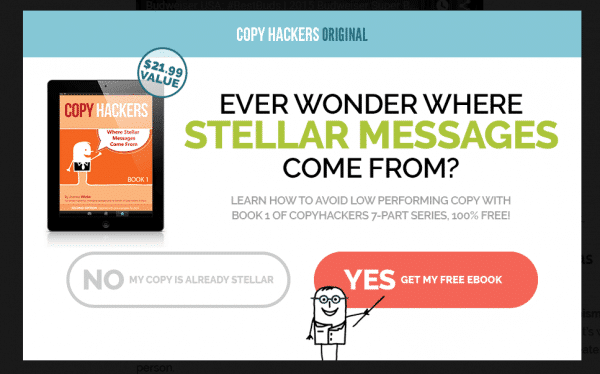 Brian Massey, The Conversion Scientist reports an average conversion rate of 10% from tests they have conducted using exit intent pop-ups.
How to implement:
Use a service that allows you to create an exit intent pop up like Exit Intel or Mailmunch
Create compelling headlines that will make visitors pause and take notice.
Offer an incentive that is of value to them
A/B test your copy and monitor visitor reactions to the pop-up
3. Leverage FOMO
FOMO or the "fear of missing out" on something affects most people to some extent.
The Word of Mouth Marketing Association defines FOMO like this:
"At its root, FOMO is a sort of social anxiety that occurs when one is concerned with missing a social interaction, experience of value, talk-worthy event, or monetary gain."
There may be a number of different factors that cause customers to procrastinate in making a purchase. So much so that they soon forget about it or never get around to it.
The solution to this is quite simple. You just need to show the customer that if they don't complete the purchase right now they will miss out on the opportunity.
Take for example an email campaign for existing customers at a Toyota dealership in Norway. The initial send had a call to action of "Show me the offers". In the second send, as part of their A/B test, they changed only the call to action. It was changed to "Amazing offers valid for a limited period". The conversion rate increased by 27%.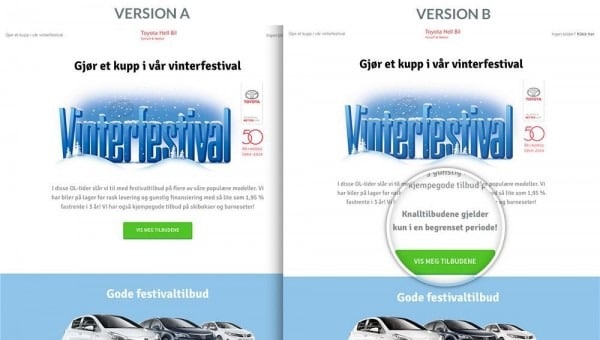 This is a tactic that a lot of e-commerce stores use.
Take GILT.com for example. They show certain products that only have a limited quantity available.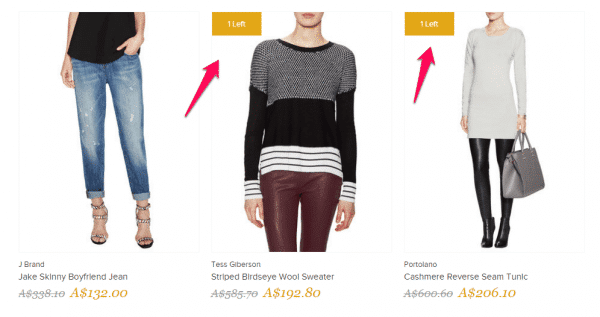 Groupon also uses the same principle on their offers, showing potential buyers the amount they save and reminding them that the offer is only available for a limited time.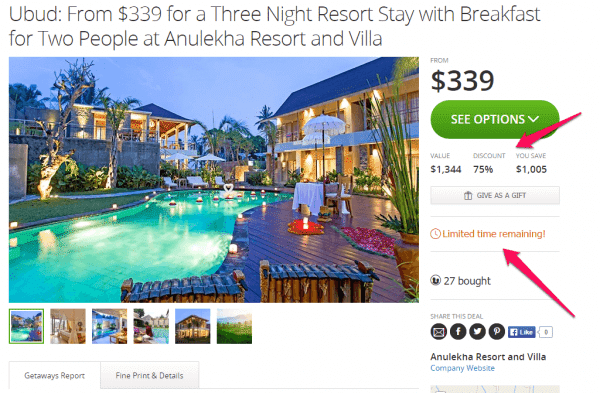 How to do it:
Consider using one or more tactics below.
Offer a limited quantity
Use a limited time offer
Show current demand
Qualify people
Create memberships that restricts access to perks and deals that make customers more engaged. Example – frequent flyer memberships.
Use personal invites like Gmail did with their launch.
4. Show them what it's about
With brick and mortar stores, customers can walk in, pick up and examine a product close up. This is something people can't do online and presents a challenge in the buying experience. Having said that, technology helps us come close to solving this issue.
Product images and videos play a crucial role in this.
Skinner auctions ran an A/B test wherein they increased the size of their images by 28%. The result was that they experienced a 63% increase in visitors clicking to start the bidding process. They also saw 329% more visitors who started the bidding process fill out the online forms required to bid.
Dell tested using a large background image on a lead generation page and found it lowered the bounce rate by 27% and increased leads generated by 36%.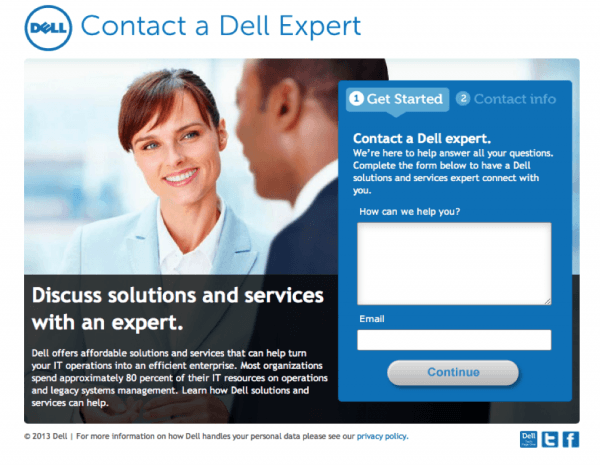 Zappos has been using product images and product videos for a few years now.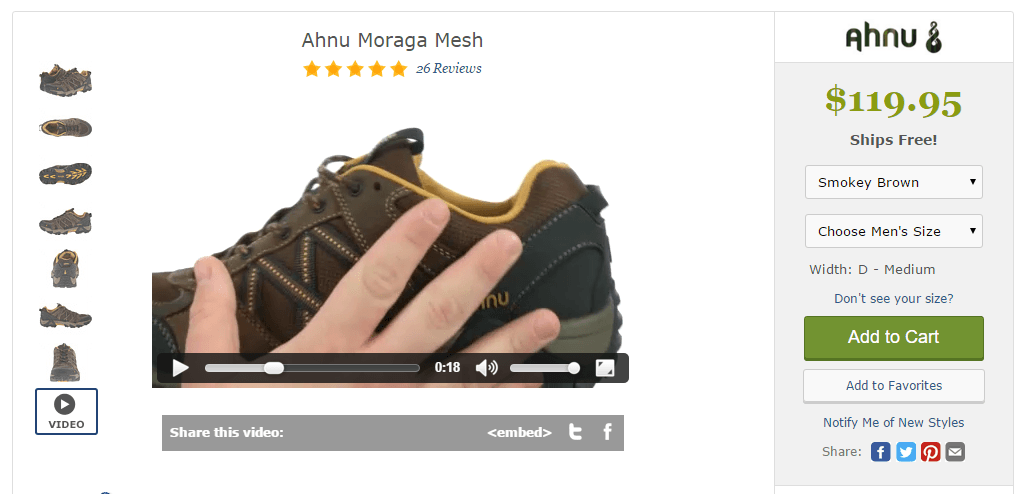 They found that by adding product videos to the product pages, sales increased between 6 to 30%. It is also worth noting that tests have also shown that conversion rates on product pages with videos are high even if customers do not watch the videos.
How to do it:
Invest in professional photography and videos. Poor quality images and videos can hurt conversion rates.
Use the right background for your product so the focus of the image/video is the product.
Show off every angle of the product and highlight it's best features.
Invest in retouching and editing your photos and videos to get the best visual look.
Consider having someone in the product video, talking your visitors through the product features. Zappos continues to do it because it works well.
5. Chat to them
The trouble for most e-tailers is that many customers are disconnected from someone who can answer their questions in real time. In fact for most e-tailers gaining traffic is not as important as helping prospects buy. According to a survey by Forrester Research –
"Around 44% of online consumers say that having questions answered by a live person while in the middle of an online purchase is one of the most important features a website can offer."
Live chat according to the International Customer Management Institute can save customers' time and businesses money. In a survey of customers who used live chat, said that they did so because they get their question answered. 46% of them agreed it was the most efficient method.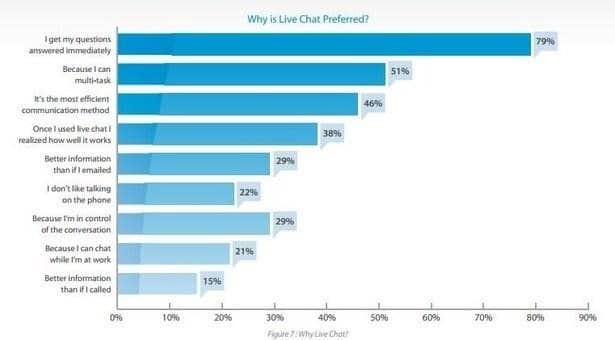 Live chat is an excellent tool for turning browsers into subscribers and customers because it offers a chance to engage undecided customers before they abandon their purchase. Page tracking that most live chat software offers enables you to initiate a conversation with a customer when their activity signals they are having a problem.
Now this isn't in any way a complete solution. Page tracking cannot read people's minds, and not everyone wants to receive help even when offered.
Blue Soda tried using live chat and achieved a 60% chat to conversion rate.
How to implement:
Be sure to gather qualitative data on your audience
Train your agents
Ensure you respond quickly
Nudge visitors to subscribe if they qualify as being a potential customer
Treat live chat as another touch point
6. Reduce friction
Benjamin T. Babbit is credited with first introducing the concept of the free sample in the 1800's. It worked very well for him as it reduced the friction usually involved in making a purchase decision for soap. It also allowed him to widen his market share.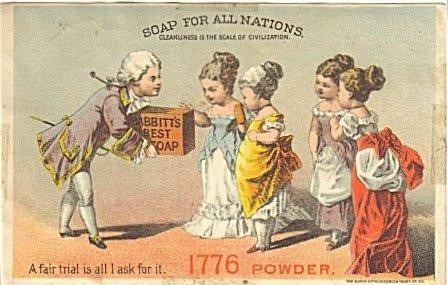 For most SaaS companies, reducing friction for visitors could be a free trial. For others, it might be a free resource or sample to try.
Groove, a SaaS company offers a free trial. They found their visitor to trial conversion rate was found to be 8.4%, and their trial to customer conversion rate was found to be 11%.
Why use free offers?
For the visitor, there is little to lose. The benefits could potentially be greater for them and most people these days expect to try before they buy. It allows companies to widen their customer base.
This doesn't mean that all free trial users will become subscribers or customers. A study found that customer retention is lower among those acquired via free trial even after the initial free trial period. Why?
They sign up without a commitment to the value of the service. It is also likely that they join without truly understanding the benefits. Which makes them likely to leave. However, studies also showed that higher usage during the free trial increases customer retention.
How to implement:
Make sure visitors can find your trial offer easily
Encourage those who sign up to use the service/product
Onboard users with personalized communication and education
Determine the right trial duration
Don't stop communicating even after the trial
7. Leverage emotional targeting
Research has found that emotional responses to ads impact consumer's intent to buy by a factor of 3 to 1. Another study found that the most shared content on the New York Times website had strong emotional undertones.
Conversion optimization is a lot more than optimizing for one KPI. It is about running meaningful tests that reveal more about customers and understanding them on an emotional level. That understanding and knowledge can then be used to create relevant yet optimized interactions.
Professor of neuroscience Antonio Damasio at USC describes in this video how our emotions are key to the decision-making process.
Skype, for example, uses its headline to tell you what it does. The background video shows people using Skype.
Their call to action – "Call, share, message and express yourself with our new Mojis" is featured prominently attracting new and old users. The price (free) is another reason that the site works well.

The company's marketing on the site is focused on helping people. Helping them become better versions of themselves or who they aspire to be. Showing them how the product helps them achieve that.
How to implement:
Get to know your users by developing marketing personas
Show don't just tell
Show value over features and benefits
Refer to the psychology of colour
A/B test your hypothesis
8. Always be tracking and testing
To convert browsers into subscribers, you need to track user behaviour. Tracking and A/B tests are easy ways to determine what elements on your site need to be modified to achieve the outcome you want.
Take for example the Weather Channel. They wanted to turn visitors into premium subscribers. They simplified their homepage and used a single call to action which resulted in a 225% increase in conversions.
Formstack tested a three-word variation on an element on their navigation bar. "Why to Use Us" was changed to "How It Works". The result a 47.7% increase in clicks with the variation.

How to do it:
Don't test unless you have sufficient traffic to run through the test
Always wait at least a week to gather data.
Only launch variants at 99% certainty.
Should a test drop below a 10% lift, end it.
If there is no winner after a month, end the test.
Don't wait for your data to come in. Start to build out your next test.
9. Track visitors movements
Do you know what your visitors do once they land on one of your web pages? What sort of behaviours do they exhibit?
Using a tool like Sessioncam allows you to track how visitors move around your site, what they click, what they spend time on and what they ignore. Such tools help you visualize the data using heat maps like the one below.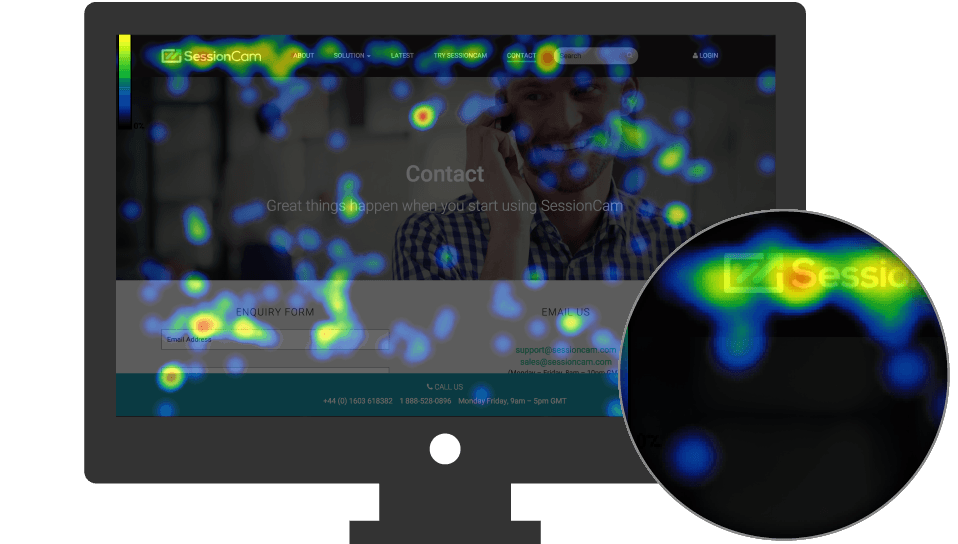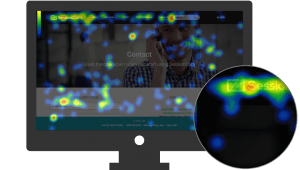 The insights can potentially lead to higher conversion by changes to the copy and UX. What does this in terms of return on investment (ROI)? Potentially gains of thousands of dollars if not more.
Bob Lotich who runs ChristianPF.com used heat maps to discover that the video image on his home page was receiving thousands of clicks. However only a few of those were subscribing to his email list. He was able to double the number of email subscribers by installing a pop up window to allow people to subscribe to watch the video.
Spreadshirt used a data driven approach to a site redesign focused around visitor behaviour and increased clicks by 606% and purchases by 11%
How can you implement this?
Set up goals and objectives for your testing.
Create a hypothesis to set parameters around data that needs to be captured.
Use a tool like Sessioncam that offers heat maps and user session recording to capture data
Analyze results and compare to your hypothesis.
10. Create and test
Converting browsers into subscribers and customers needs to be a long-term strategy rather than a quick fix. Listening to your customers and studying their behaviours is a good place to start. However getting browsers to follow through on your calls to action will be an ongoing challenge much like Amazon's ongoing efforts.
In what ways have you successfully turned browsers into subscribers?