Research reveals that 95% of companies are failing to exceed customer expectations.
Consumers desire differentiated services and personalized experiences. Organizations that develop customer-focused strategies and take advantage of new tech tools will thrive.
However, those who don't will continue to fall behind.
Customer experience analytics can help your business gain valuable insight into your customers' needs. No matter the business objective, CX analytics transforms cumbersome customer data into actionable information.
What Is Customer Experience Analytics?
Customer experience analytics provides in-depth insights that allow your business to really understand consumer behavior. Gartner defines customer experience management as:
"the practice of designing and reacting to customer interactions to meet or exceed customer expectations and, thus, increase customer satisfaction, loyalty and advocacy."
Therefore, customer experience analytics is more than monitoring pageviews. It goes beyond knowing your customer's age, gender, and location.
It's about understanding your consumers so intimately that you can deliver customized experiences that will entice them to make multiple purchases and tell their friends about your products and services.
In January, Econsultancy published its 2015 Digital Trends report. They surveyed more than 2,000 marketers, asking them: "Over the next five years, what is the primary way your organization will seek to differentiate itself from competitors?"
The number one response included the term "customer experience."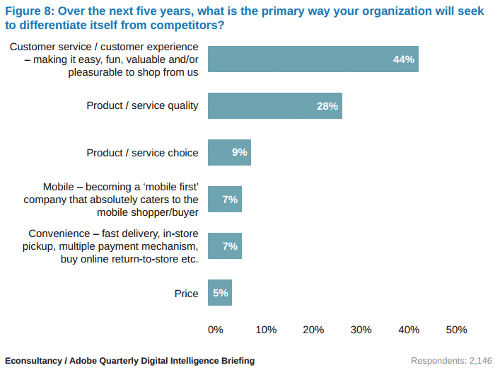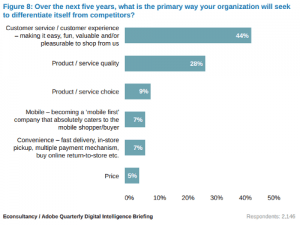 To support various use cases, analytics can be applied to different kinds of customer data, including customer satisfaction, renewals, and purchases.
Acquiring extensive knowledge about your customers doesn't happen automatically. CX analytics stems from extracting data from all your customer touchpoints and translating that into practical insight.
How Does It Differ From Traditional Analytics?
Traditional analytics does offer value. However, CX analytics digs deeper into the habits of your consumers.
So, what's the difference?
Traditional analytics focuses on collecting data from specific sources at specific times under certain constraints. It's all about customer outcomes, like the number of clicks.
With traditional analysis, businesses can find patterns and figure out how to respond to those trends. It's used to "determine the public's response to your brand." If your audience is talking about your brand, your team will learn what they are saying and whether it's positive or negative.
Traditional analysis offers customer reactions. Companies are limited by the "what" when they need to know the "why" and "how."
Brands need more information to gain context. That's where CX analytics steps in, as it centers around customer behavior. Why did the buyer have problems logging into their account? What error messages did they receive when filling in a form?
For example, attention heatmaps can show you exactly what portion of the page visitors are reading. Then, your team can move the most relevant content or CTA buttons to that specific area.
Relying solely on traditional approaches may not provide the whole story. In the journey from traditional to CX, organizations will obtain more perspective on how to improve their current customer experiences.
The Benefits
Customer experience analytics offers tangible business value. Understanding your buyers' interactions translates to increased revenue when serving new customers and lower costs when reducing customer churn.
Customer loyalty is the new competitive battleground for companies. Aiming for continuous analytics innovation, successful brands can create memorable shopping experiences and keep their competitive advantage.
A Tempkin Group report noted, "Customer experience leaders have a more than 16 percent advantage over laggards in consumers' willingness to buy more, their reluctance to switch business away and their likelihood to recommend."
Steven J. Ramirez, CEO of Beyond the Arc, Inc., wrote the following benefits of advanced CX analytics techniques:
Identifying strategies to reduce attrition,
Targeting improvements at key touch points to accelerate issue resolution, and
Increasing cross-sell rates with sophisticated customer segmentation.
In a world where consumers drive engagement, businesses must seriously strive to measure the customer experiences. To optimize the ROI of CX analytics, focus on these three areas:
Define the right customer metrics: These metrics should highlight reliable, valid and useful information about the customer relationship. Customer metrics linked to business growth helps executives and improves decision-making.
Focus on strategic issues: Apply analytics to customer metrics that affect your company's value. Then, your team can solve strategic business problems that address ROI at the enterprise level.
Integrate business metrics: The right analytics can help executives garner a cross-functional view of their business data. This happens when businesses tie different business data sources together.
3 Tools You Should Use
Customer experience analytics software shows you how users interact with your website. Improve the customer's online experience to boost sales. Here are three tools that can help:
Heatmaps
Heatmaps let your team track how visitors engage with your site. Reports can be generated from a specific page or filtered to include certain customer segments.
For example, your company may want to see a heatmap showing the behavior of mobile phone users on your landing page.
With heatmaps, visualize user activity and identify page design and usability issues.
Session Replays
Want to understand the customer's perspective? Session replays allow you to watch recordings of actual buyers using your website.
Understand how your customers navigate your site and what blips cause them to leave without buying. When you replay the real user experience, it helps you make better decisions on how to improve conversion rates and customer support.
All this insight is yours without your users being inhibited by a formal test environment.
Form Analytics
Web forms might be one reason why visitors aren't converting on your site. Let form analytics determine whether changes need to be made.
Identify everything from which form fields cause the highest drop-off to which fields take the longest to complete.
Optimize your forms to encourage more customers to convert.
Conclusion
If done right, CX analytics will uncover new possibilities in your customer journey.
Take advantage of powerful tools, like heatmaps and session replays, to continuously measure and manage the customer experience. Discover new ways to bring value to your loyal consumers.
Achieve your CX goals. Let SessionCam handle the analytics.