The site search feature is a key element of any e-commerce website. For many consumers, this will be the means by which they find the products they want to buy.
A well designed and executed site search will improve customer experience, improve conversion and increase sales. 
By contrast, a poorly considered and badly implemented site search will cause customer struggle and prompt visitors to leave your website.
Site search is a point of customer struggle
We know from our own experience of working closely with e-commerce teams of all sizes to optimize and improve their websites that the site search feature is a point of struggle. 
We see an average Customer Struggle score for a website search page of 2.8.
Measured on our scale of 0.0 (no struggle) to 5.0 (high struggle) that average 2.8 score is just too high and highlights a great opportunity to improve your website.
Open or closed site search functionality
There are different ways of implementing search within your site design.
Most websites will use an open site search feature included within the header bar of pages that can easily be seen and interacted with. From our unique dataset, we see 7% of all site visitors on desktop and 17% of mobile visitors using an open site search feature.

As an alternative, you can include an icon which opens up a search bar next to or directly below when clicked. However, from the data we collect, there is noticeably less usage from site visitors – less than 7% of desktop visitors and 3% of mobile visitors are prepared to make the extra effort to click and interact with this type of site search.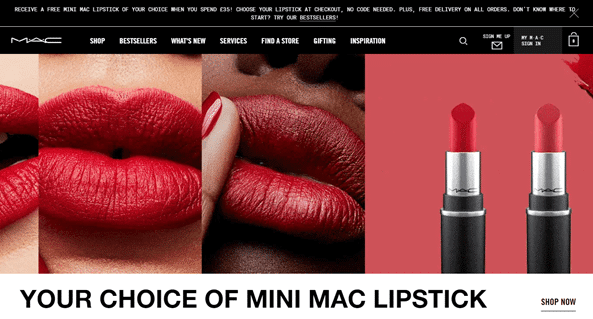 Smart search makes a big difference
Site search feature can be noticeably improved by adding smart additions such as an automatic suggestion capability that prompts users with search terms based on the input. 
Presenting result lists as the visitor types will also help them locate the items they want more quickly and without making mistakes.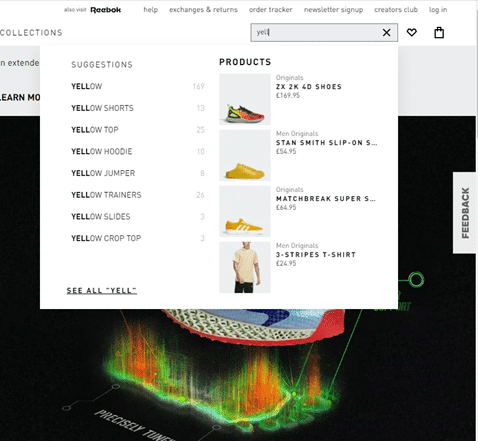 Showing visitors their recent search terms improves experience by allowing visitors to quickly re-search for items they have shown interest in.
Adding these extra capabilities will reduce site exits from a search results page by over 17%.
Zero result searches
14% of site searches return no results at all.
Whilst you can't control the search terms your visitors use, you can control the experience you deliver in this situation.
Providing clear direction and guidance to visitors on how to proceed when their search generates no results will keep them on your website.
Some sites include keywords that closely match the entered search terms.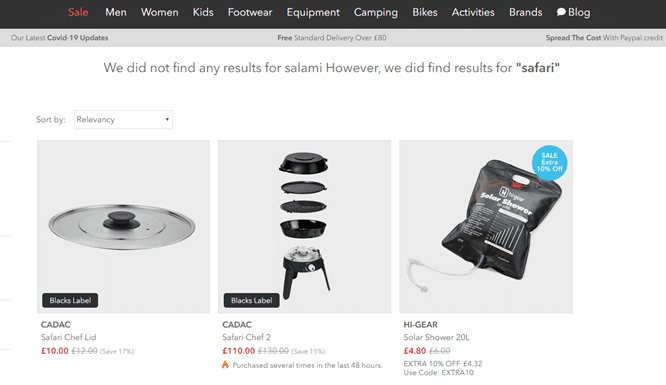 Others, list their product categories within the no results page so that visitors have a way of continuing to interact with your website.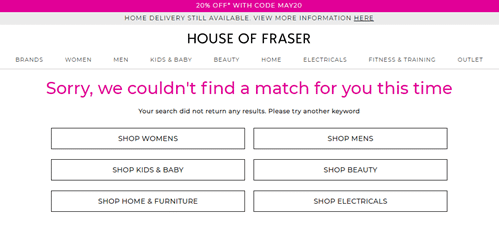 Too many search results
In some instances, a search results page may generate hundreds of product matches which can be overwhelming to a site visitor.
To manage this experience, we see website owners including filters to let the user better refine and sort the results returned.
We see an average of 3% of site visitors using search result filters to find the item they want.
Additional searches
On average, more than 13% of visitors will make additional searches on the search results page.
The best performing pages recognize this and maintain the position of the site search consistently on all pages so that it's easy for visitors to find and re-use.
Our search feature recommendations
Having shared some of our research for e-commerce site search, our recommendations to provide the best possible user experience are:
Use an open site search consistently located in the header bar of all pages.
Include smart search functionality to auto correct the spelling of input search terms and make automatic suggestions of the search terms the user may actually be trying to search for.
Always provide a search results page with clear notification when the search has generated no results.
If your site has many products, include a filter to allow results to be refined when the search returns hundreds of results.
Maintain the position of the search feature within the results page to better facilitate additional searches.