SessionCam is pleased to announce an enhanced two-way integration with the UK's leading enterprise-level Voice of the Customer (VoC) solution provider, ServiceTick.
Richard Churchill, Chief Product Officer at SessionCam explains: "Our original integration with ServiceTick meant that, where feedback to a web survey had been provided, joint-clients could watch SessionCam recordings from within the ServiceTick reporting console. This proved very popular in helping brands to map the user journey for those customers whose journey proved less than satisfactory."
New VoC metrics for advanced segmentation
This integration has now been taken a step further by enabling ServiceTick to pass feedback data from its web surveys back into SessionCam.
Thanks to this enhanced integration, SessionCam clients who use ServiceTick as their VoC solution are now able to further segment their data by VoC metrics. For example, clients can analyze conversion funnels by net promoter score or use heatmaps to visually analyze customer levels of satisfaction or effort.
This additional segmentation capability will open up new clarity of insight that can be used to improve website conversion.
Enriching VoC with the Customer Struggle Score
Crucially, the enhanced integration also allows data from SessionCam's unique machine-learning Customer Struggle Score to intelligently pass back into ServiceTick.
Clients can now investigate the links between the customer feedback provided (what the customer feels about the online journey) and correlate this to the amount of struggle evident within a customer's online journey.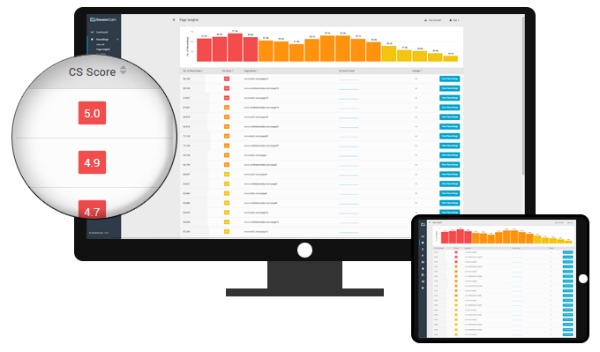 "We are the first customer experience (CX) vendors in the marketplace to be able to include a measure of a customer's struggle alongside a customer's feedback," Richard further highlights. "Our message to brands is simple: eliminating customer struggle on your website will improve customer satisfaction and brand advocacy and, ultimately, this will be great for your business."
Thomas Cowper Johnson, Insight Director at ServiceTick adds: "Our clients constantly tell us that their most important learnings have come from listening to customers who are dissatisfied with the experience they have encountered. This enhanced integration with SessionCam lets us understand and analyze that experience in a much clearer way than ever before."
The new integration is available to all existing customers of both ServiceTick and SessionCam. A full demonstration is available on request.
For a full list of SessionCam's Integration Partners, or to find out how to partner with us, visit our partner page.