You might have a great eCommerce site up and running, but that doesn't always mean it's completely optimized. If you're missing the items on this checklist, you may be losing out on sales (and long-term customers.)
Take a look at this 10-item checklist and be sure you've covered all of the essentials for a highly functioning, customer-pleasing eCommerce site. Then start making a to-do list so you can get your site performing at an even higher level.
1. Mobile-friendly design
With Google announcing the fact that more searches take place on mobile than desktop, now is the time to be sure your eCommerce site is 100% mobile-friendly. Additionally, eMarketer projects that the mobile shopping trend is on a steady incline. In 2016, those who are still using sites that aren't displayed correctly on mobile devices should be scurrying to call their web designers.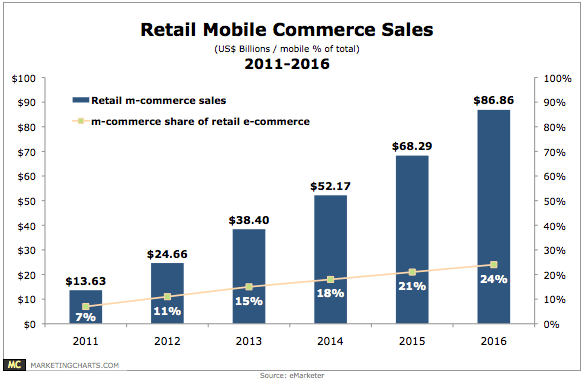 Don't exclude your smartphone and tablet-loving shoppers by sticking to an old site that only works on a desktop computer. You're losing money, plain and simple. Hence why this is #1 on the checklist. Do this first.
2. A prominent search feature (on every page)
You might not have "make search feature more prominent on pages" at the top of your to-do list for your eCommerce site right now, but you should bump this one up on your list. Because online shoppers are often looking for a specific type of item, you may be frustrating buyers if they have to dig to find your search tool.
One case study from IBM proved this to be highly effective at increasing search conversion. When FootSmart improved their site search both for customers utilizing the tool and by studying search terms on the back end, they were able to increase search conversion by a whopping 82%.
Let your online shoppers get the most out of your site by making it easily searchable, no matter where they're at on your website. Get a search tool on every single page (if you don't already.)
3. Easy to locate customer support
We've talked about the importance of a positive customer experience before, and the numbers show that support features are crucial for an eCommerce site's bottom line. According to New Voice Media, $41 billion is lost by U.S. companies alone each year due to poor customer service.
One of the simplest ways to reduce the friction points that keep customers from buying online is to have fast-acting, easy to locate customer support at the bottom of each page and especially at the checkout phase. Whether it's a call-in number, live chat support, or an email resource, these customer support features help answer questions, catch website glitches, and reduce customer churn overall.
4. Fast-loading pages
According to a study by Akamai, 47% of people expect a page to load in two seconds or less. At the three second load mark, 40% of users will abandon a page. With that said, you can have the best, most beautiful videos and images on the web–but if they don't load quickly, they've gotta go. Your customers may already be navigating their way to a competitor's page instead.
But, there's more to this item than just clunky multimedia. You'll need to think about your broadband capabilities for days when you have high site traffic, because a crashed site means no customers at all. This report noted that at peak traffic times, more than 75% of online shoppers left for a competitor's site rather than suffer delays.
Last holiday season, even major retailers like PayPal and Target lost sales while their sites were down during high-volume traffic. Prepare yourself (and your site) for speed and traffic at all times.
5. Clear return/exchange policies
If there's ambiguity surrounding returns and exchanges, online shoppers who can't try on or test out items before making a purchase may forgo following through on an order. Data from Harris Interactive indicates that 88% of US adult online shoppers indicated that a convenient returns policy and process is "somewhat important," "important," or "very important" to purchase decisions online.
Think about it: Why would you buy something if you're not sure you can return it, and you have no way of knowing if it will work for you? Make returns and exchanges clear both on your policy page and at checkout to reduce buyer concerns and make them feel more secure about their purchases. This data should also be included with every order you ship, both in the confirmation email and within the physical product packaging.
6. Obvious CTA buttons
Make it easy for shoppers to quickly add items to their shopping carts with easy to find, obvious CTA buttons. The color of the button should stand out from the background and be "above the fold" whenever possible. Look at these examples from Econsultancy and see why this is so important: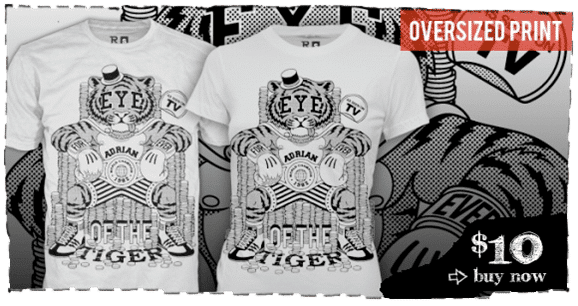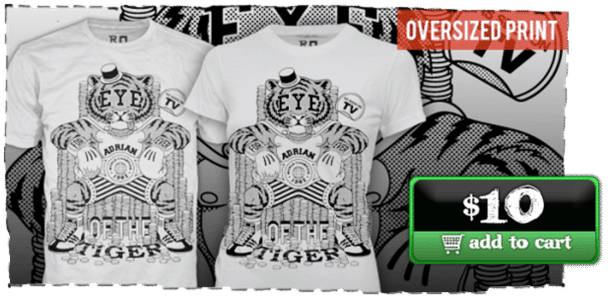 This small tweak resulted in 6.3% more conversions (with the more obvious button.) Don't make shoppers hunt–a clear CTA button makes it easier for them to convert. Make buttons large, use a color that pops from the background, and include clear action-taking messaging, like "add to cart".
7. Images with a zoom feature
Online shoppers are working with a limited amount of visual data when making a purchase–they can't try on items, touch them, turn them over, etc. But with multiple product images and a good zoom feature, you can get them as close as possible to that in-person experience. Not being able to zoom in on small images is frustrating for customers, because it doesn't allow them to take a close look at fabrics, textures, etc.
Neiman Marcus has a zoom feature on all product images, which lets the customer take a much closer look at products: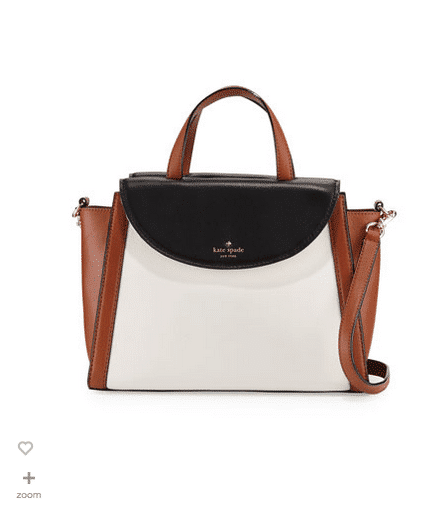 From a distance, you can't tell that this handbag has a bumpy leather texture, but in the zoomed in image, that texture is easy to spot.
This is just another way you can eliminate buyer questions that keep them from making a purchase. Images are extremely important, so don't let your high-quality photos go to waste by leaving out this key feature. Add multiple product views and a zoom feature that lets buyers get a good look at what they want to purchase.
8. No hidden fees at checkout
If you're surprising customers with unexpected fees at checkout, your eCommerce site is likely hemorrhaging sales. Research from Statista shows that unexpected costs are the #1 source of cart abandonment. There's nothing worse than loading up an online shopping cart, only to find that there's an unexpected $5 handling fee at the checkout stage. What does that handling fee even cover?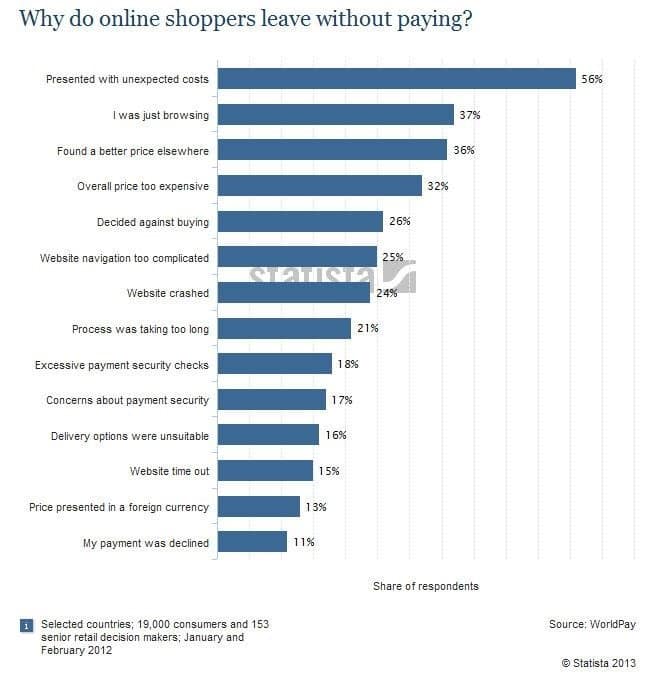 Handling fees, service charges, high shipping costs–all of these make customers second-guess their purchase (and 56% of the time, leave your site.) Rather than giving shoppers a less-than-pleasant surprise, factor those costs into the items and offer free shipping once a customer reaches a specific spending threshold (like free shipping when you spend $50.) Ditch the extra fees and make your pricing more straightforward.
9. A helpful, value-packed blog
A resourceful blog that teaches, informs, and generally provides value to your site's target market is a great relationship-building tool. Whether you use it to showcase your product in action or just share more general tips and tricks, your blog is the place where you get to build authority within your niche and share what you know.
Don't blog just for blogging's sake, but strive for quality over quantity. Ask your customers what they've like to learn from you in a survey or via email, and study your traffic there to discover what types of content get the most traction. Over time, you'll start producing content that keeps customers coming back for more.
10. Customer reviews
Customer reviews are strong pieces of social proof that validate a purchase in your customers' minds. When photos are included, it helps them see how the product looks in other's people's lives and gives them a realistic (non-professional) view of the product in use. Plus, customer reviews build trust, as they're real, un-influenced thoughts from fellow shoppers. Here's an example from fashion retailer Modcloth:

Modcloth features customer reviews under each product and includes user submitted photos whenever possible. This helps female shoppers better understand the fit and fabrics and decide if this will be a good purchase for them. You can implement a similar strategy to add legitimacy to your eCommerce products.
Optimize Your eCommerce Site Now
With this actionable checklist, you have a few great ideas on how you can start improving your eCommerce site right away. Think about which is most important, and prioritize your to-do list before jumping in with both feet. In no time, you'll notice higher monthly sales, more positive comments from customers, and better overall site performance.
Already completed all of the items on this checklist? You're on top of things! Try SessionCam and see how you can further improve your eCommerce site by better understanding your target audience.