When it comes to the modern travel and tourism industry, there are a few key trends that are shaping the way travel websites look and feel today.
Not only are these trends making travel websites more user-friendly, but they help showcase the highly visual subject matter in ways that are extremely appealing. From bold hero images to design elements aimed at quick, easy site navigation, there are many features to learn from that can even be applied beyond the travel and tourism niche.
Let's take a look at some of the most popular travel website design trends as well as some examples that execute these tactics well.
Breathtaking Hero Images
One of the biggest trends in travel website design is the use of full-width hero images. Hero images, if you're not familiar with them, are the large banner images used at the top of a website that can be either static or dynamic–the first thing a user's eye is drawn to when visiting the site.
Especially on desktop, these images make a big impression. The high-resolution images allow the visitor to picture him or herself immersed within the setting, enjoying the surroundings.
Enjoy Illinois, Illinois' state government travel website, uses a rotating hero image coupled with a single CTA button to help pull users deeper into the site, as seen below.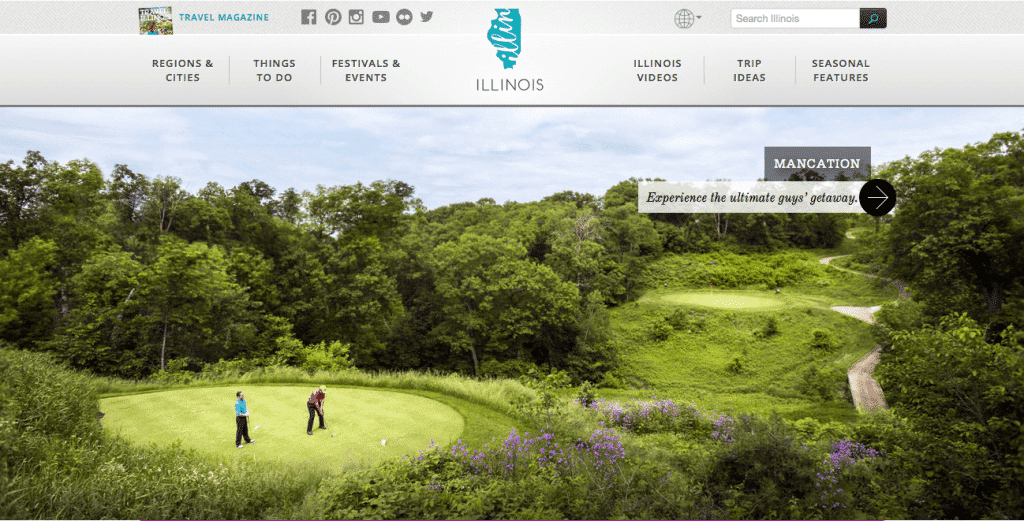 Engaging Video
Other travel sites are leveraging video on their website homepages to draw audiences into engaging experiences right away. Rather than leaving it to static images to tell a story, these sites use full width video that automatically plays as soon as a visitor arrives.
Again, accompanied by a CTA button, these videos give site visitors a compelling reason to learn more and to follow the CTA to discover how they, too, can enjoy similar experiences.
Visit Norway's site is a stunning example of this tactic in action. Even better: This feature is mobile-friendly, which means smartphone users get the same dazzling experience.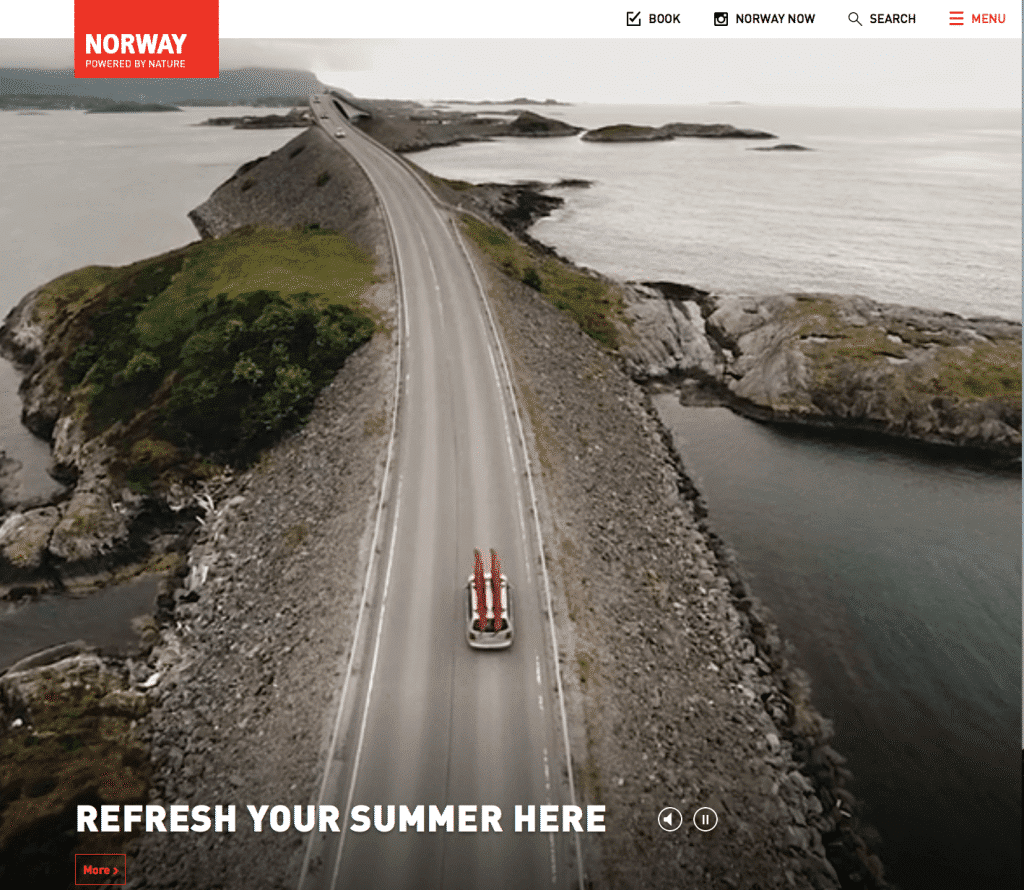 Leveraging User-Generated Content
With travelers snapping and Instagramming their experiences around the clock, it's no big surprise many travel sites are tapping into the massive amount of user-generated content on their own websites. By curating and then spotlighting some of the fantastic images and videos travelers are making on their own, these sites not only get free material (when approved by the user), but they get external perspective that acts as social proof for other travelers.
Australia's travel and tourism website showcases some of the curated Instagram photos they've selected that illustrate the beauty and wonder of their locale. At the same time, they're leveraging their own social media account, too.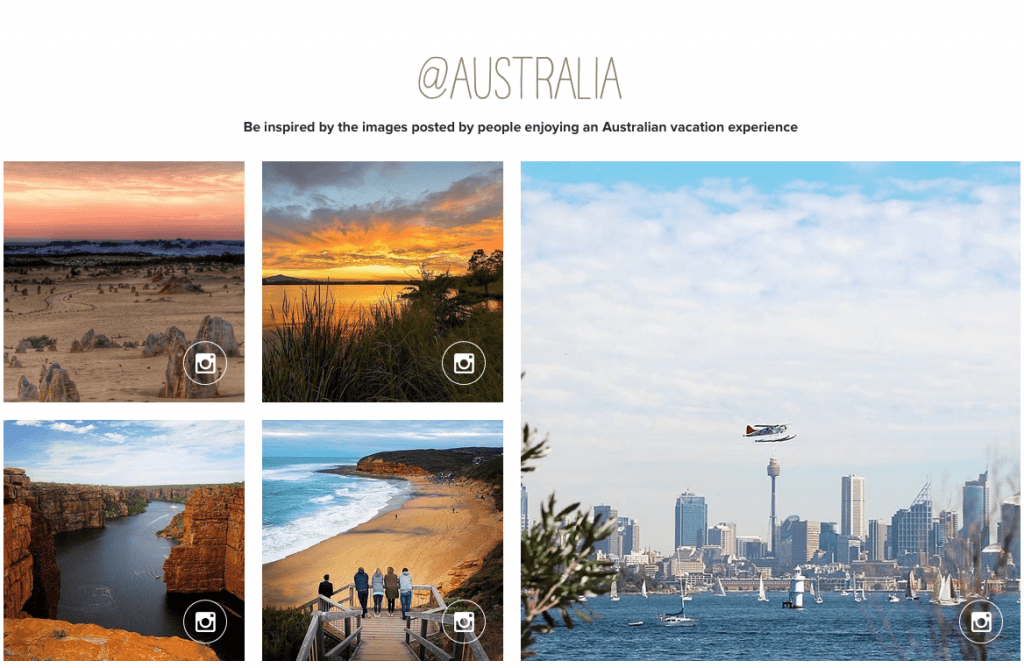 This is a fantastic discovery tool for users who want to see what other travelers are doing, seeing, and eating (so they can get inspired to take action and pursue a trip of their own.)
Tiled Layouts
Navigating further down on travel sites, another big trend is the use of tiled images for categorical search. For travel sites that are promoting many different locations, these tiles make it easy for users to quickly find and learn more about specific destinations that are relevant to their interests. While a search bar is still prominently displayed, this feature is geared toward boosting organic discovery and to help top-of-funnel site visitors find their way down the conversion path.
Airbnb, a travel site for hosting and booking vacation rentals, uses a tiled layout to categorize popular locations.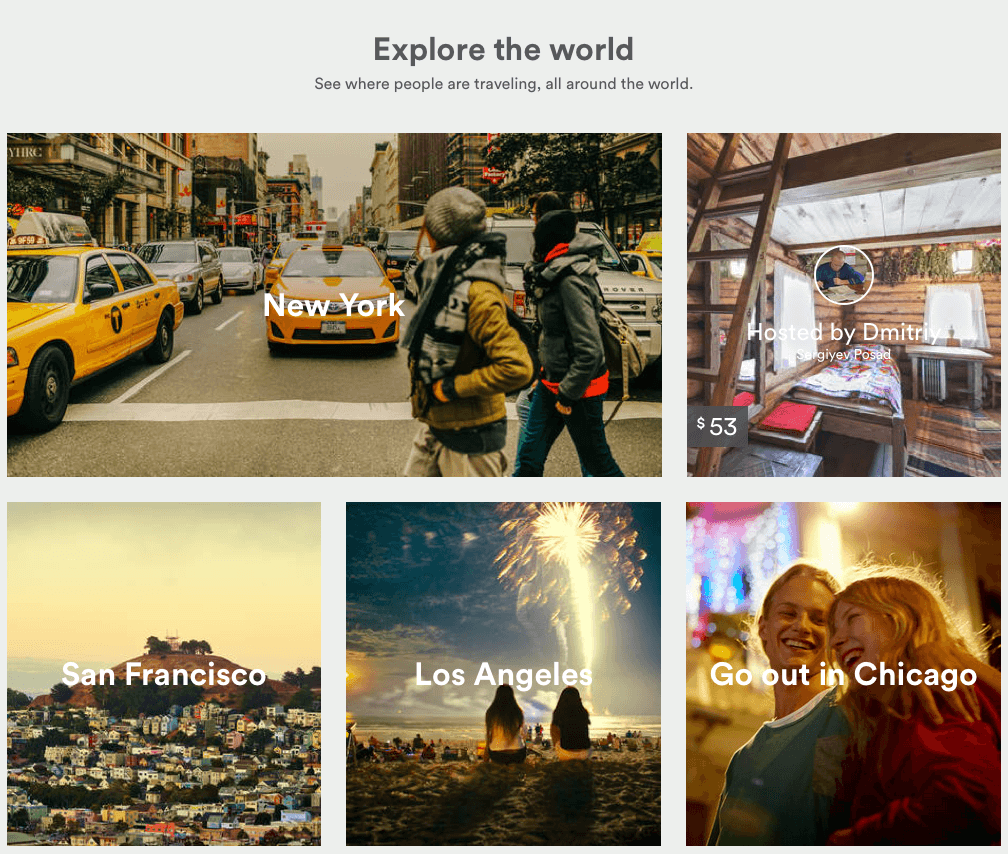 On each tile, a photo of the listing or a popular attraction is featured for that location, and some tiles also feature the rental's booking price. All of the tiled images have the same photo filter applied and use minimal text to make the images cohesive and bold.
Flat Design with Simple Elements
Modern travel sites know that less is more–and that's why flat design and simple elements are such popular trends. Long gone are the CTA buttons with drop shadows. Many have said goodbye to multiple overwhelming elements on the home page. Thanks to tools like SessionCam, web designers know that users need a simple experience to effectively navigate a website.
What's popular today are clear navigation paths and flat buttons/banners that allow the user to quickly and easily explore the travel site. Text is often limited to one or two fonts, and graphics are limited (if used at all.) Instead, travel sites are letting the images speak for themselves.
California's tourism/travel website is a great example of flat design and simple elements at work. They are effectively leveraging whitespace below the large hero image, and the clear, compelling images are what stand out from the page–not flashy design elements or distracting text.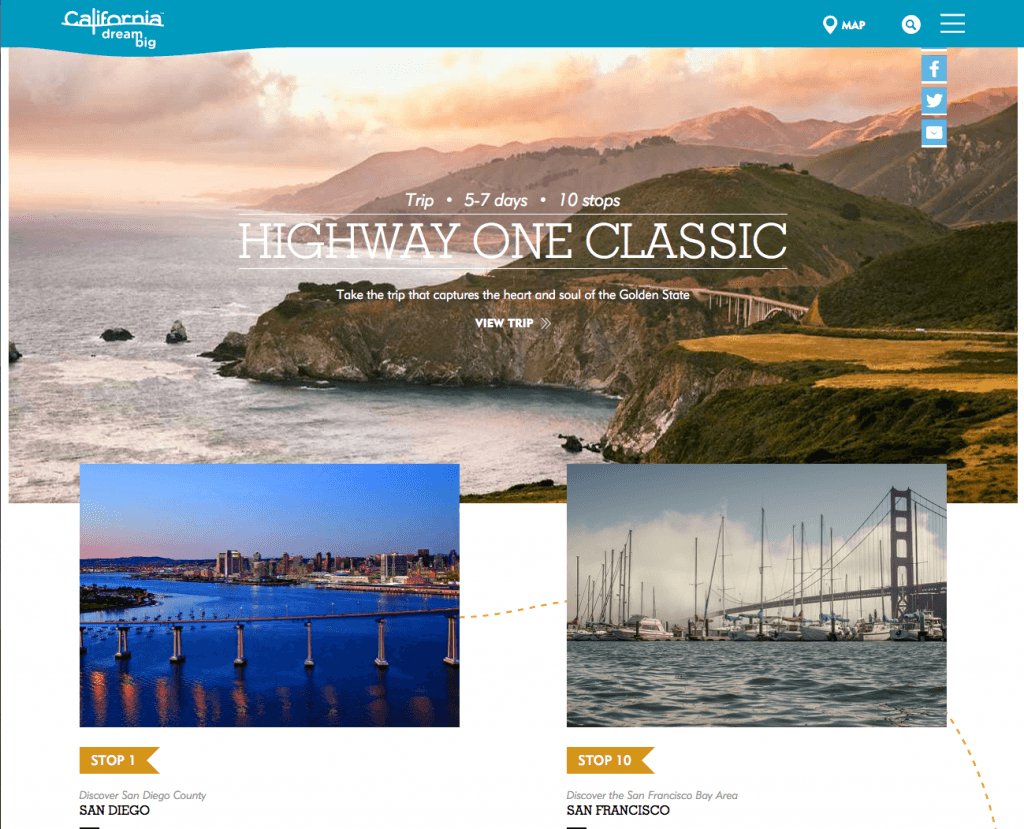 Functionality First
Many know that data proves 55% of users spend less than 15 seconds on a website before leaving–so they need to give the user exactly what he/she wants right away. In the case of travel websites geared toward booking, that means putting functionality first with a tool for searching, finding, and booking front and center (and above the fold.)
By making this resource the first thing a user sees when visiting the travel site, visitors can pursue the information they're after without having to dig. No distractions, no hassle. Personalized results will be displayed once a user submits their information and requirements on the next page. Now that's a speedy two-step process.
Sites like Snaptrip pair this functionality with a hero image for an extremely appealing and user-friendly experience. The simple copy and real-time information showing the number of available listings helps users get a better grasp of what to expect–and the 50% discount sweetens the deal even more.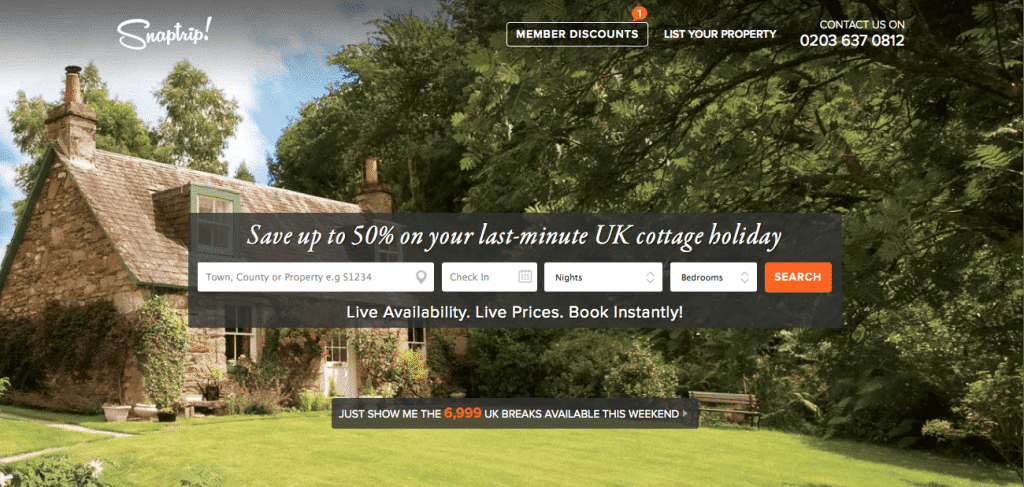 Better Websites, Happier Site Visitors
It's common knowledge that a great website is constantly evolving to meet users' needs–and these travel website trends are helping different businesses and organizations do just that.
These trends extend beyond the realm of the travel industry and are great options for websites of almost any kind. Take what you've learned here and see how you can tweak your own site for a better, more user-friendly experience.